AlmaLinux is a Linux distribution which is binary compatible with Red Hat Enterprise Linux (RHEL). It was created by CloudLinux and it is currently maintained by the AlmaLinux OS Foundation, a non-profit to steward ownership and governance of the project.
Ish Sookun
In January 2014, Red Hat announced that it is joining forces with CentOS to speed open source innovation. What it meant for the many users of CentOS, was that Red Hat was acquiring the project and it will decide the future of the distribution. Indeed, six years later, in December 2020, Red Hat announced that the future of CentOS is CentOS Stream, an upstream project for Red Hat with a rolling-release model.
There was a lot of discontentment following that announcement. Many users enjoyed the stability of CentOS and its binary compatibility with RHEL and its long term support. The news of turning CentOS into an upstream project for RHEL changed all of that.
CloudLinux is one of many CentOS supporters that was not happy with the news.
In response to the shift in project direction of CentOS, CloudLinux backed the development of AlmaLinux, a clone of RHEL. CloudLinux has been in the "Linux business" since 2009, providing a customised Linux distribution for hosting companies. Its products were mainly based on RHEL/CentOS. Thus, their commitment to the AlmaLinux project meant they would be heavily invested. In fact, CloudLinux financially backs the AlmaLinux OS Foundation.
The AlmaLinux mirror 😊
After that short history lesson, let's come to the present.
David Venter, the Founder & Director of cloud.mu, and I were having a usual "Linux mirrors" conversation and David said "we should also really do AlmaLinux". I was like, "I just read their doc, it's the easiest mirror documentation I have seen so far".
Well, the next day, David provisioned the mirror server and I did the rest of the configuration. Once the server had sync'ed completely, I submitted it to AlmaLinux for review. Soon after, almalinux-mirror.cloud.mu appeared on mirrors.almalinux.org.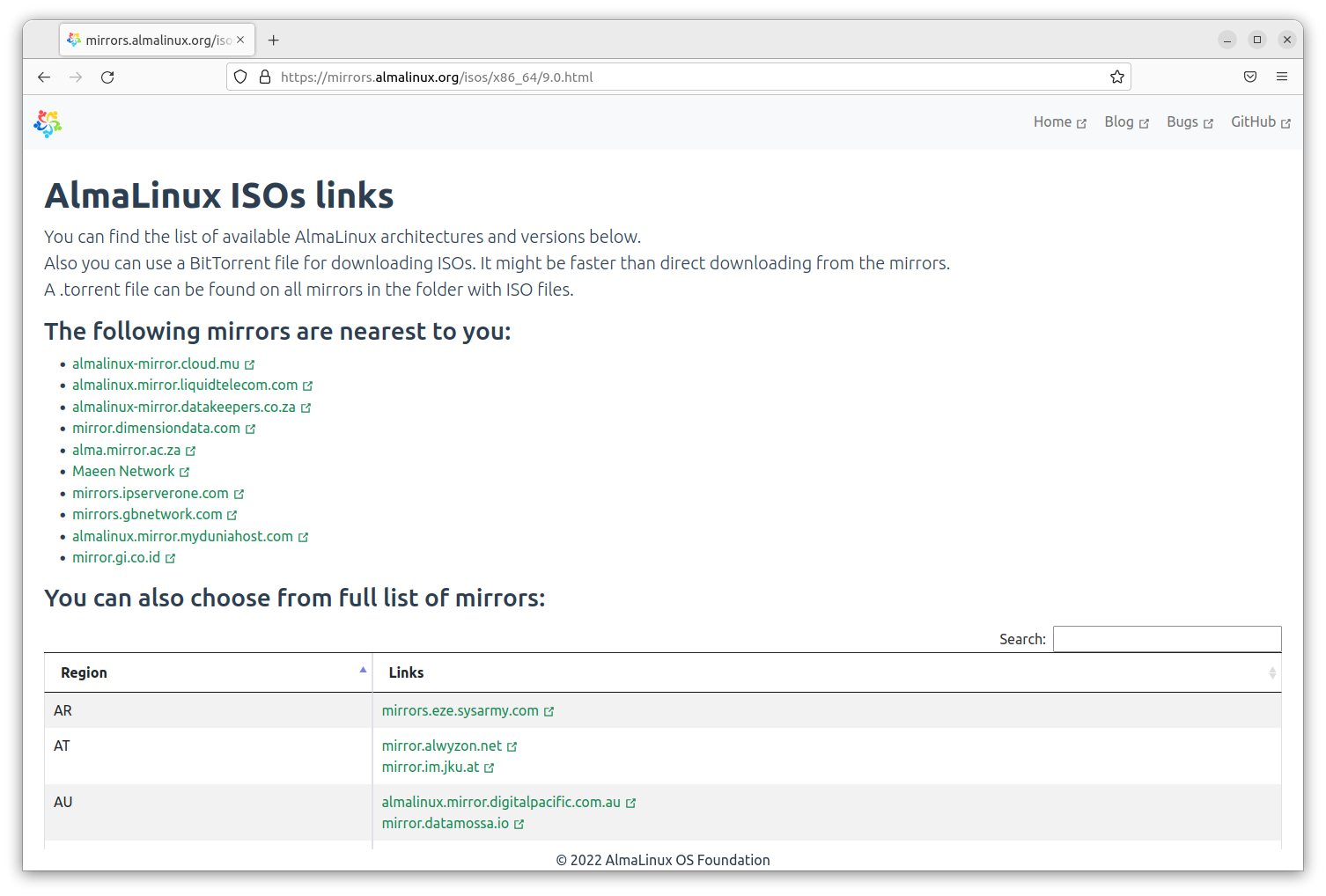 If you head to almalinux.org and click on the download button, it takes you to the mirrors page and there you can see the list of the closest mirrors to you. Being in Mauritius you should see almalinux-mirror.cloud.mu at the top of that list, followed by other mirrors in Africa.
Improving the Linux updates experience in Mauritius would not be possible without mirrors. I am extremely thankful to cloud.mu for the server/bandwidth sponsorship and their commitment to make Linux thrive in Mauritius.