Until a few months ago, there were only two openSUSE mirrors in the whole African continent — in South Africa and Kenya. Now, Mauritius has joined the list by adding two more openSUSE mirrors in Africa.
Ish Sookun
Yesterday, I attended an open source event organised by OSCA Mauritius and OceanDBA.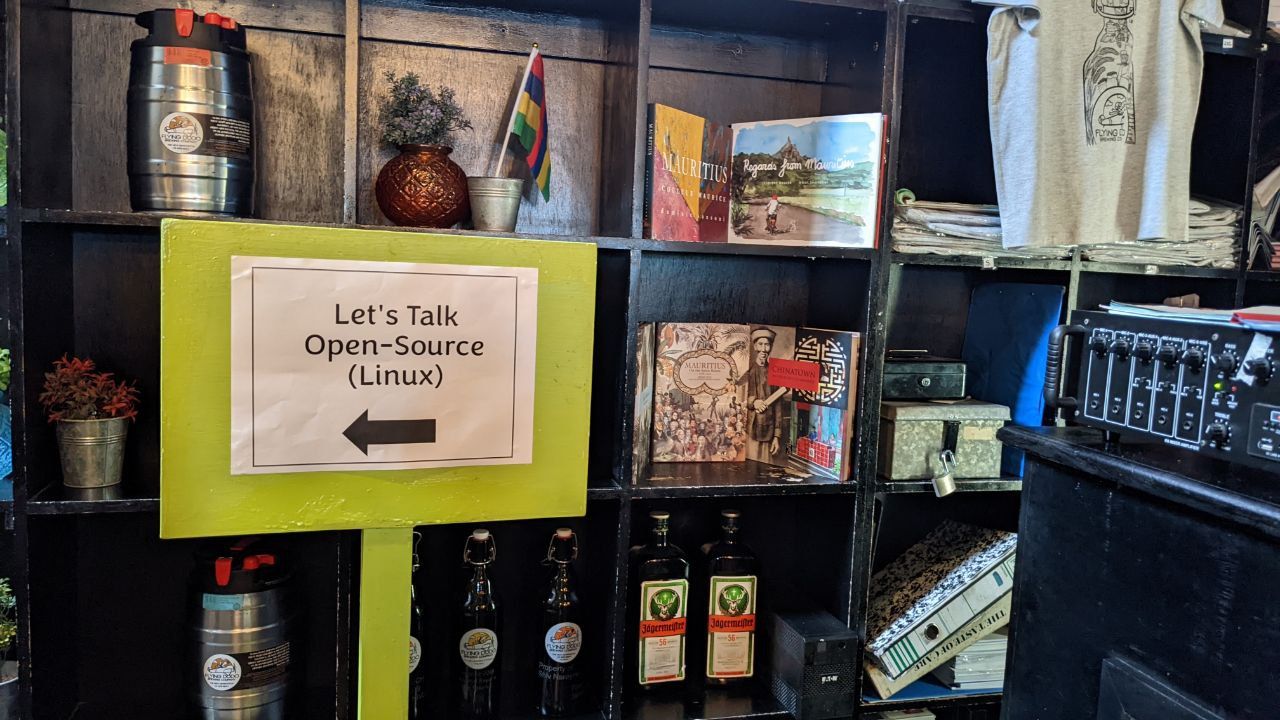 I was invited to speak at the event and I chose to explain a little about openSUSE, its different distributions and how we have managed to set up two mirrors to improve the performance of openSUSE updates in Mauritius.
Girish is a representative for OSCA Mauritius and he works at OceanDBA. He put all the effort into organising this event. At about 09h30, the conference room at Flying Dodo was almost full. Girish welcomed everyone and introduced the presentation themes for the day.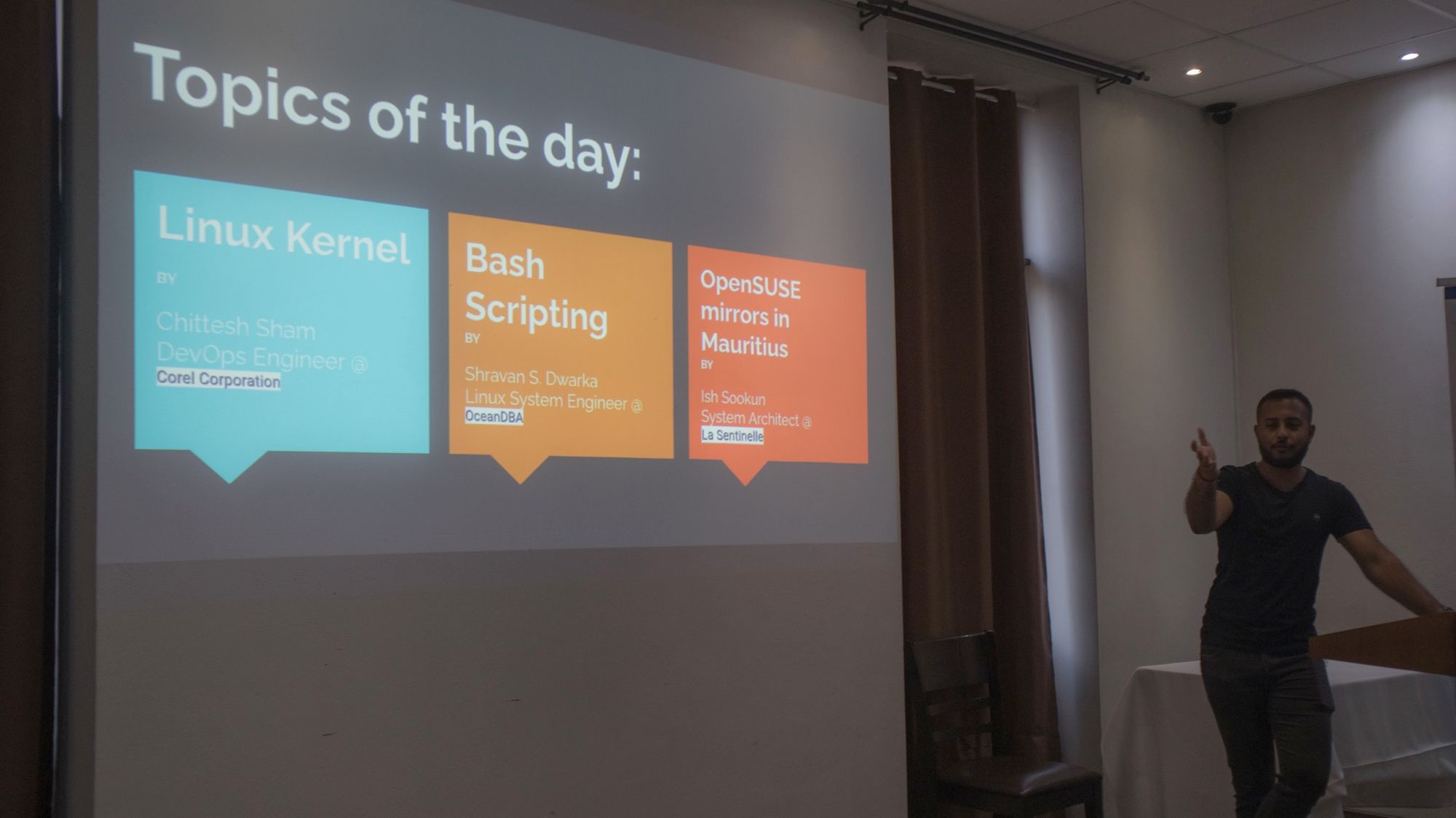 First presentation – Linux Kernel history by Chittesh Sham
Chittesh is a DevOps Engineer at Corel Corporation. He did a presentation on the Linux Kernel. He tried to summarise three decades of Linux history in one presentation. It was a very informative and fun prez.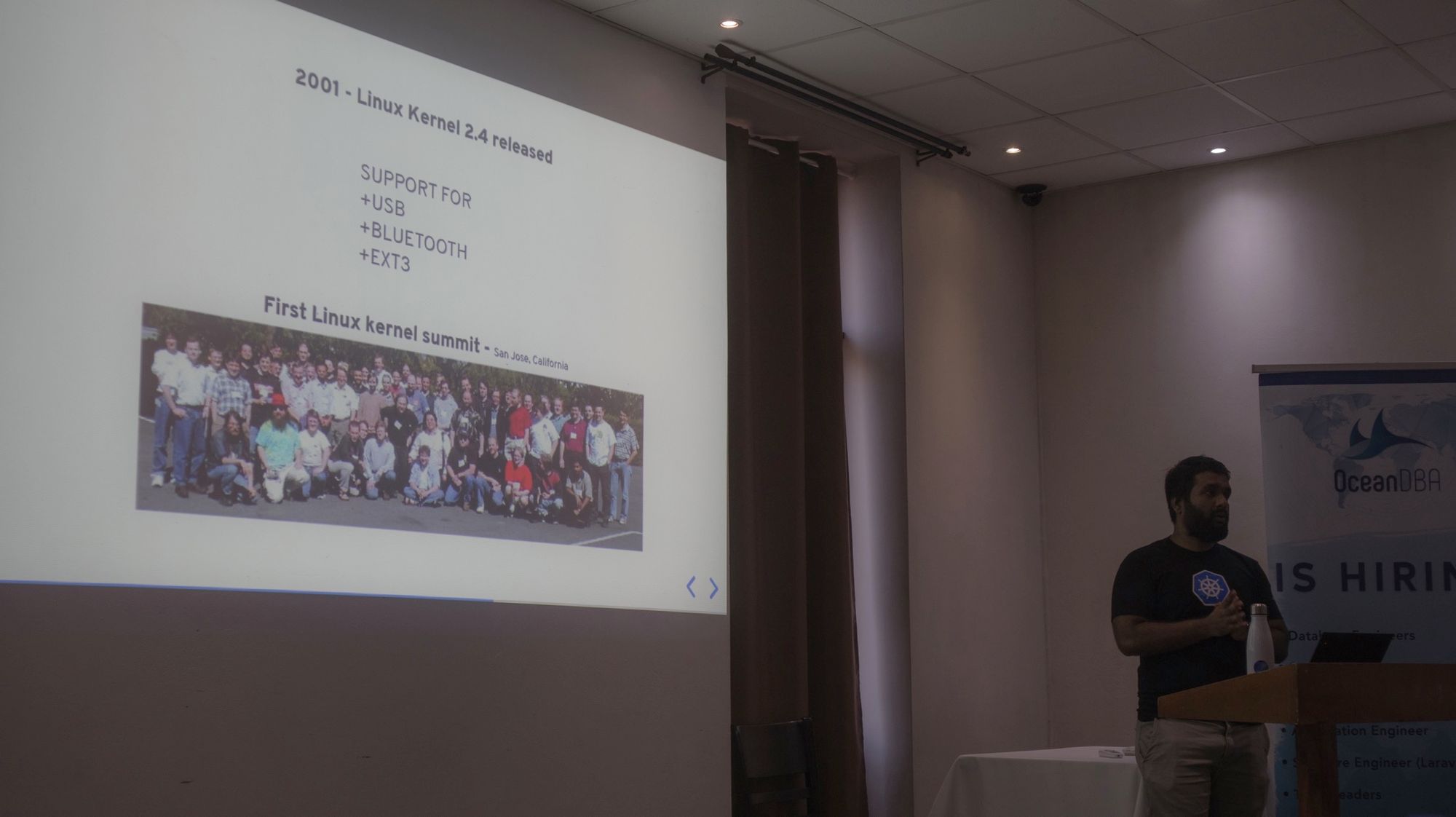 Second presentation – Bash Scripting by Shravan Dwarka
Shravan is a Linux System Engineer at OceanDBA. He did a presentation on the Bourne Again SHell (Bash).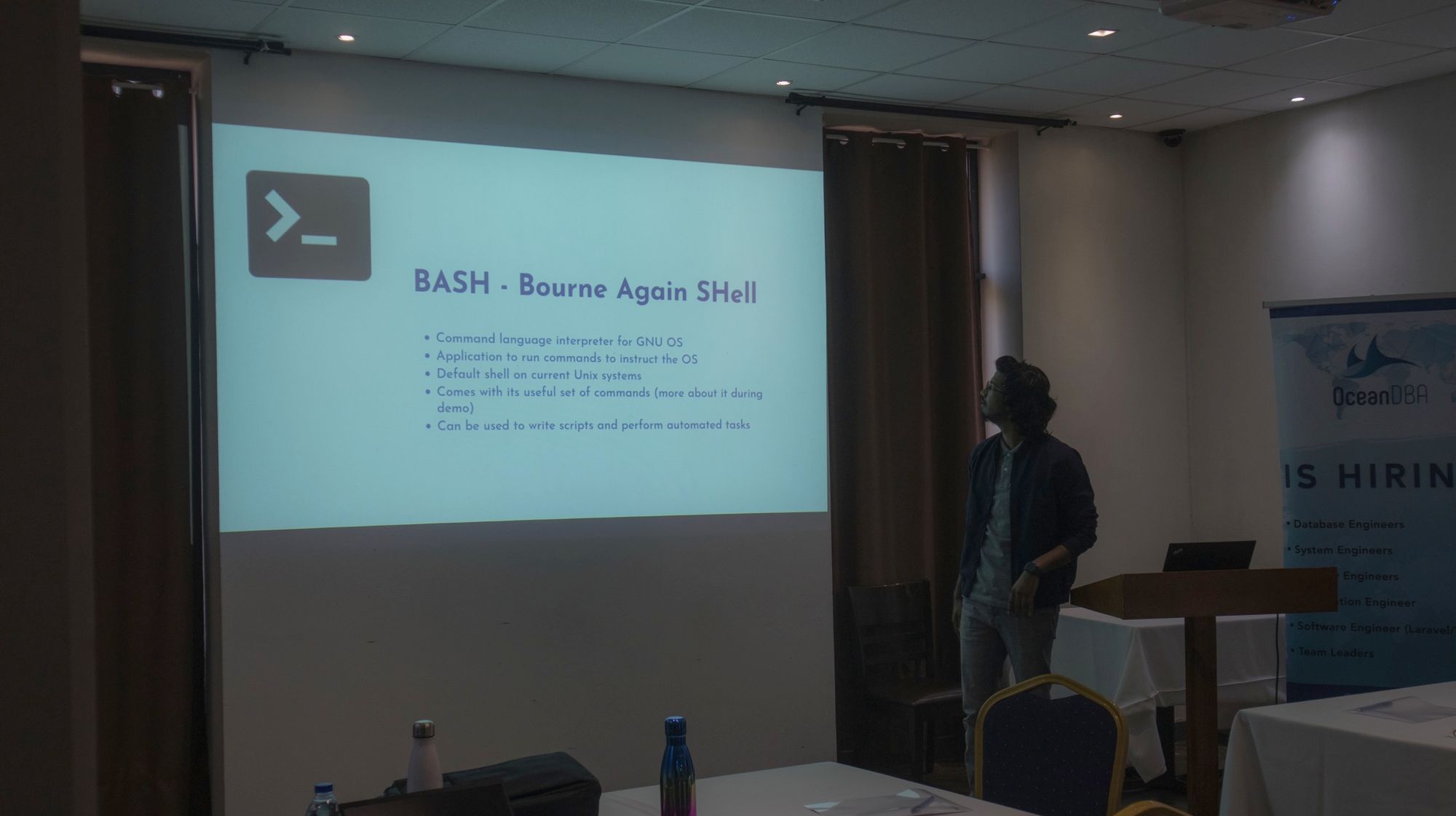 After explaining about Shells, Shravan gave a scenario where a database administrator had to automate backups and perform backup retention.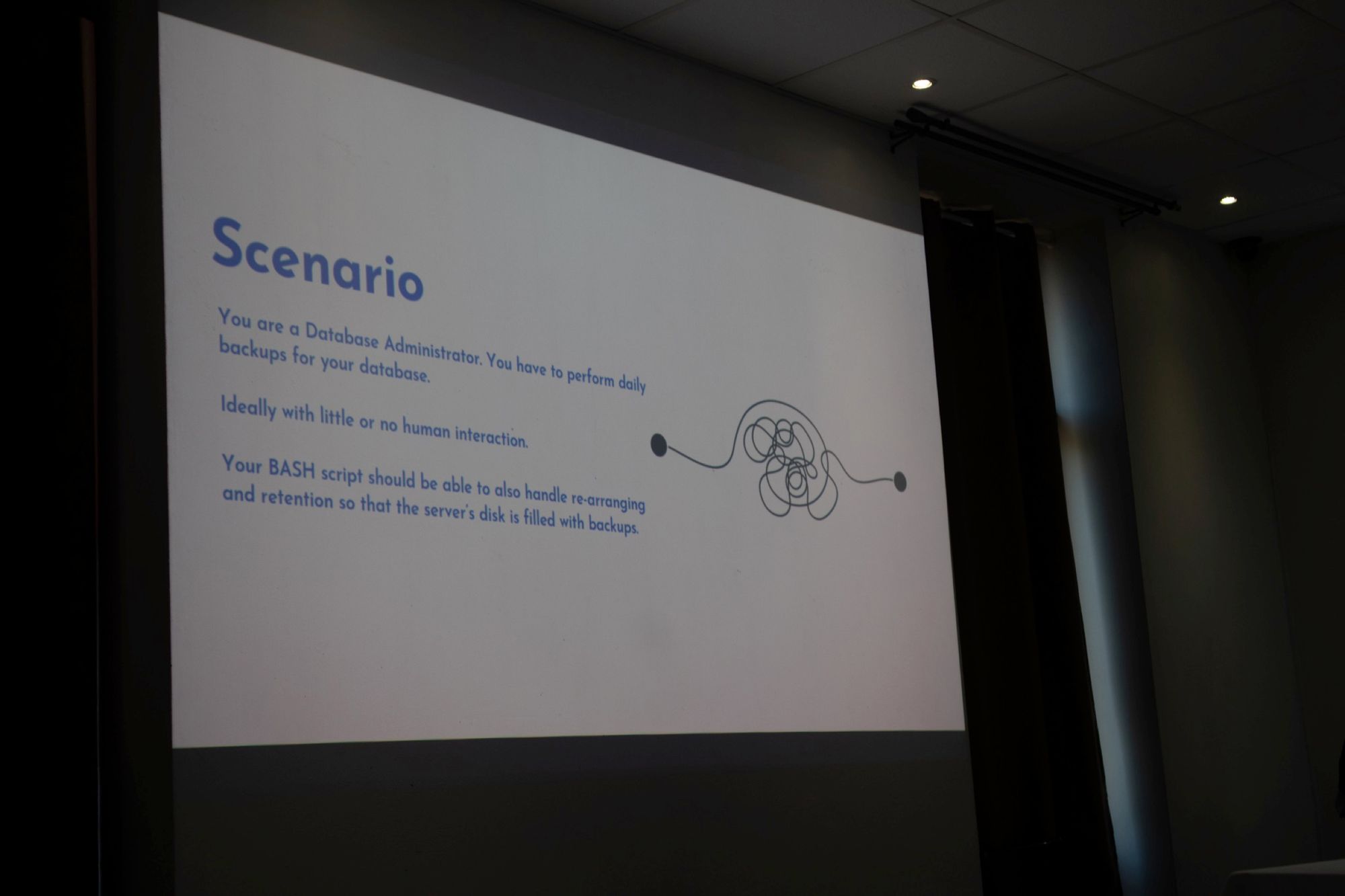 He then explained line by line how he wrote a Bash script to execute the backup.
Final presentation – openSUSE Mirrors in Mauritius
My presentation was last. It's been a while since I set up two openSUSE mirrors in Mauritius. Any openSUSE user on the island will now benefit from fast updates without having to configure anything on their openSUSE machine.
This event was an opportunity to make a public announcement about the mirrors and explain the process behind. That is, how I contacted sponsors for server/bandwidth in Mauritius and got in touch with the openSUSE Heroes to build the repo mirrors.
However, first I did a history lesson about S.u.S.E, SUSE and openSUSE. I clarified that openSUSE is a project and the various distributions have names like Leap, Leap Micro, Tumbleweed and MicroOS.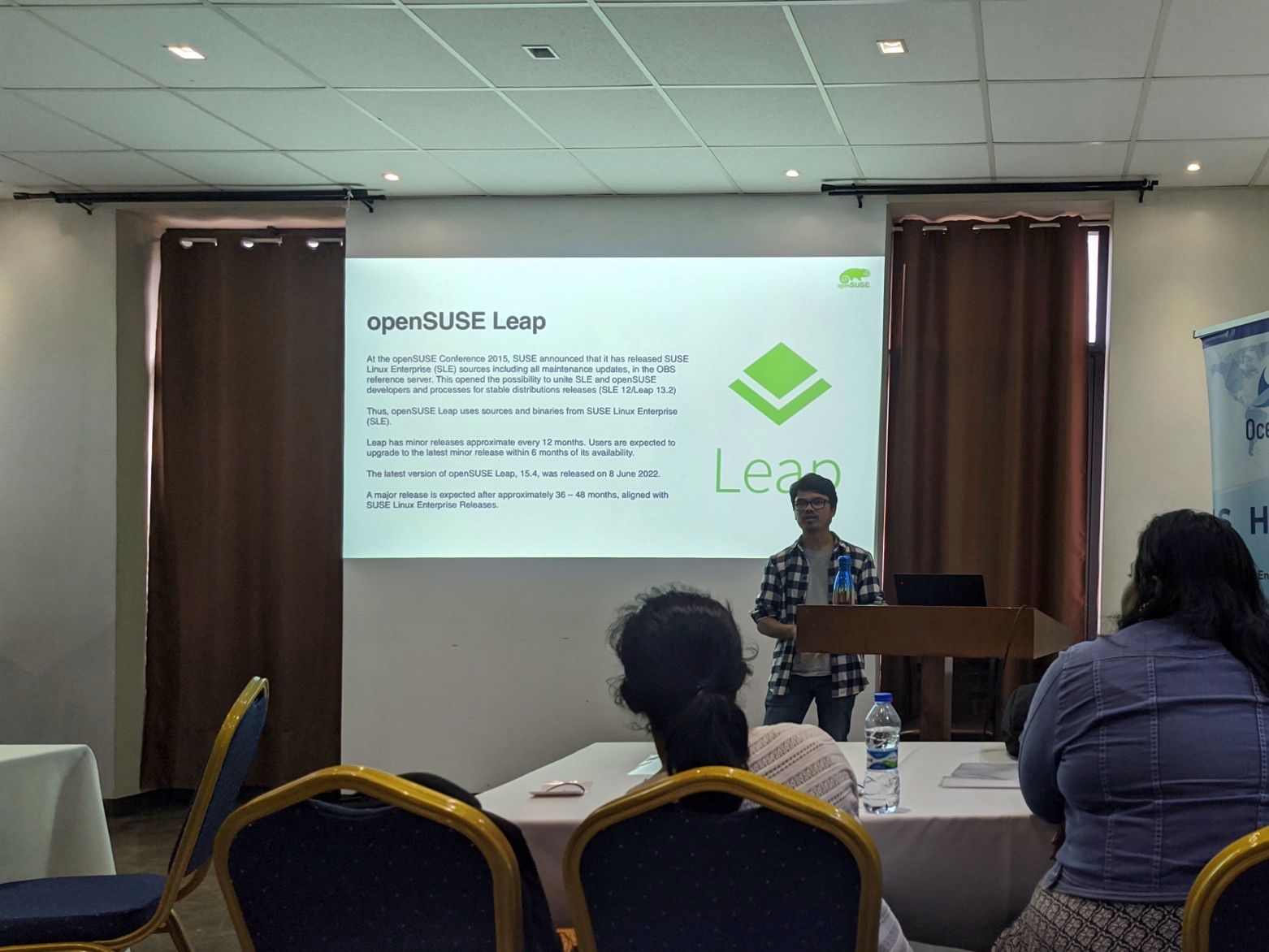 Then, I showed the tickets that I opened at openSUSE to get the ball rolling. Within a few days we had the mirrors set up.
I mentioned that the domain opensuse.mu is sponsored by the openSUSE project itself. Then, the Heroes created the records to point the domain & sub-domains to servers in Mauritius, sponsored by cloud.mu and Rogers Capital Technology Services.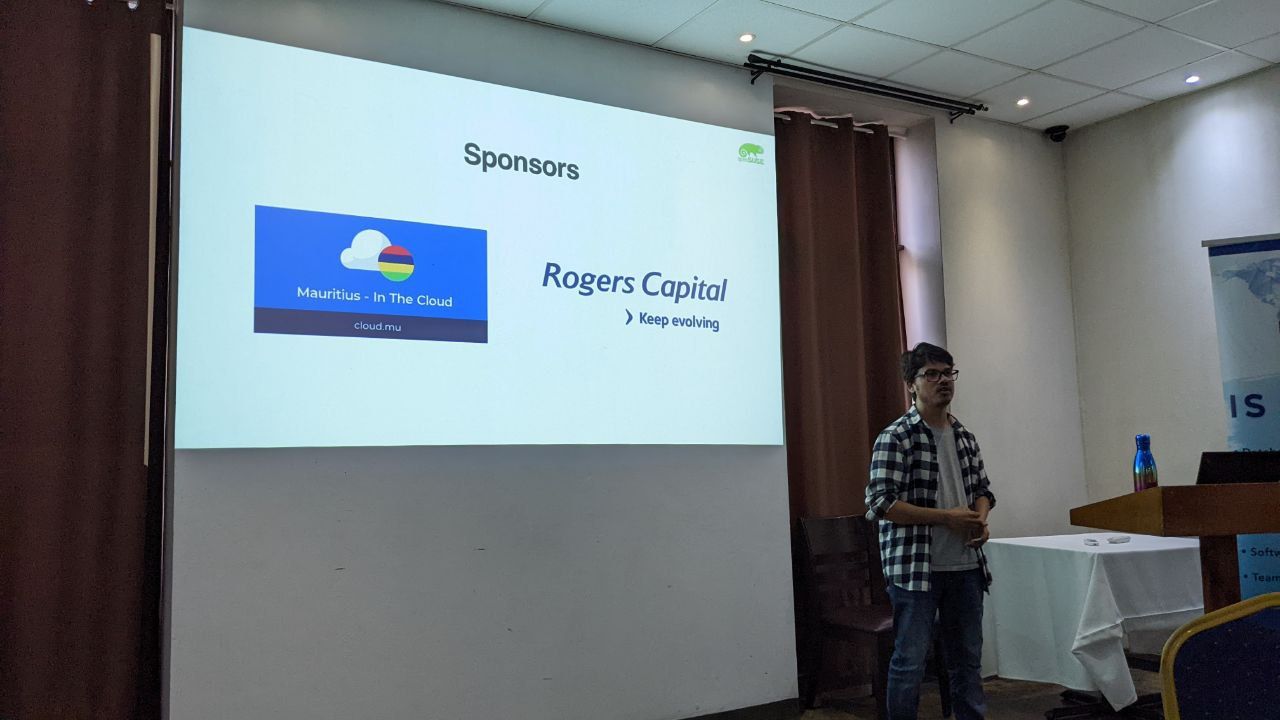 While speaking about the mirrors, I explained how MirrorBrain works. It is an open source framework to run a content delivery network for mirror servers. The two openSUSE mirrors in Mauritius are mirror.opensuse.mu and mirror.rcts.opensuse.mu. To show how MirrorBrain works with these two servers, I opened get.opensuse.org to download the latest release of openSUSE Leap 15.4.
I selected the offline installation image and we checked the URL from which the image was downloading. It was the Rogers Capital Technology Services (RCTS) mirror server.
I SSH'ed on the cloud.mu mirror server to show how the rsync is done from the restricted rsync server of openSUSE.org. I did not SSH on the RCTS server because it requires a VPN (RCTS engineers take security very seriously 🤓). My VPN setup was on a different machine than the one I was doing my presentation on.
I explained the difference between rsync.opensuse.org and stage.opensuse.org, the former being a public rsync server. It can be used by anyone wishing to run a private openSUSE mirror for home or office use.
The conference room was packed with attendees which is a promising thing for an open source event.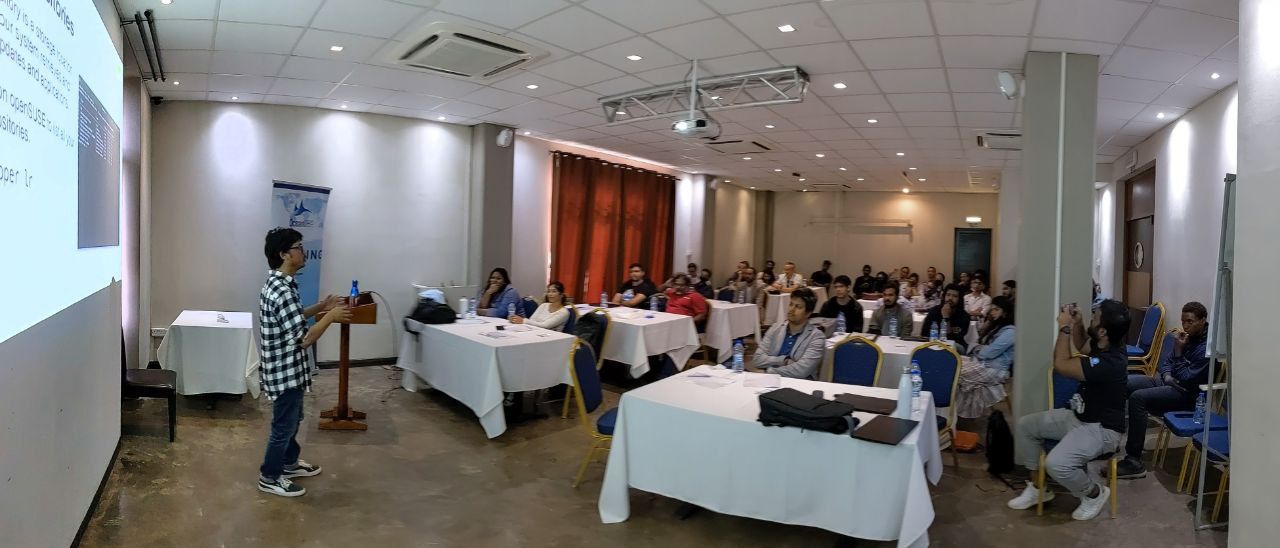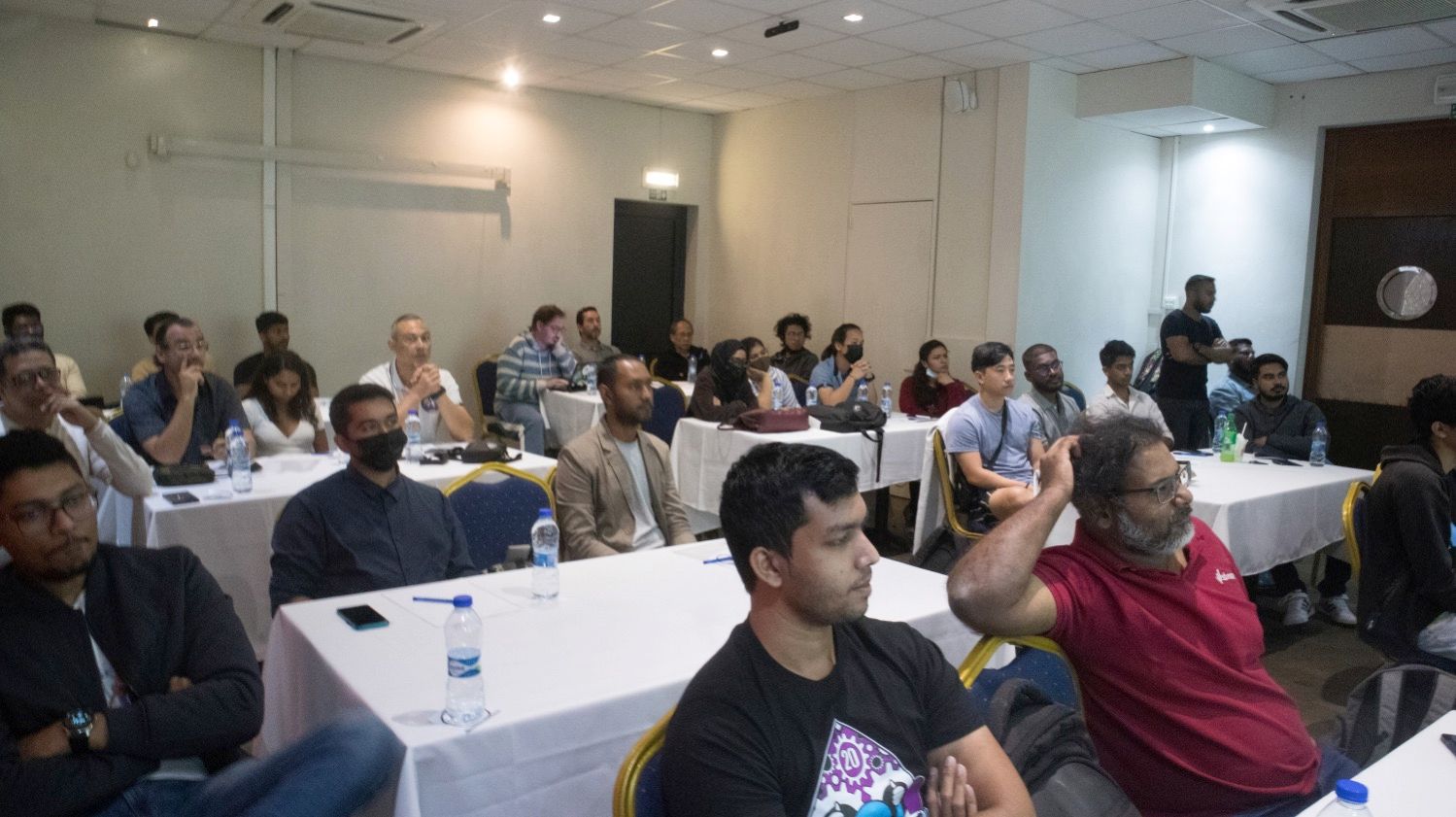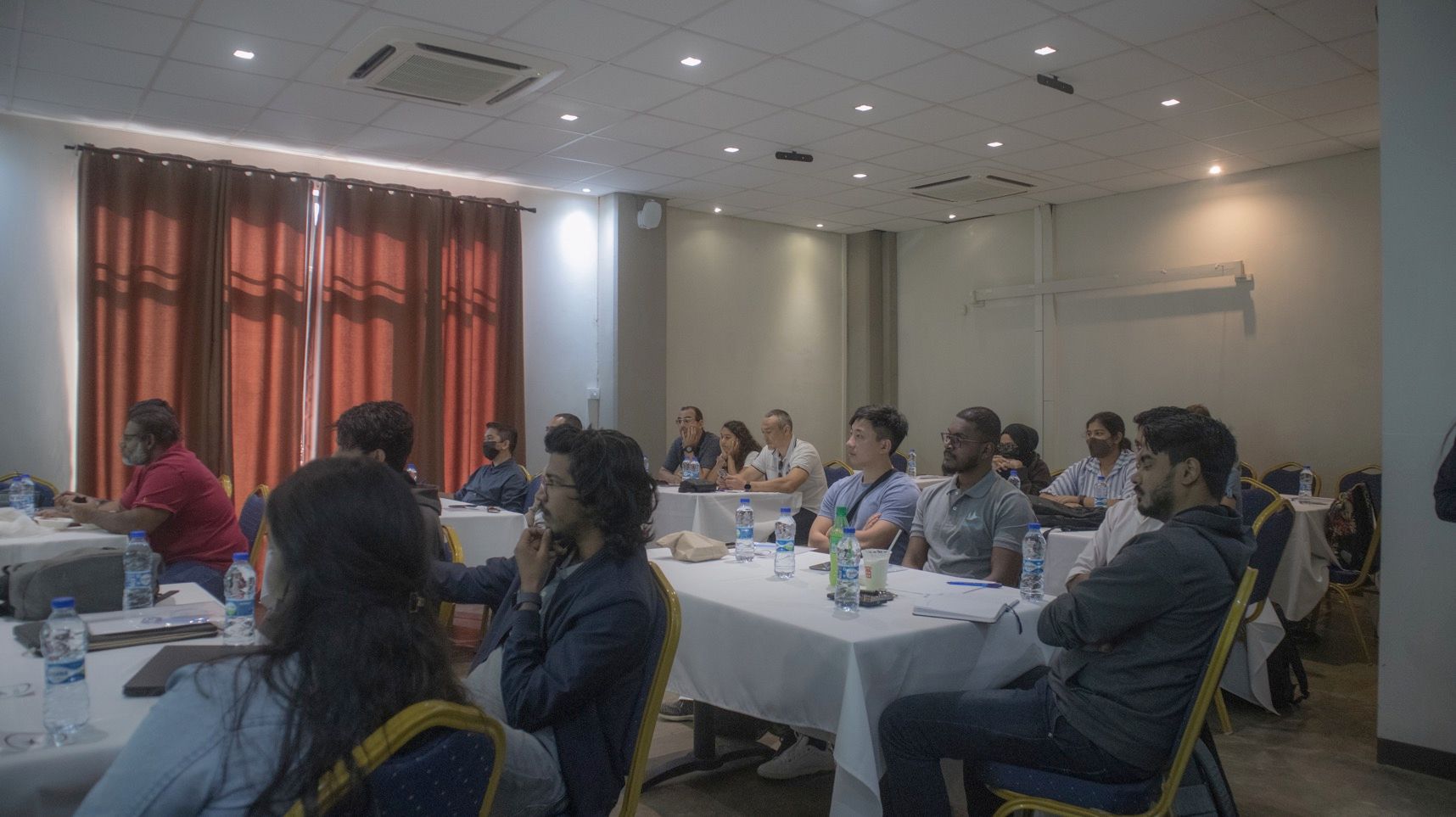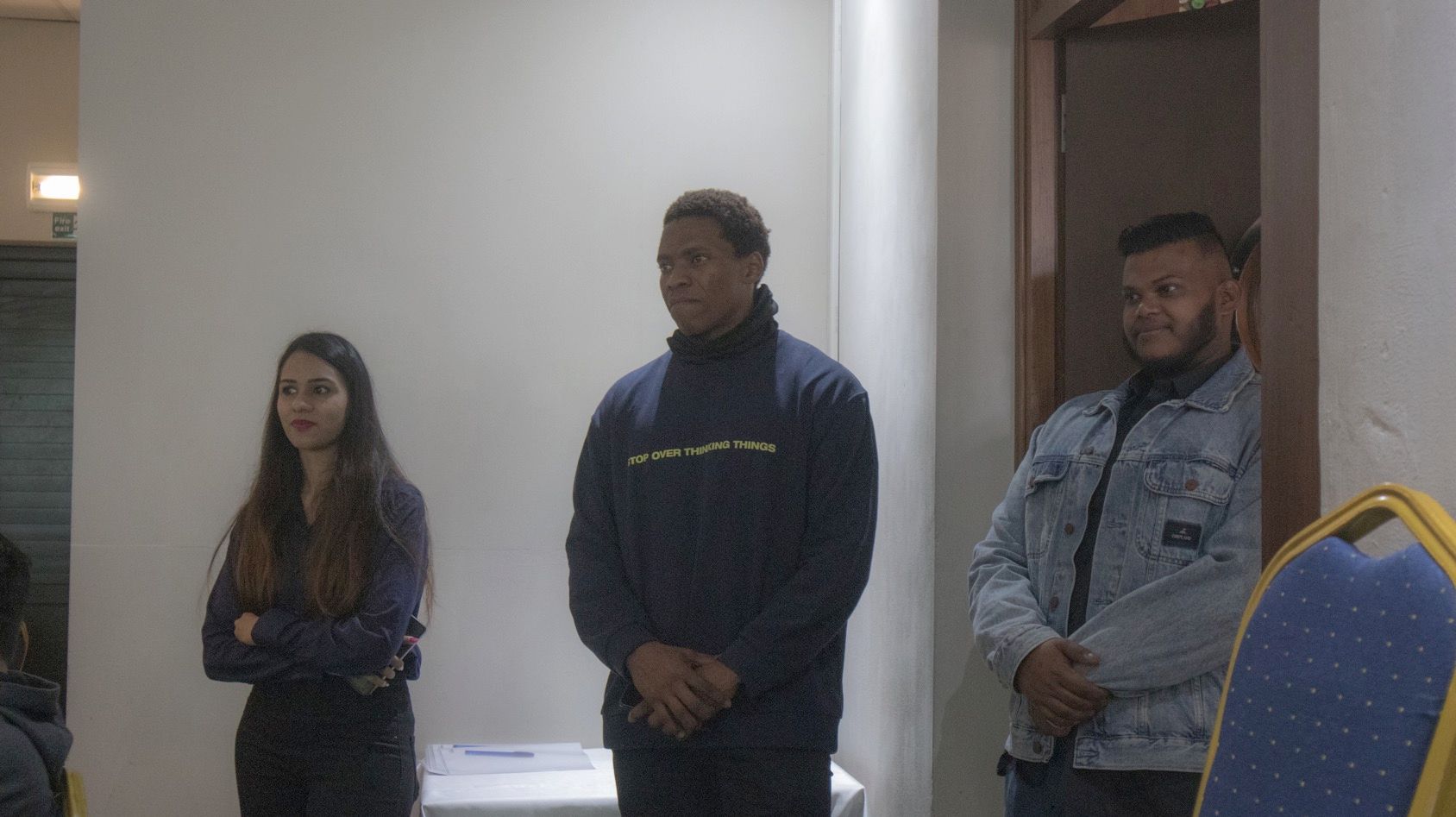 At the end of the event, Joffrey Michaïe, the founder and CEO of OceanDBA addressed the attendees. He thanked the wonderful audience for showing up to the event. Joffrey explained that OceanDBA's business is built on open source technologies and that they have the open source philosophy at the heart of the company.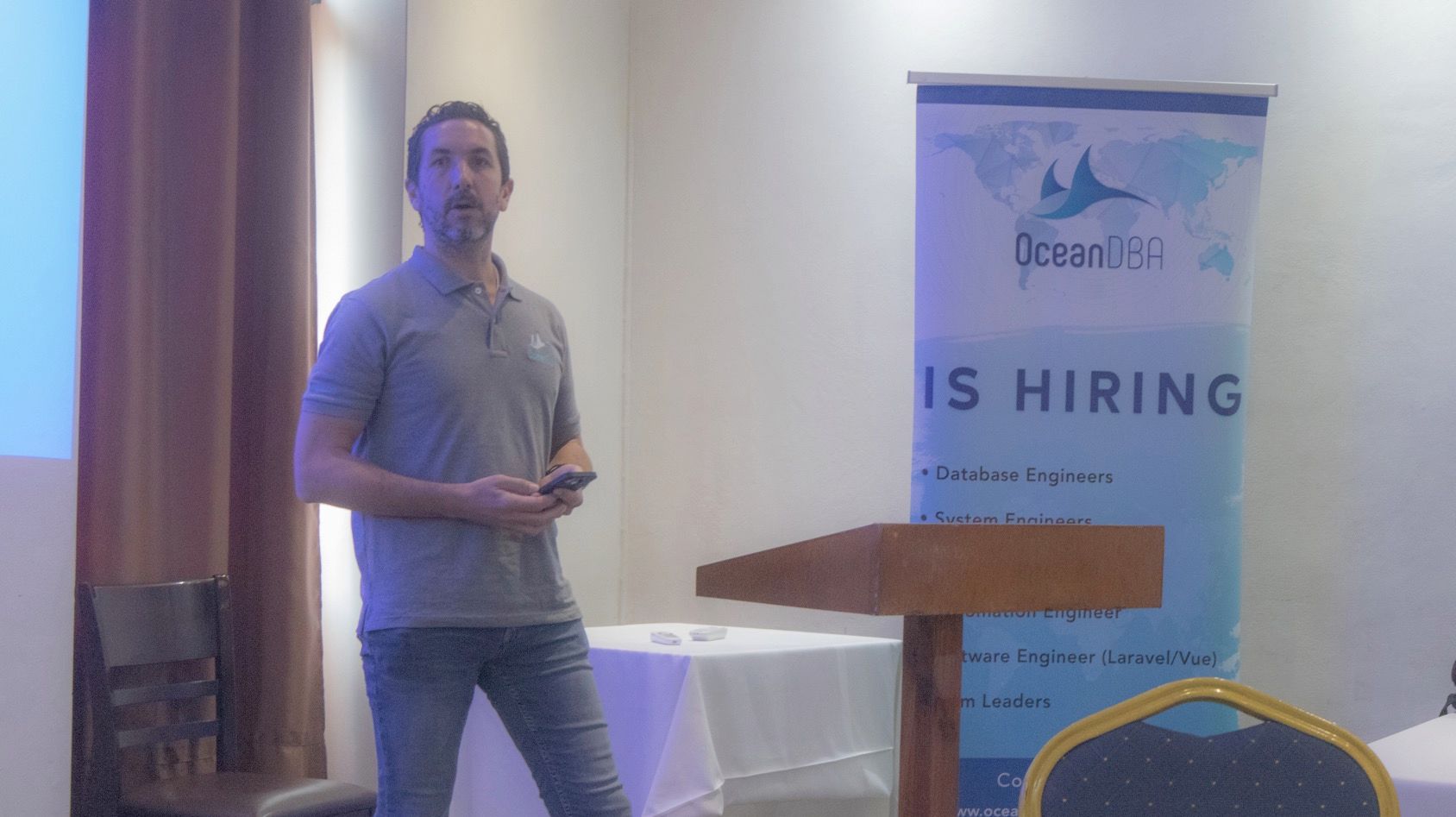 He was glad to see a lot of young folks attending the event and said that his company would be keen to sponsor such events again in the future. He mentioned that at the moment there are about fifteen open positions at OceanDBA and anyone wishing to apply could reach out to him directly or talk to any other personnel of the company.
The Managing Director of Rogers Capital Technology Services, Dev Hurkoo, and the Roshan Patroo, Manager at RCTS, attended the event. We met after my presentation. They both told me that they were impressed by the attendee turn-out for an open source event. Dev expressed his interest to support open source activities in the future too.