Every six months Google publishes its transparency report which provides details on the different types of requests that the company received from government agencies from around the world
Ish Sookun
Every six months Google publishes its transparency report which provides details on the different types of requests that the company received from government agencies from around the world.
The report includes requests made by governments to obtain information on Google users, to remove content, and provides data on political advertising (i.e ad spent per geography and who are the top advertisers). Data on political advertising is available only for the United States, European Union, UK, India and New Zealand.
Google's latest transparency report was published on 22 June 2020. While going through the report I noticed that a request was made by Mauritius to delist a webpage from Google search results. The request was made by the Computer Emergency Response Team of Mauritius (CERT-MU) and it involved a webpage accusing the Minister of Technology of domestic violence.

The request was denied by Google and the webpage was not delisted.
The request appears in the transparency report of July - December 2016. Around that time, Etienne Sinatambou was the Minister of Technology, Communication and Innovation. Therefore, I searched for « Etienne Sinatambou » on Google and I found an article by 5-Plus newspaper that indeed refers to a domestic violence incident involving the minister.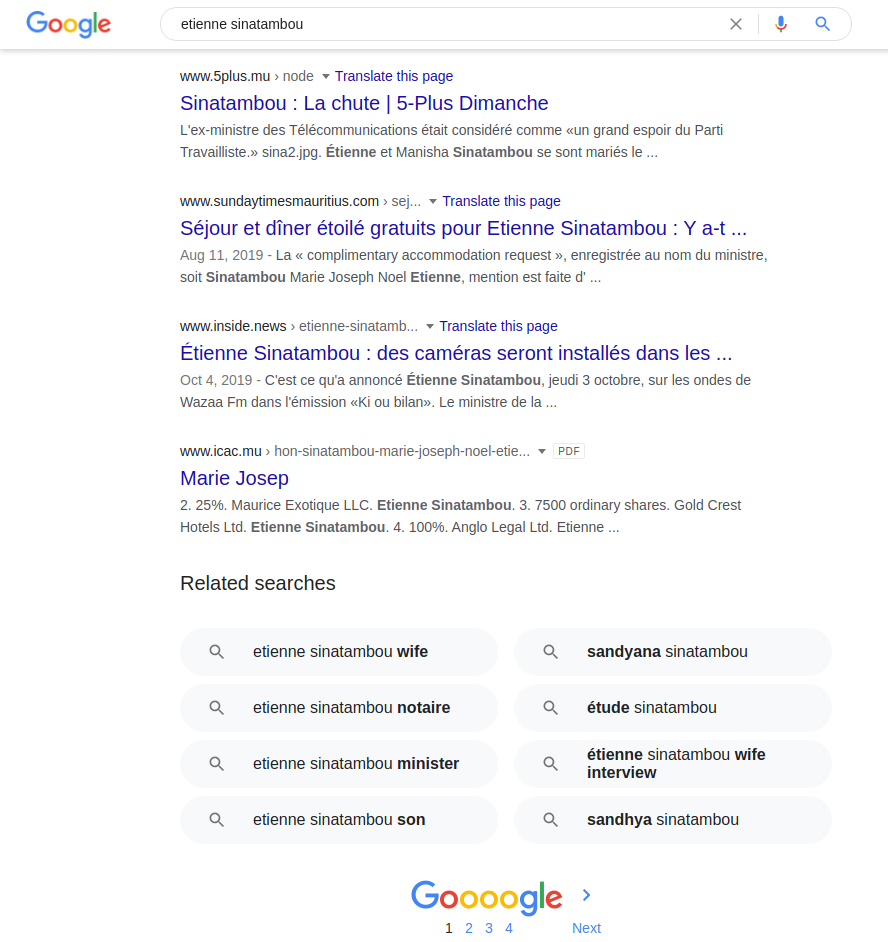 Requests for information on users
In 2019, Google received a total of 350 requests for information on Google users from different countries through the mutual legal assistance treaty. Mauritius does not appear in the list of countries making requests in 2019. In fact, since all time, Mauritius has made only one request to obtain Google user information. The request was made in 2013.
Despite a known rise in cybercrime incidents in Mauritius, it appears that our law enforcement agencies do not make requests to Google during their investigation.