After a 2-year long wait, we finally had the Developers Conference as an in-person event on the 22, 23 and 24 November. The few days before the conference were hectic too — preparing the conference, discussing with sponsors and partners, fixing the agenda, and working on one's own presentations. In fact, without realising it, I had invested into much more than I thought initially – maybe – it was because of all the fun that we had been missing since two years. So, I had three presentations, a panel discussion, I had to be a voice-over actor and I was speaking in the Lightning Talks. 😎
Day 0
Oh, that was the eve of DevCon, the day before, when the stress level was higher than usual. We were at the Caudan Arts Centre. Shelly had to meet up with some partners who had to setup their booths at the venue. She drove alone that morning. In much anticipation and not wanting to miss the Caudan Arts Centre at the motorway junction, she ended up reaching the venue way early, like really early. I think it was even before Caudan Arts Centre opened in the morning.
Mary Jane was at the office in Q. Bornes, working on the number slips for the last day raffle. She would join us at the Caudan Arts Centre later.
I had to assist the technical team from Rogers Capital Technology Services (RCTS) to set up the Internet access across all four rooms that we had at our disposal for the conference — i.e three rooms at the ground level and the amphitheatre on level 1.
Luckily, a week before, the RCTS team had already laid out 100's of metres of ethernet cable from the network room on level 2 where the fiber connection was made till the other rooms. Therefore, on the eve, i.e Monday 21, they only had to set up the cables and access points in the ground level rooms. In total, around 450+ metres of ethernet cable and 14 WiFi Access Points were used to provide connectivity in the three rooms, the amphitheatre and the hallway.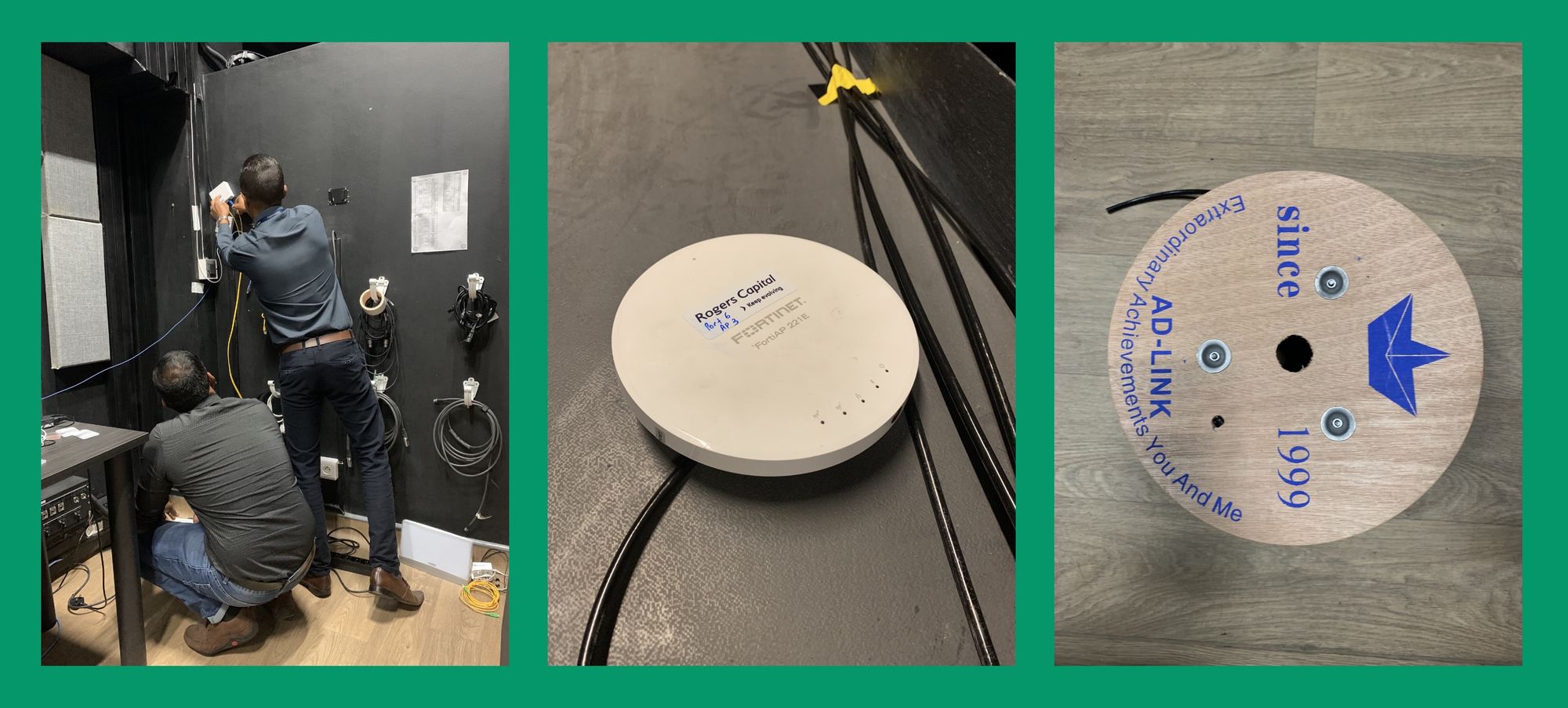 While I was assisting the tech team of RCTS, Shelly was assisting the other DevCon partners who were setting up their booths in the hallway on level 1 and 2.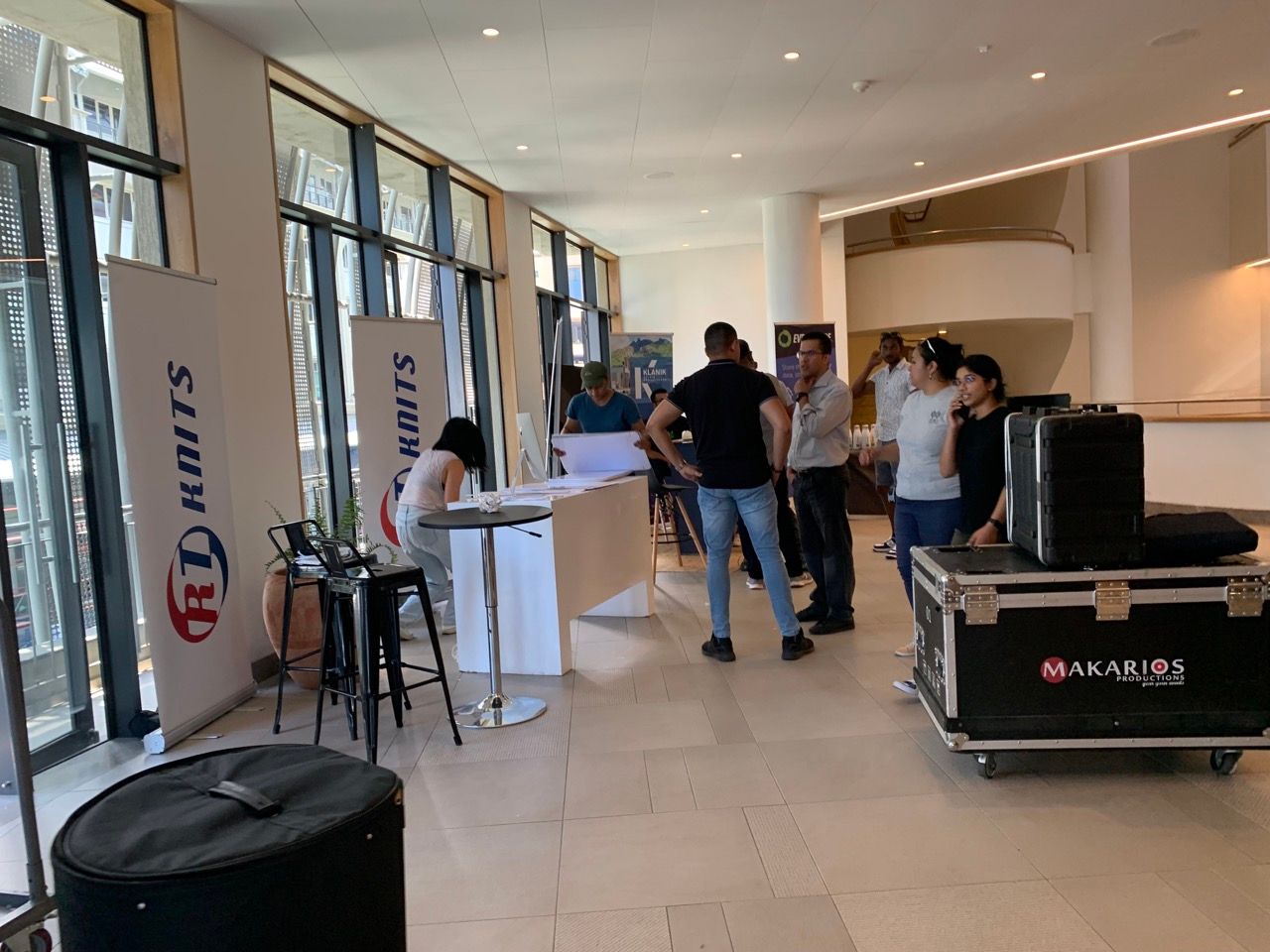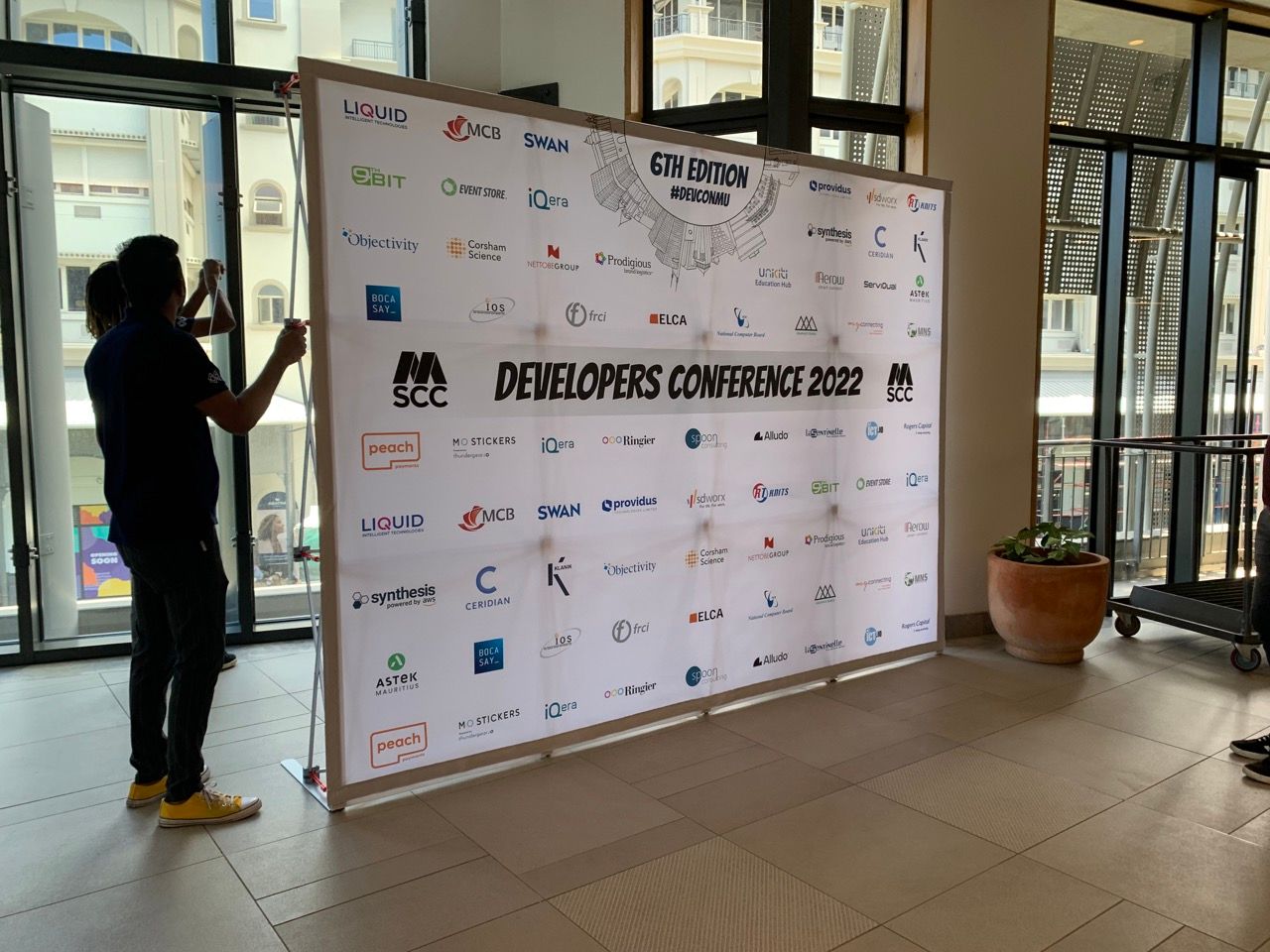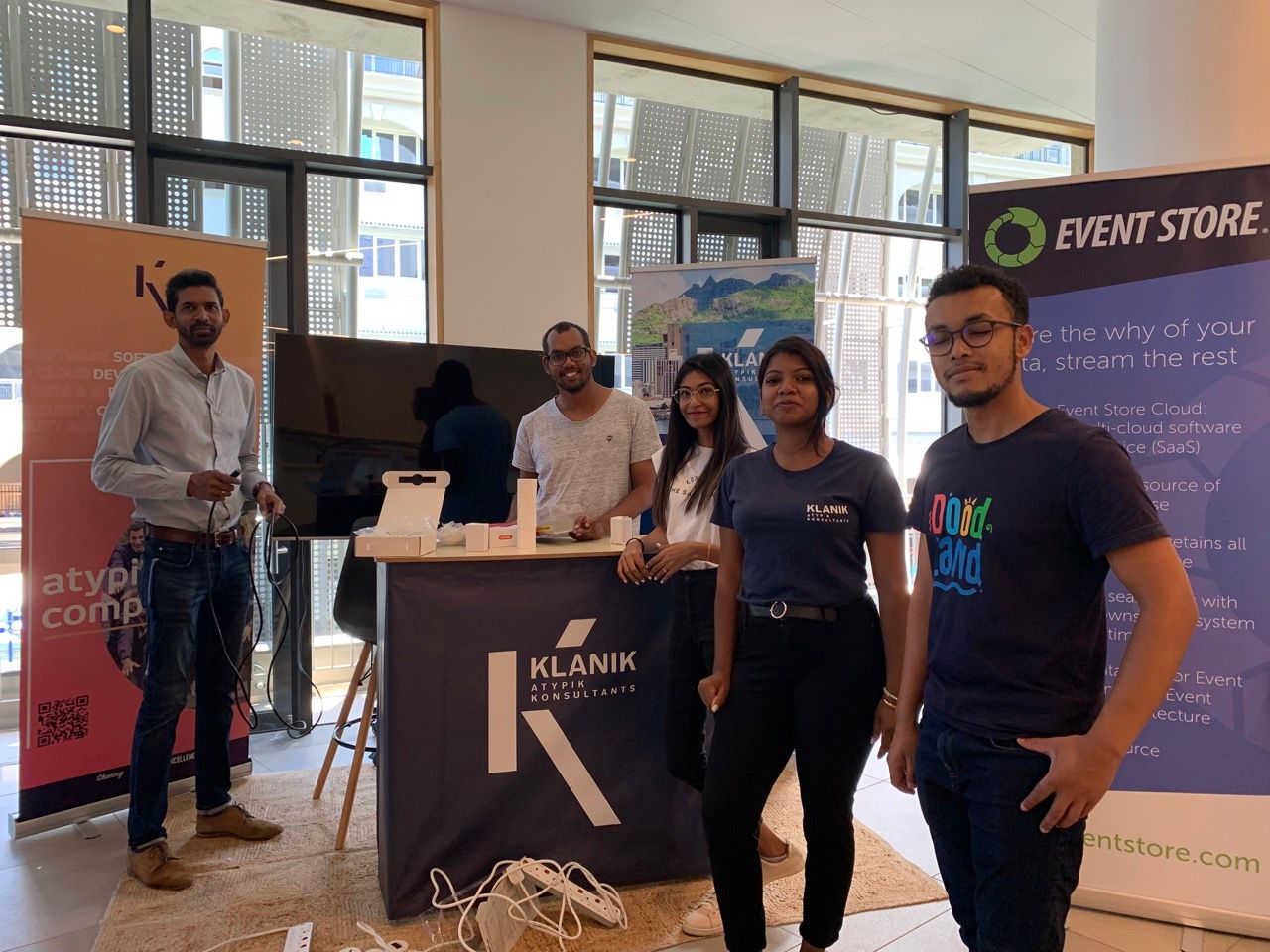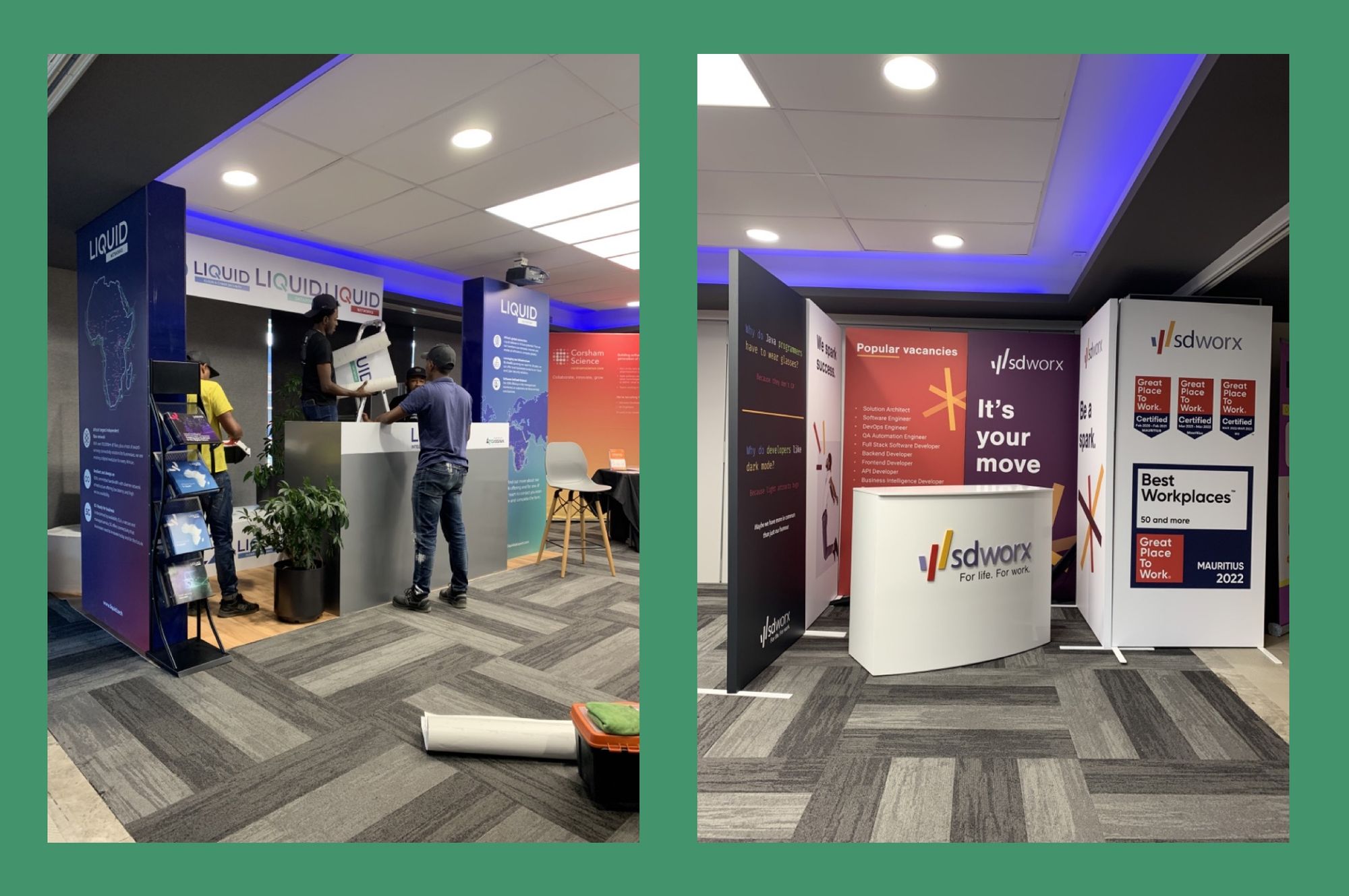 As JoKi and Mary Jane arrived during the day, we discussed about registration procedures, the number slips for the raffle and how to check-in attendees using a QR scanning app on the mobile phone. I think JoKi is planning to write a blog post on how he deployed the QR solution for the conference.
A few tweets from JoKi while he was making rounds that day.
Nirvan and Neil were at the venue helping their respective colleagues setting up their company booths. Both of them were keen to help me test some equipment in the amphitheatre.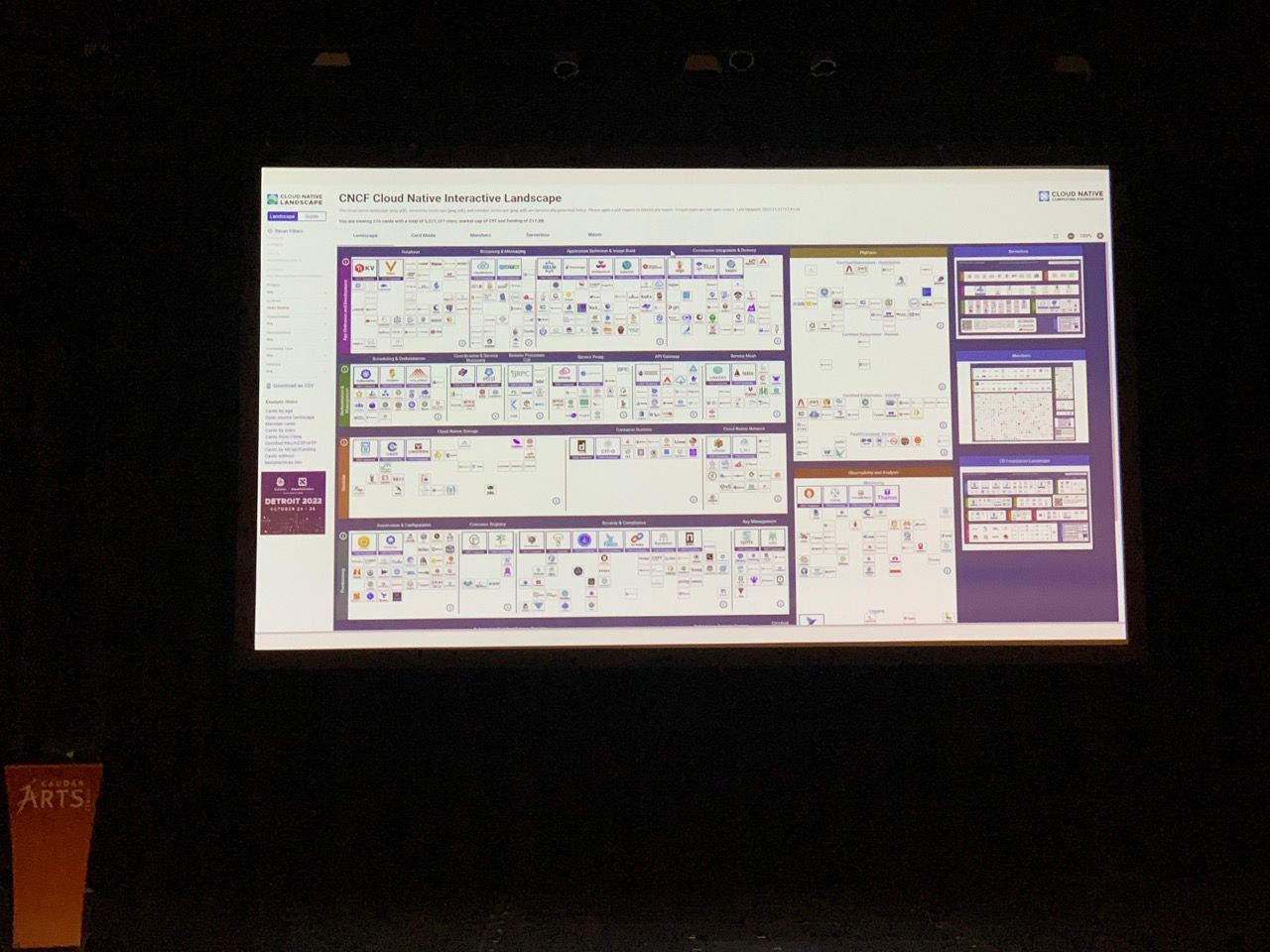 Everything was set for #DevConMu.
Day 1
The day started early — Shelly and I picked up Pritvi and Girish at around 06h30 in the morning at Providence. Then, we stopped at the Saint-Pierre Bus Station and waited for a few minutes for Vidush to arrive. We all had tons of DevCon jokes as we headed for the Caudan Arts Centre.
Once at the venue, Shelly started operating like a clockwork. Luckily, the boys helped her to bring all the boxes of goodies, t-shirts, lanyards and badges, etc. The day before, she had tested the DevCon promo video on all the TV units available to us. Therefore, it was just a matter of switching on the TVs and letting those roll.
The registration desk was set up within a few minutes. We explained to Girish and Vidush the process of scanning the QR codes and giving the raffle ticket numbers. By eight o'clock, attendees were coming and we knew we would be overwhelmed by nine. Therefore, it was decided that we would only do the check-ins and ask attendees to come pick up their goodies after the opening ceremony which was scheduled at 10h00. I don't recall whether it was Mary Jane's or JoKi's idea to do so but it helped keep the registration process smooth.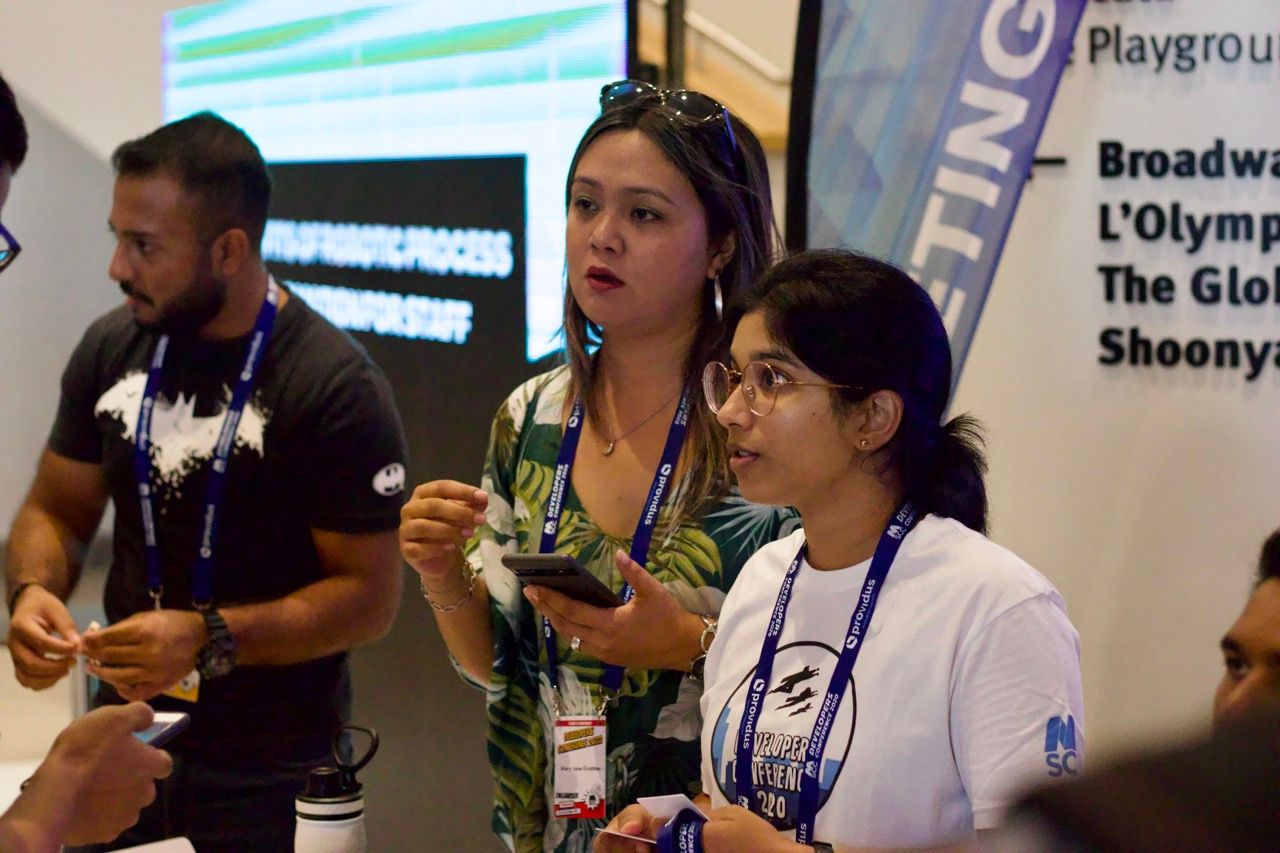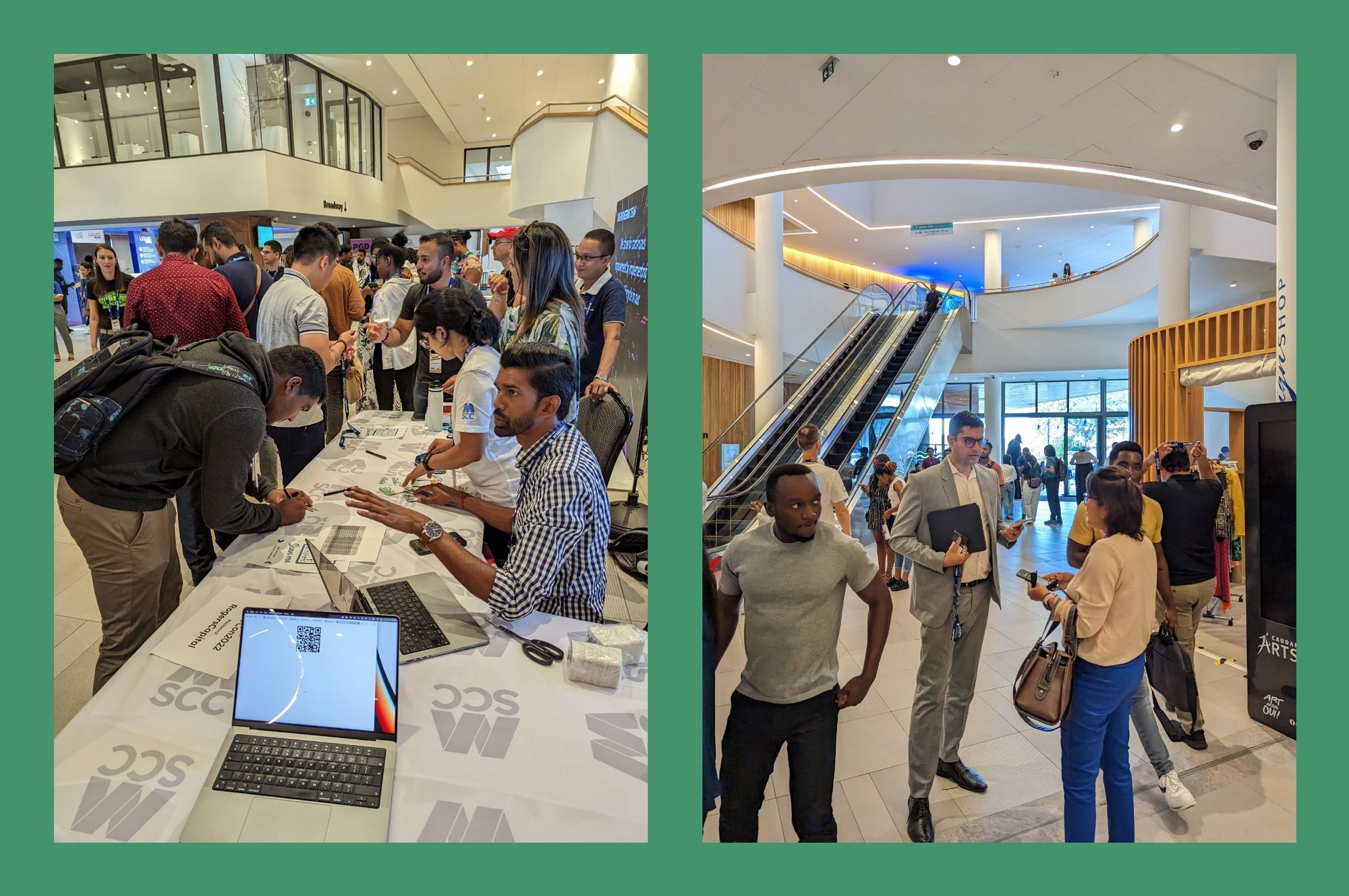 JoKi and I shared a few details about the opening ceremony and we met in the amphitheatre a few minutes before. The amphitheatre slowly filled up and as the clock struck 10h00, it was — TIME!

We welcomed everyone and thanked them for their two-year long patience. JoKi spoke about the MSCC, the conference and what to expect over the three days — all the content varying from webdev, systems engineering, AI, blockchain to mental health.
We then thanked the sponsors for the continued trust and support. JoKi invited Arun from Liquid Intelligent Technologies and then Patrice Herve from the Mauritius Commercial Bank (MCB) to address a few words. Liquid Intelligent Technologies and MCB are top tier – diamond sponsors of the Developers Conference 2022.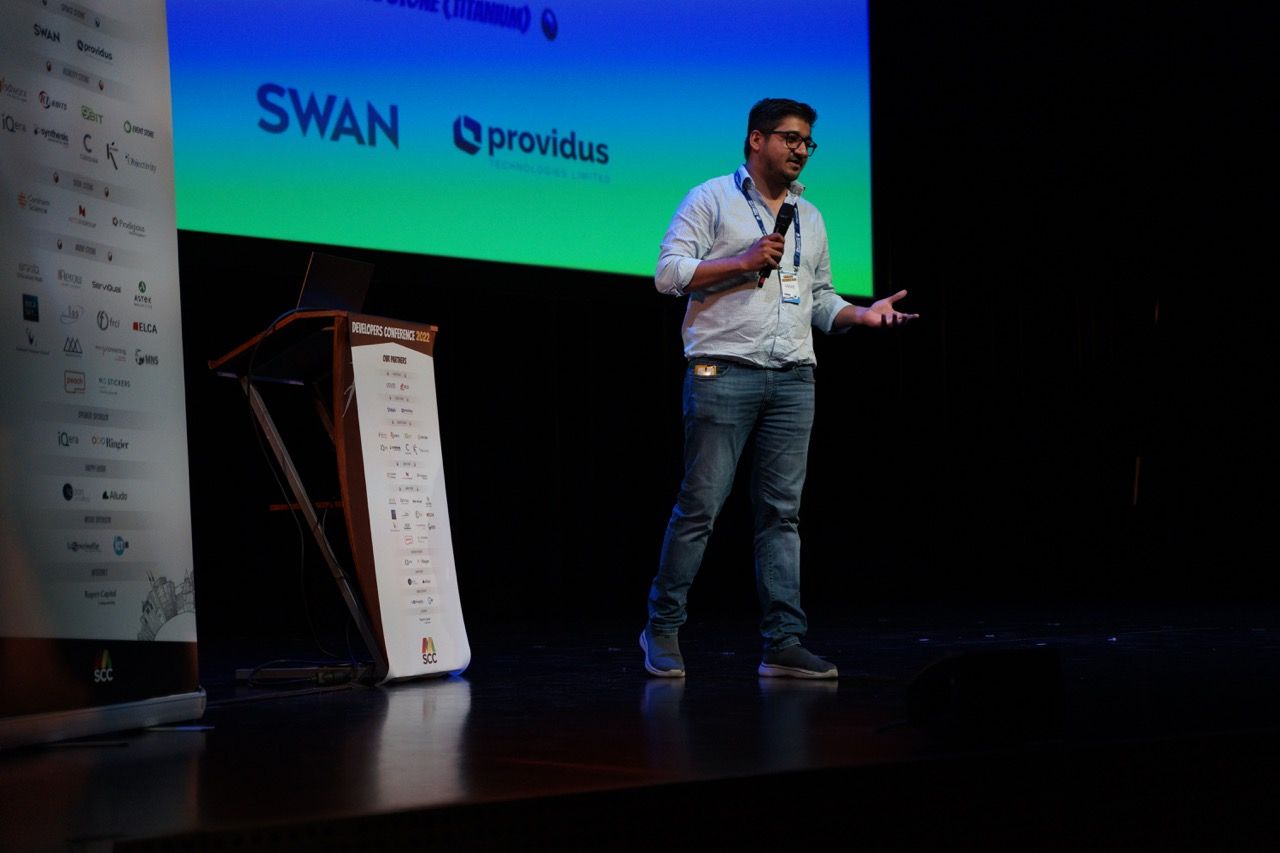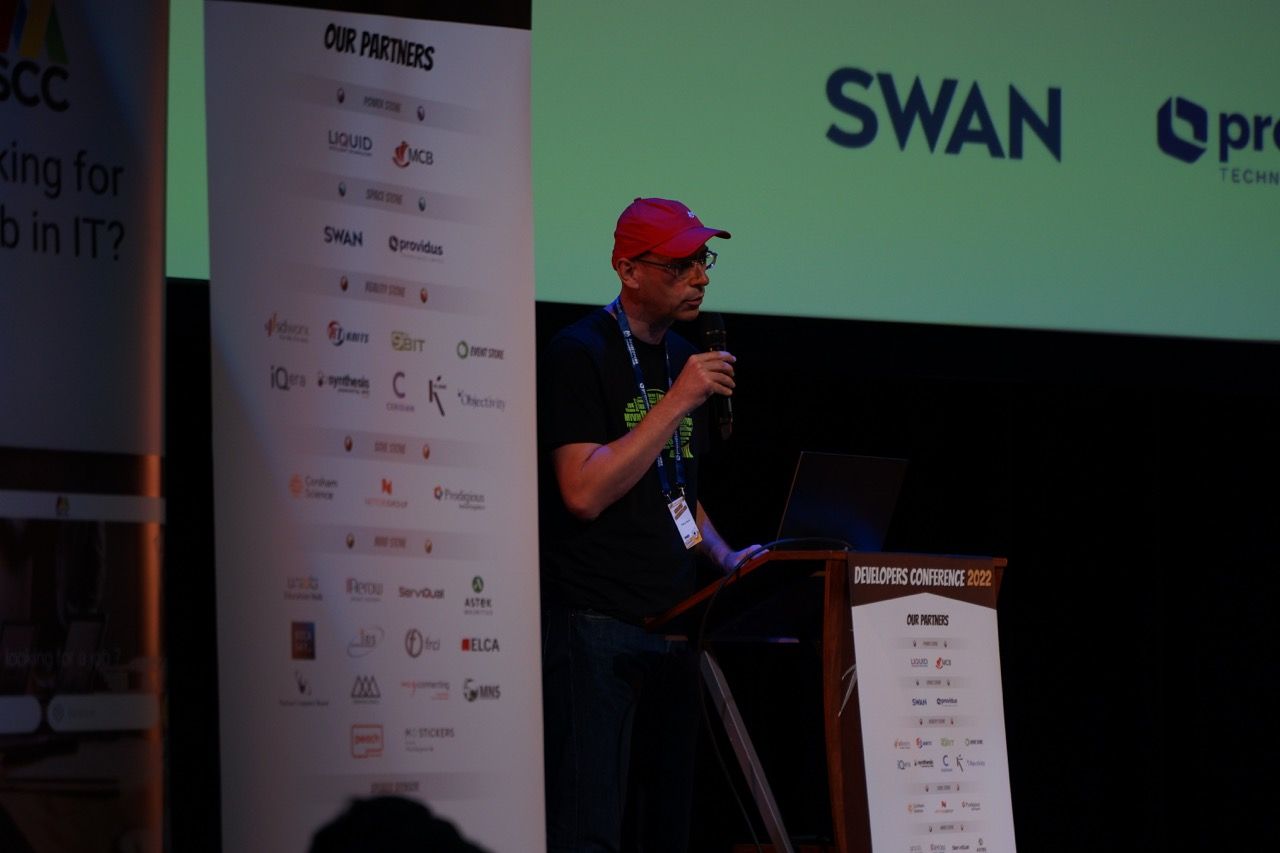 Both Patrice and Arun expressed their support and satisfaction with the arrangements, as top tier sponsors of the event. They wished all the attendees to make the most out of the event. I was particularly surprised by Arun's mention of open source activities and the Linux mirrors of Mauritius. I know Liquid Telecom sponsors and hosts several open source projects and Linux distributions in Africa. I was glad to know that they are aware of what's happening in that arena in Mauritius.
I commented about Caudan Arts Centre being a much bigger venue compared to Voilà Hotel during previous DevCons. I mentioned that the place is so big with the amphitheatre and other rooms separated by a large hallway, I ended up making 10K steps the day before while assisting sponsors with their booths and completing the Internet setup. I wished everyone good health and asked them to keep a count on the number of steps for fun.
After the keynote, people spread around the venue, checking the agenda and what's up next while some people flocked to the registration desk to collect their goodies.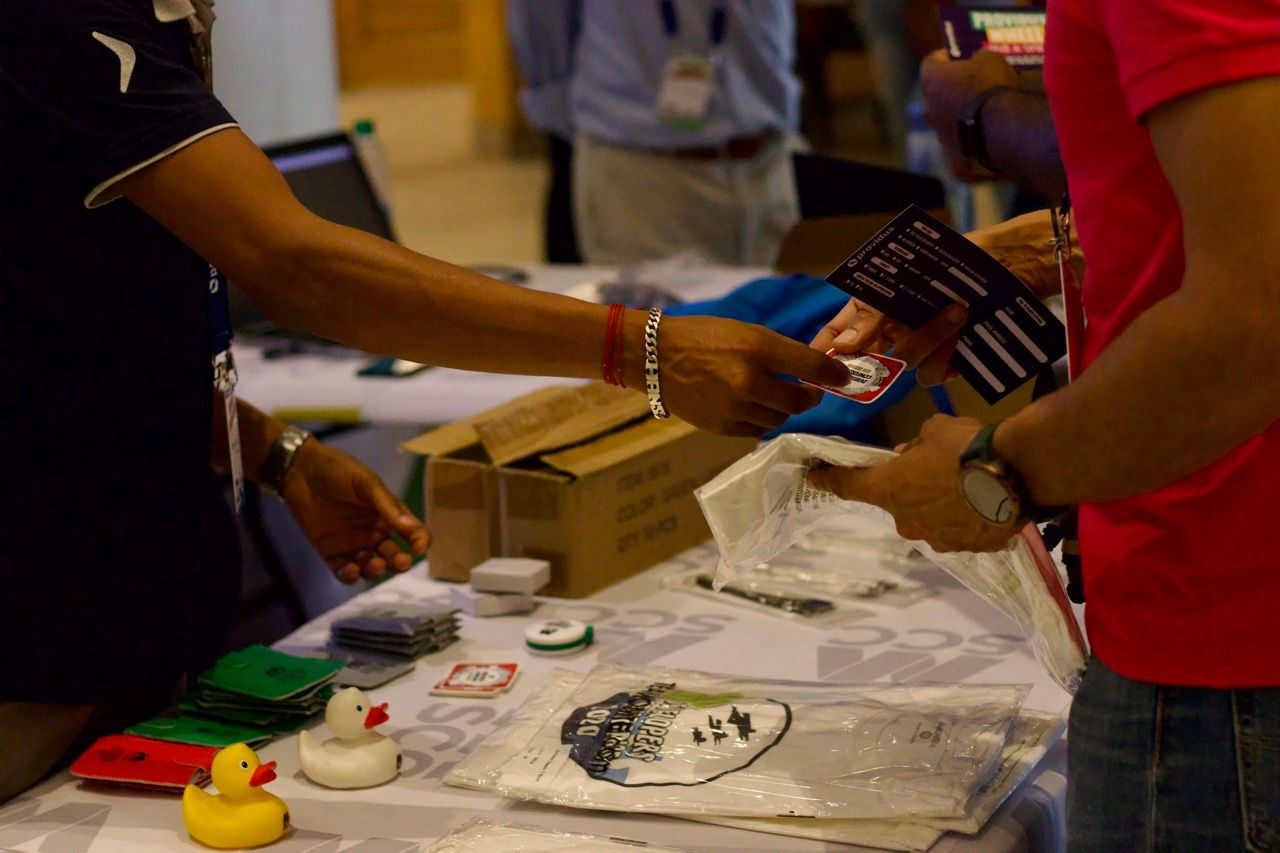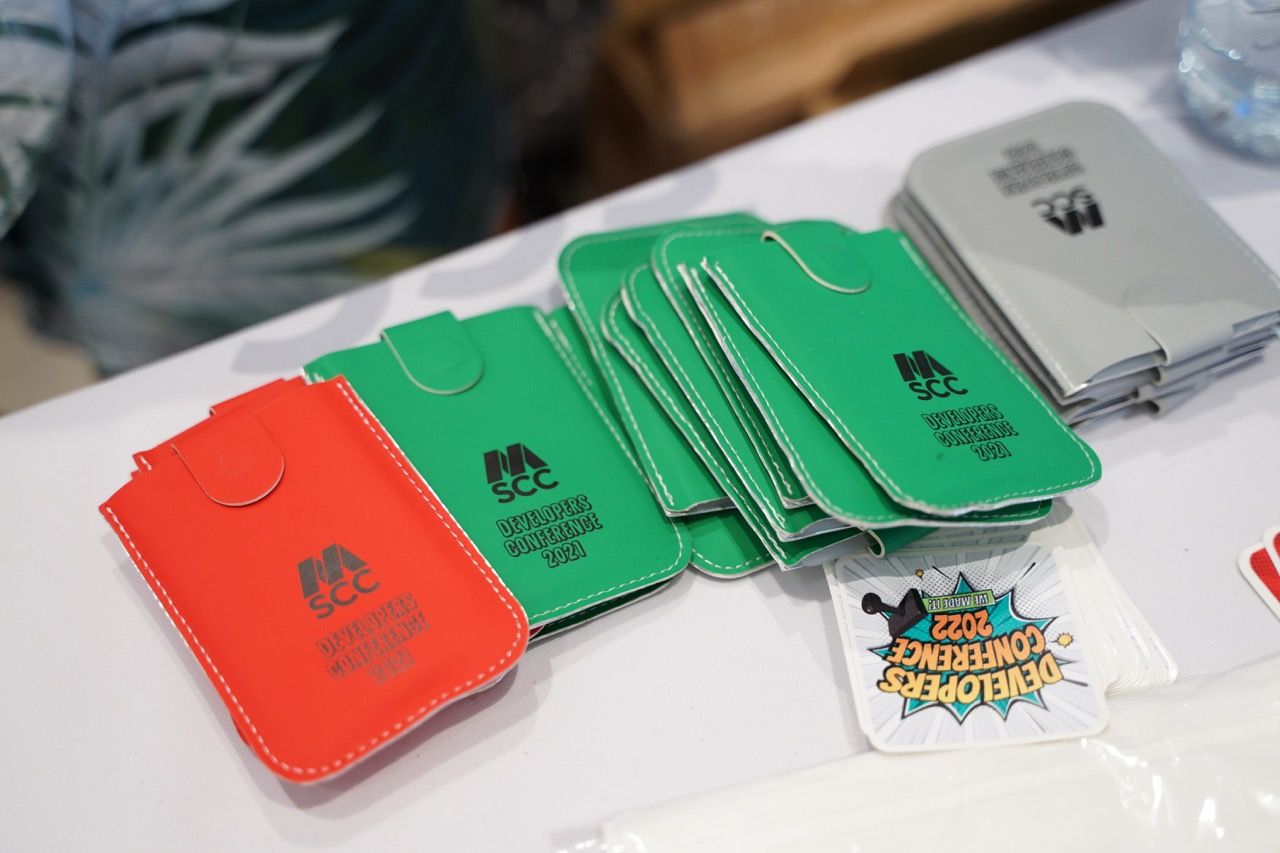 Well, talking about goodies, the registration desk was not the the only place to collect them. In fact, many of the DevCon partners had nice surprises at their booths.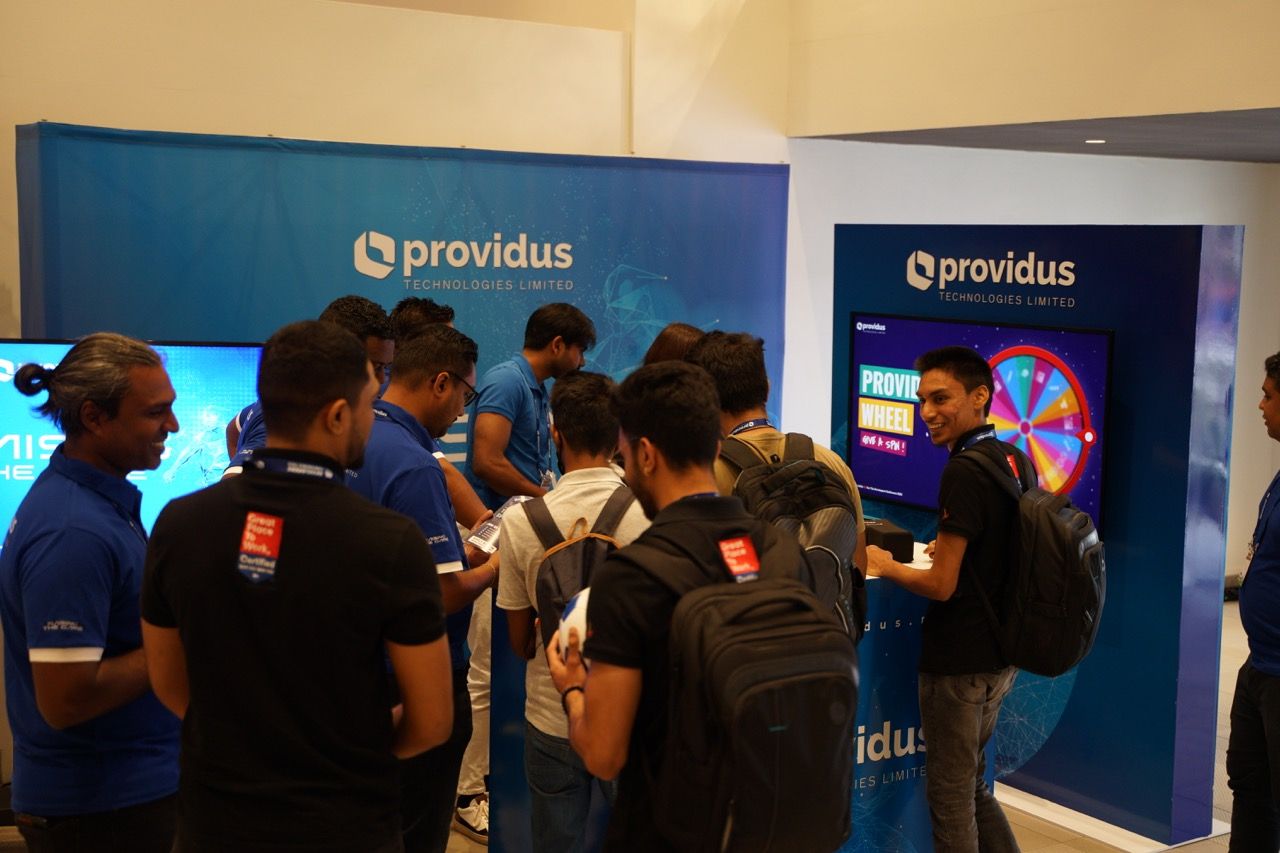 At the Providus booth they had this really cool "spin the wheel" game to win goodies. One could collect a goodie form from our registration desk. The form asked a few details about your work experience and skills and whether you are keen to switch career/workplace. Once filled up, just queue up at the Providus booth to spin the wheel and win something.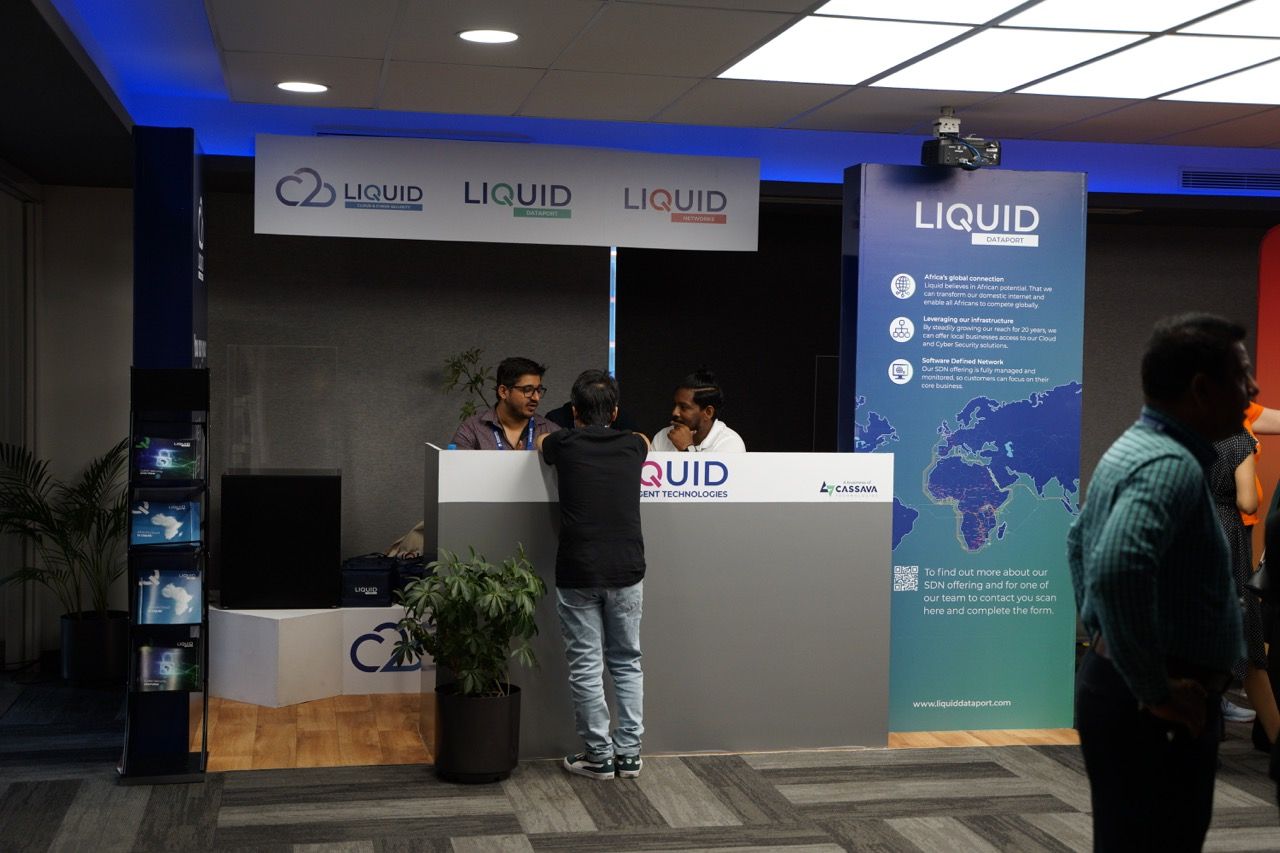 Folks at the Liquid Intelligent Technologies booth may have appeared shy but they were really cool. We talked about telecom, cloud/hosting services and what is Liquid Tech planning to launch in Mauritius in 2023. Also, trust me, they had really nice goodies too.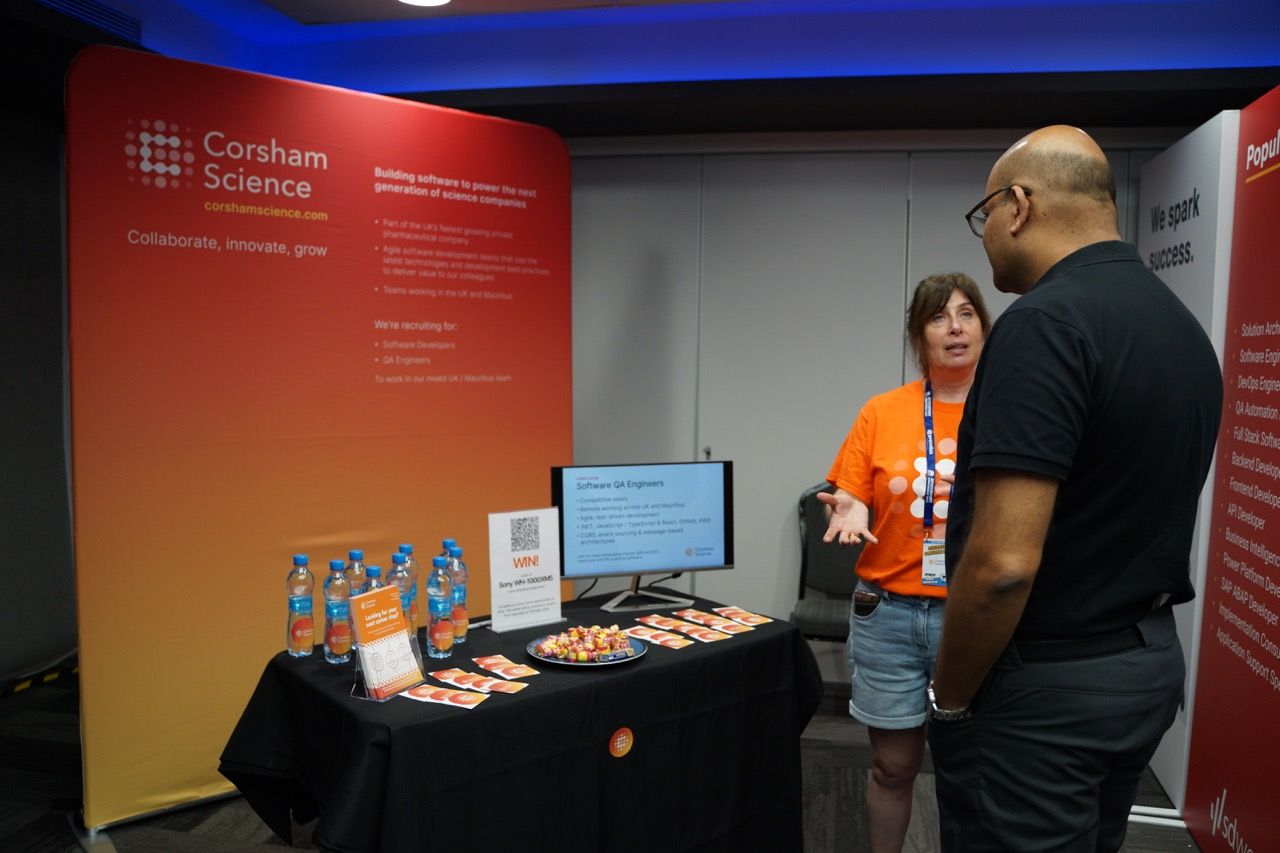 Corsham Science, apart from the job vacancies, they had something really important at their booth — water bottles! Damn, it was hot in Port-Louis and with the hustle-bustle in the hallway, one would get thirsty pretty quick. They also had a nice "scan a QR" to win a goodie — a noise cancelling headphone by SONY.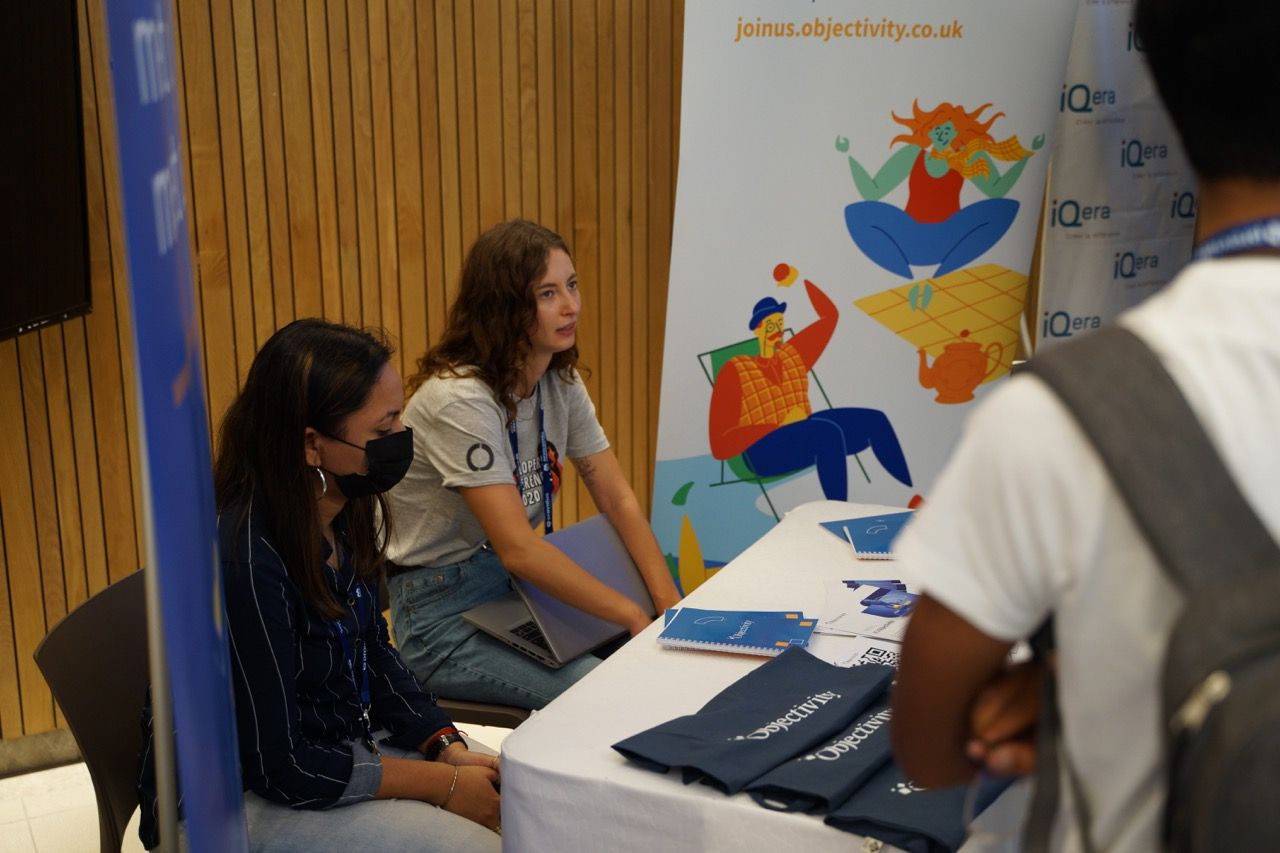 Objectivity had a bunch of stuff at their booth too — t-shirts, notebooks, stress balls and even "napolitaines". All you had to do was to answer a few questions from their quiz, five questions to be precise. You get three out of five correct and you can win something. I got a stress ball! Damn, it was a stressfull day.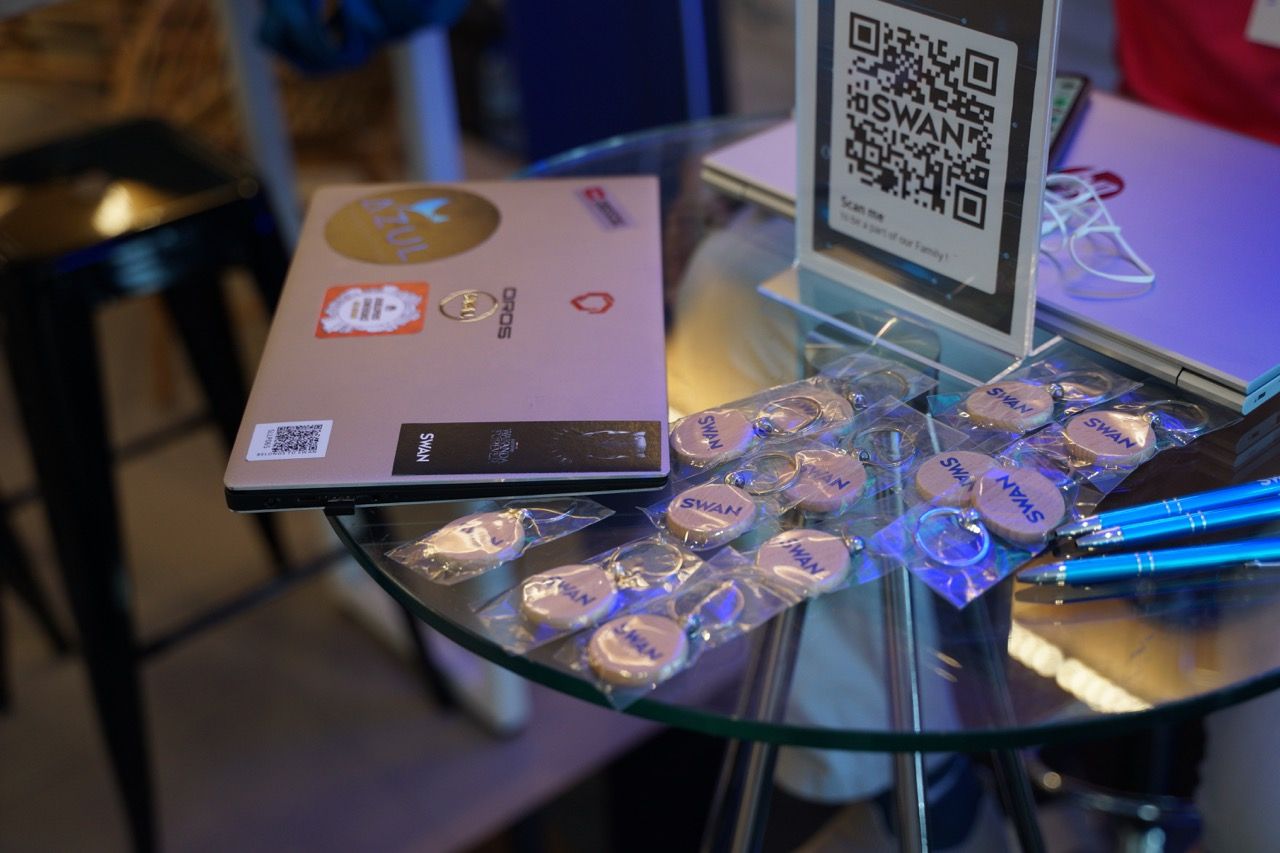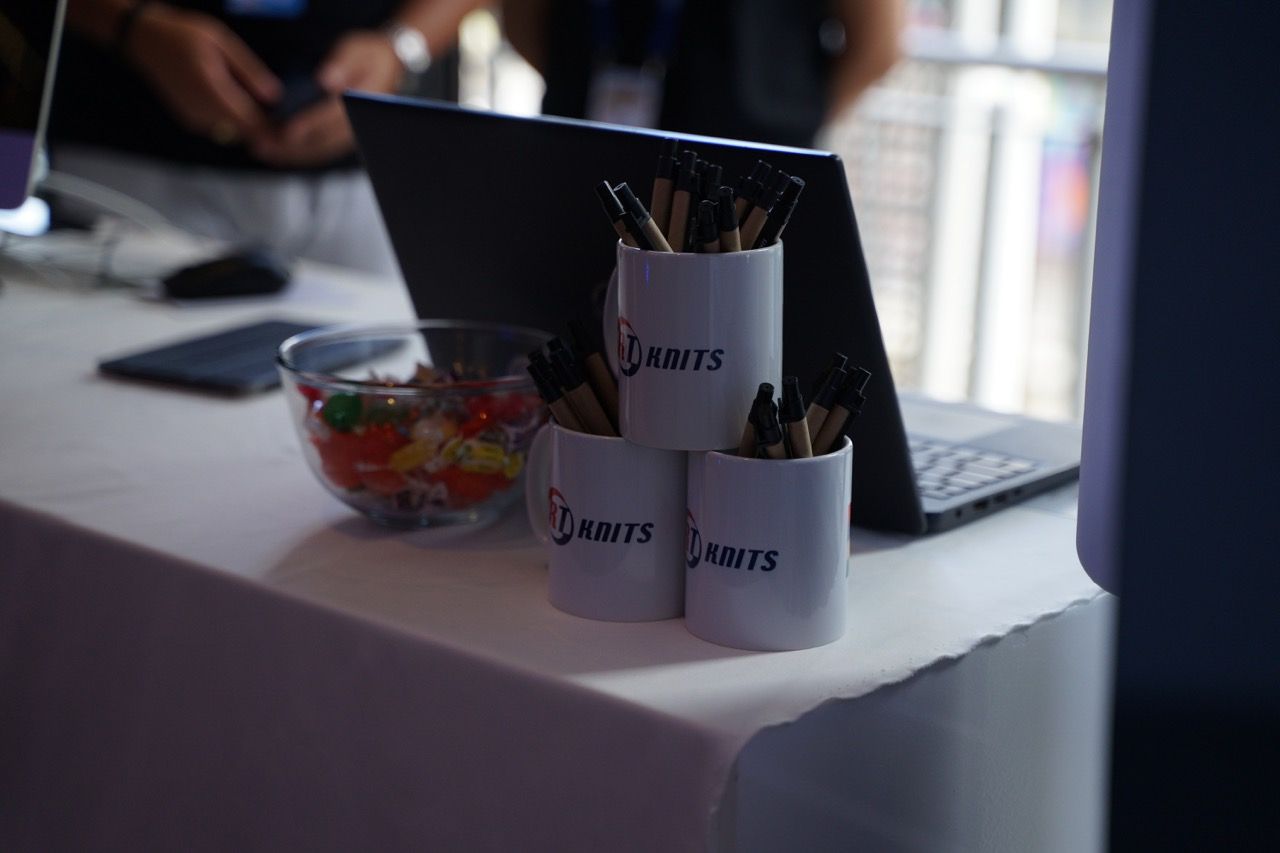 SWAN and RT Knits had a bunch of stationery at their booths. However, RT Knits had also a load bunch of cool electronic gadgets that they distributed during a Q&A in their presentation about "Putting AI into Manufacturing" the next day.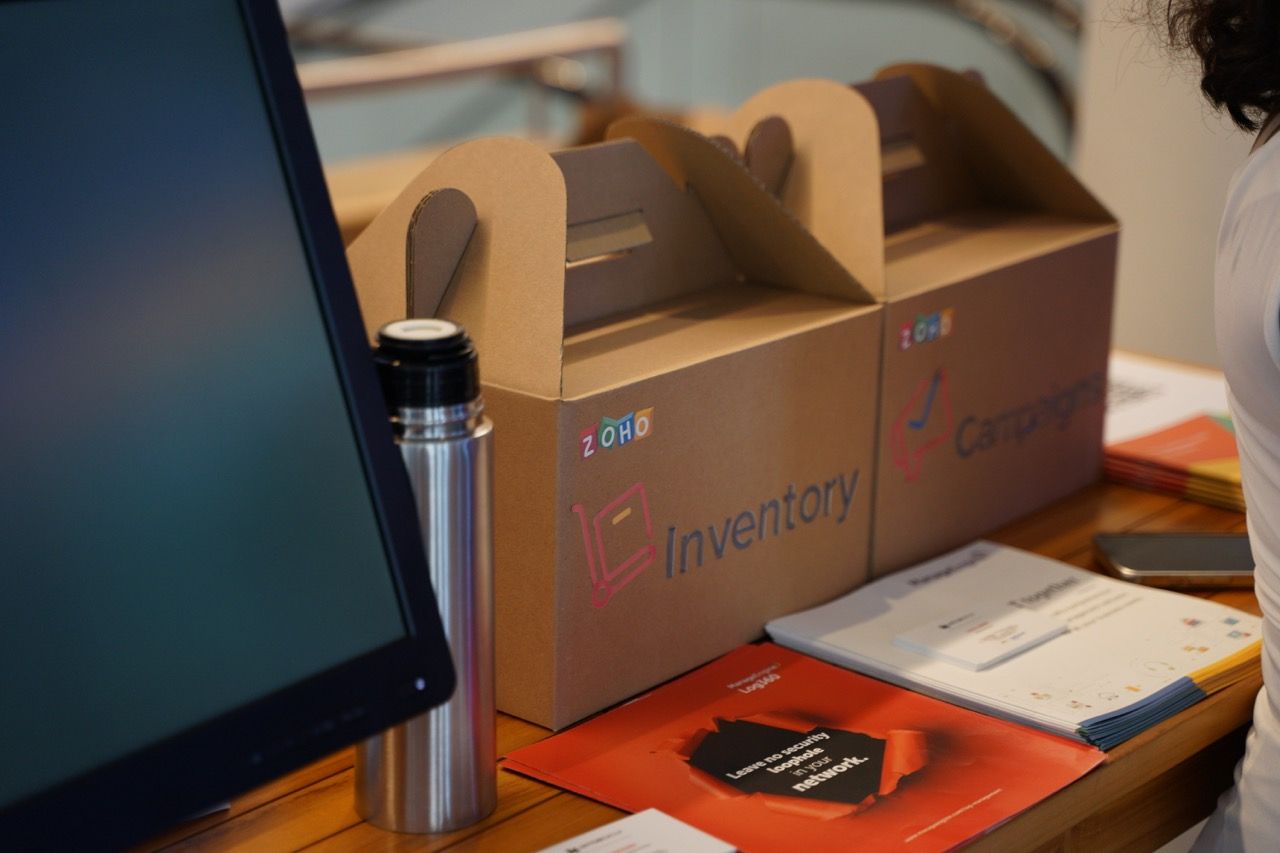 Nettobe had some cardboard boxes at their booth that looked like toolboxes, which they used to promote Zoho. I spoke to Jean Maurice Prosper, the CEO of Nettobe, about Zoho and a bunch of other tech that they're bringing to Mauritius and Africa. We also spoke about recruitment challenges, scarcity of skills and the need to train people on specific tech. However, sadly, I did not get my hands on one of those toolboxes — maybe next time.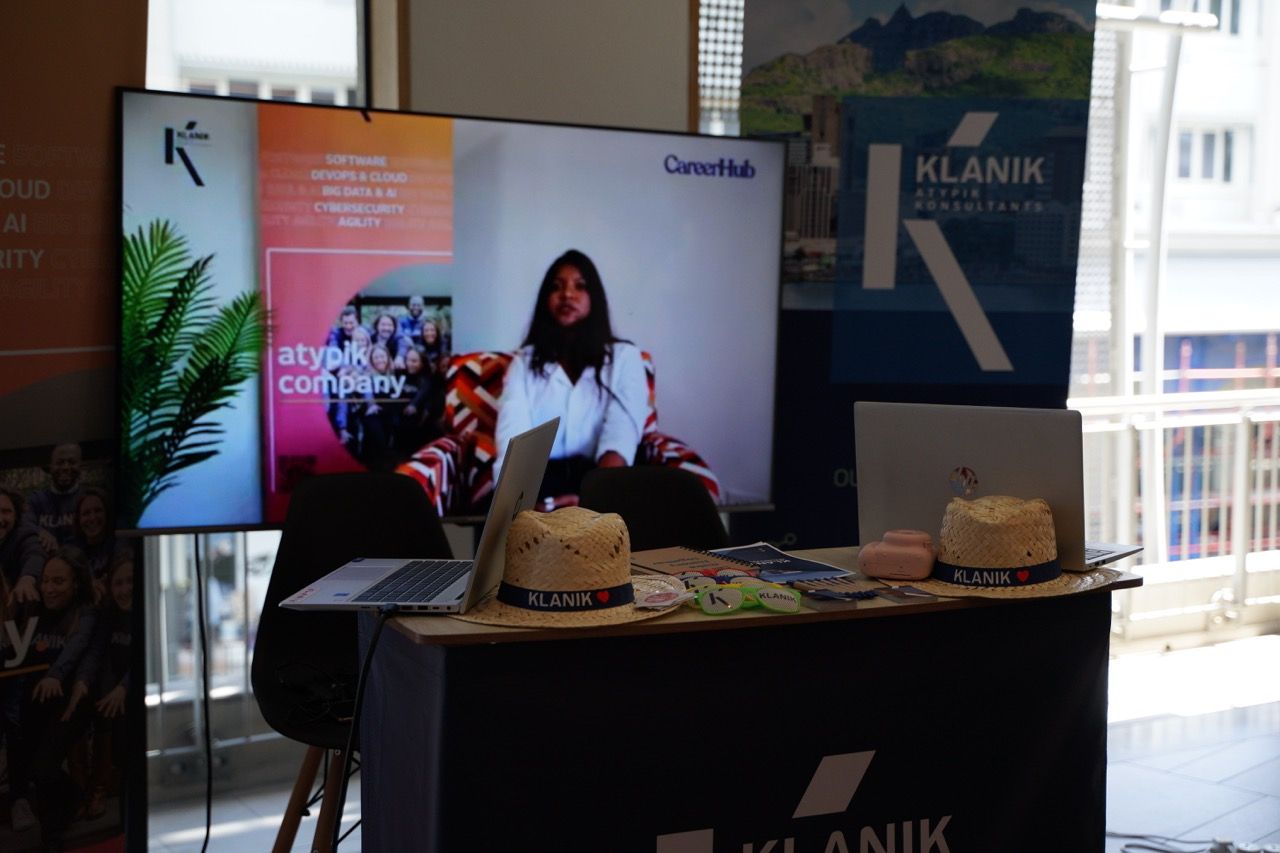 Klanik's booth was very tropical and refreshing. Oh, I did not get one of those fancy sunglasses but hey I got a straw hat and a t-shirt. Hehe!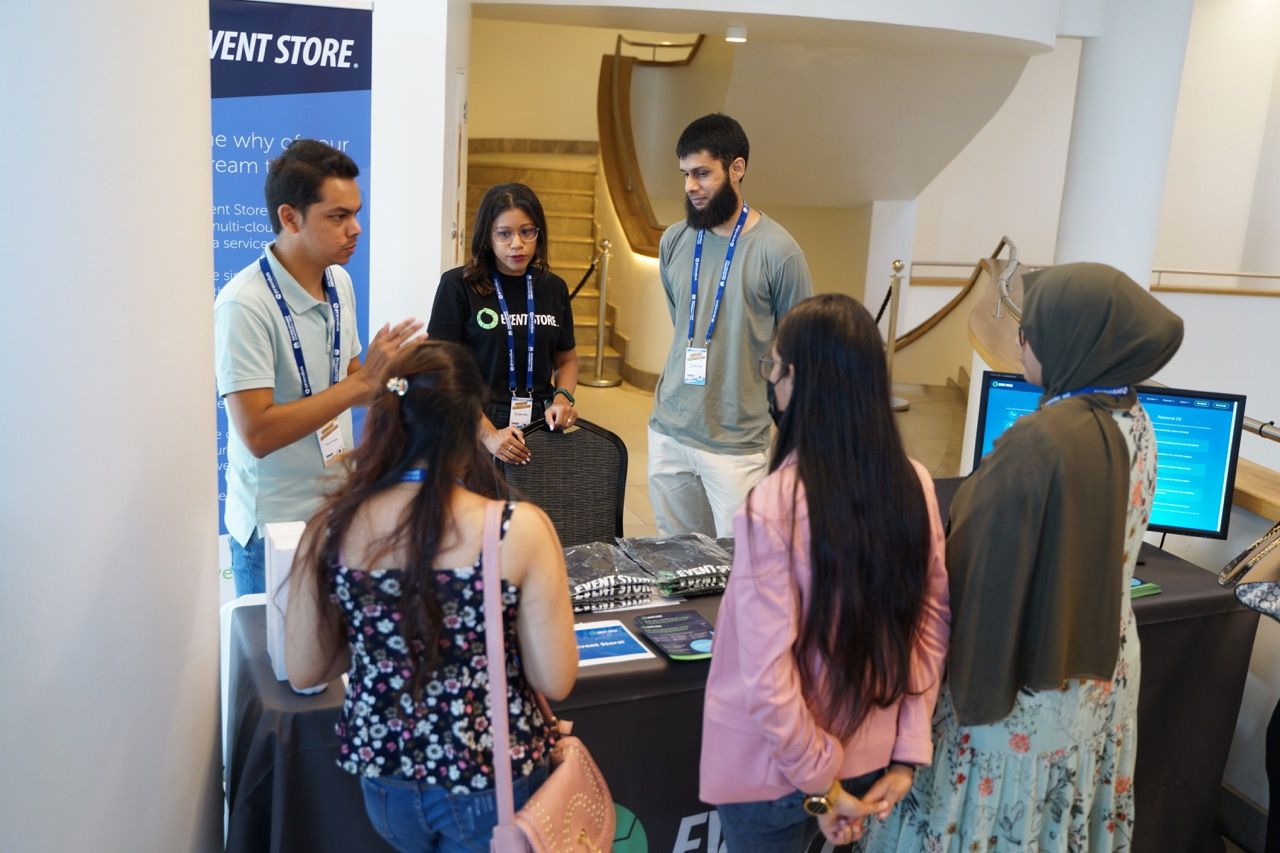 Event Store had t-shirts, tumblers, but their mega prize to their raffle was a Nintendo Switch was I will mention again later when talking about day 3.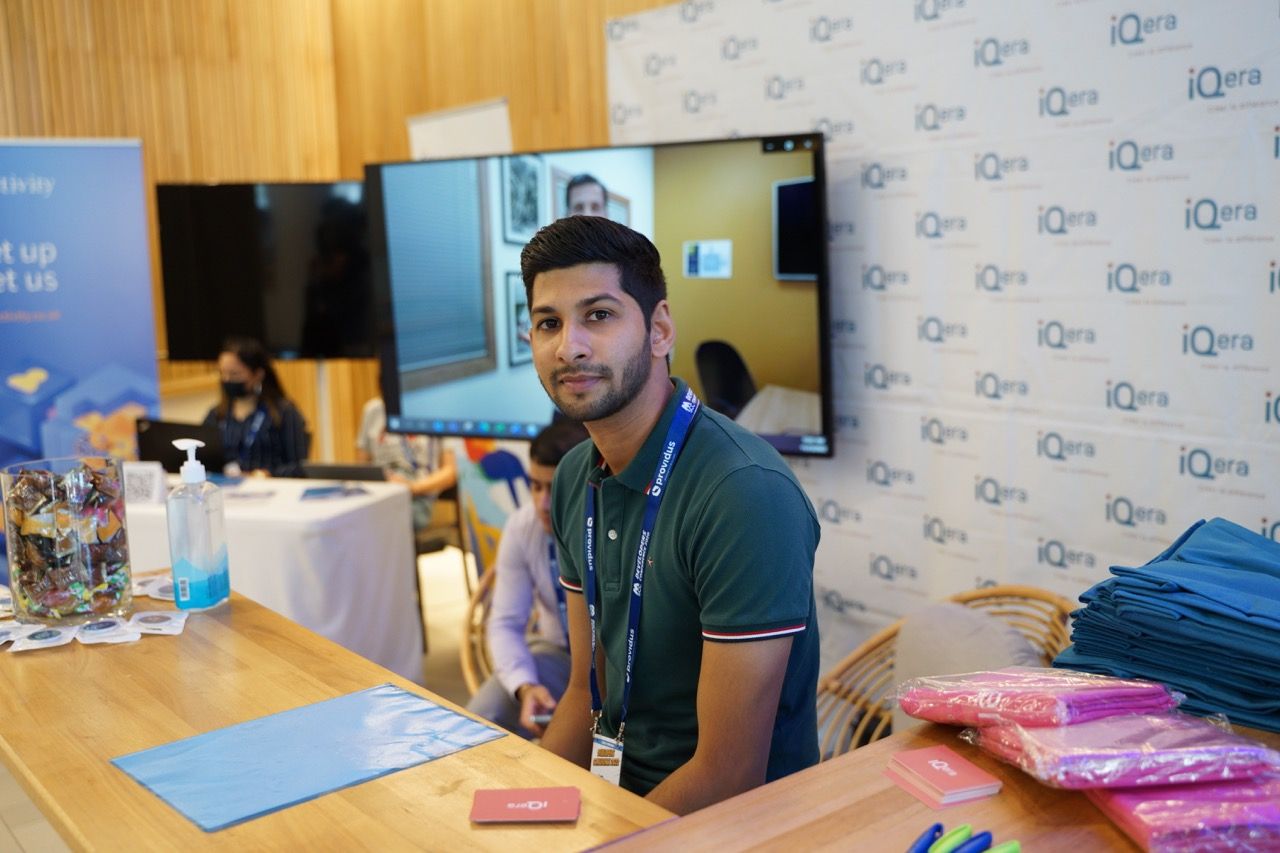 iQera had a bunch of cool stuff too, like beach towel, cooler bag, candies and a bottle of hand sanitizer because COVID-19, after all, is not completely gone. In fact, talking about the coronavirus, Mary Jane was very strict at the registration desk with goodies too. You could point and choose which goodies you like but NOT TOUCH! Touching spreads the virus. Therefore, Mary Jane came up with a strict policy of "you touch it, you take it" and no whining later.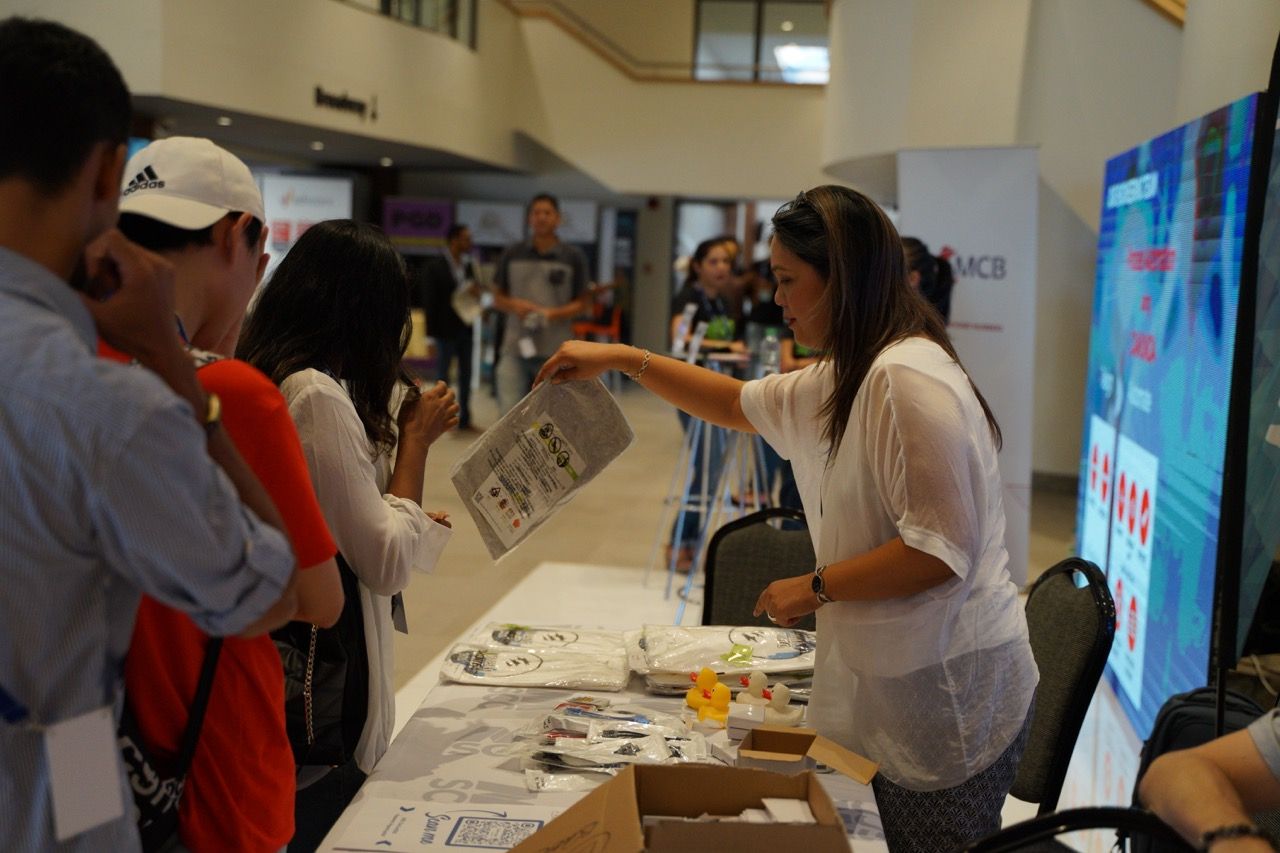 Let's get back to presentations and content. My next important activity of the day was the panel discussion. I was hosting a panel discussion on "Technology & the Future of Work" in the amphitheatre at 11h00. So, I had a few minutes buffer after the keynote to be able to catch up with all the panelists and then begin sharply at 11h00.
The panelists were:
Patrice Herve, Head of Technology, MCB
Aroun Poligadu, Chief Information Officer, iQera
Dylan Harbour, Director of Technology, Ringier SA
Kenneth Christiansen, Web Platform Architect & Principal Engineer, Intel Corporation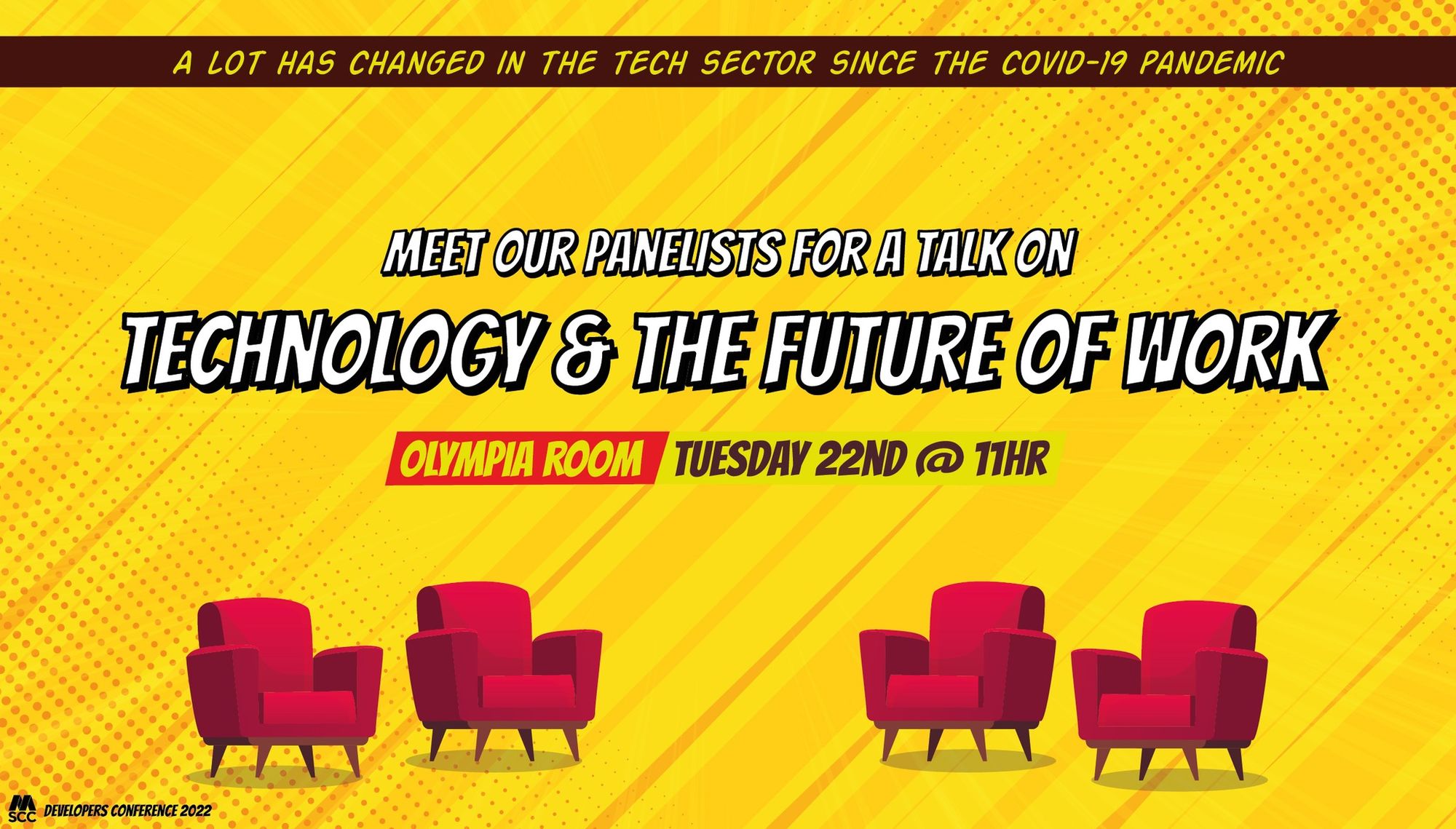 The panel discussion went smoothly. It was interesting to hear the experiences of the panelists as they delved on the questions:
What does the future of work look like?
Will hybrid work continue to stay post-pandemic?
How can technology narrow the gap between developed and developing countries?
How will AI impact the future of work and life?
Metaverse and the workplace, is it possible in Mauritius?
What are executives saying about the future of work?
Can employees maintain a work-life-balance if normal office hours are replaced by flexi time?
Can technology improve productivity without impacting on the mental health of employees?
Is a four day week the future of work?
The discussions turned out to be extremely interesting as the panelists had more to share. Alas, I had to skip the Q&A from audience which I had timed for the last 10 mins. We had to finish on time to allow the next speaker properly set up for his presentation.
Afterward, I helped at the registration desk on and off. I spent some time working on my slides for my presentation the next day. At one point, Nirvan and Renghen looked for me to rehearse the script for their play on "The Politics & Fallacies in Agile" scheduled for the next day.
I missed some sessions that I really wanted to attend that day, like the one about "fixing a bug in the ZFS file system" by Shaan Nobee of Event Store. I think his colleague recorded that session. I really need to get my hands on that video.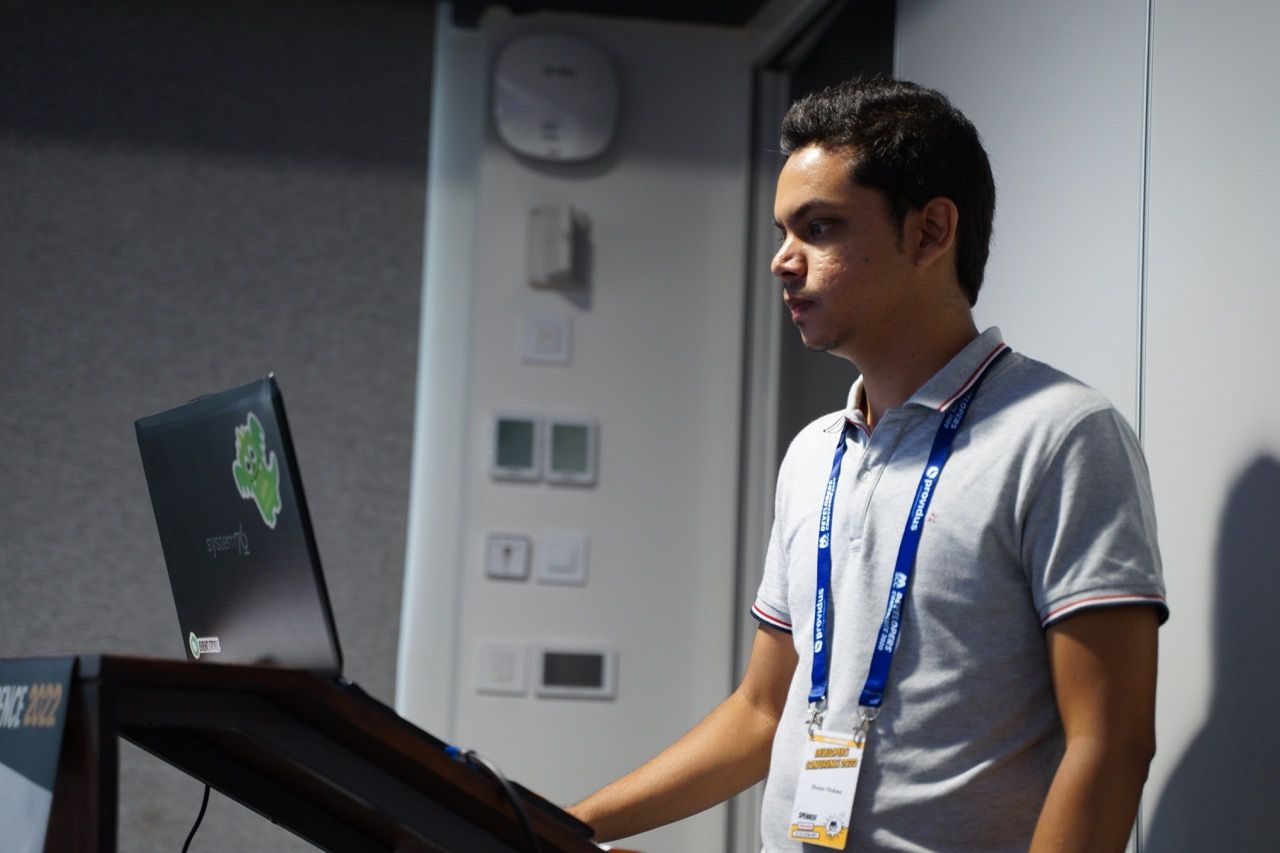 I also missed the "Right to Repair Much" by Loïc Forget but he recorded the session. Thus, I'll be able to watch once it is available online.
However, the Developers Conference isn't just about sessions and talks but also about catching up with friends that you meet, maybe, once a year.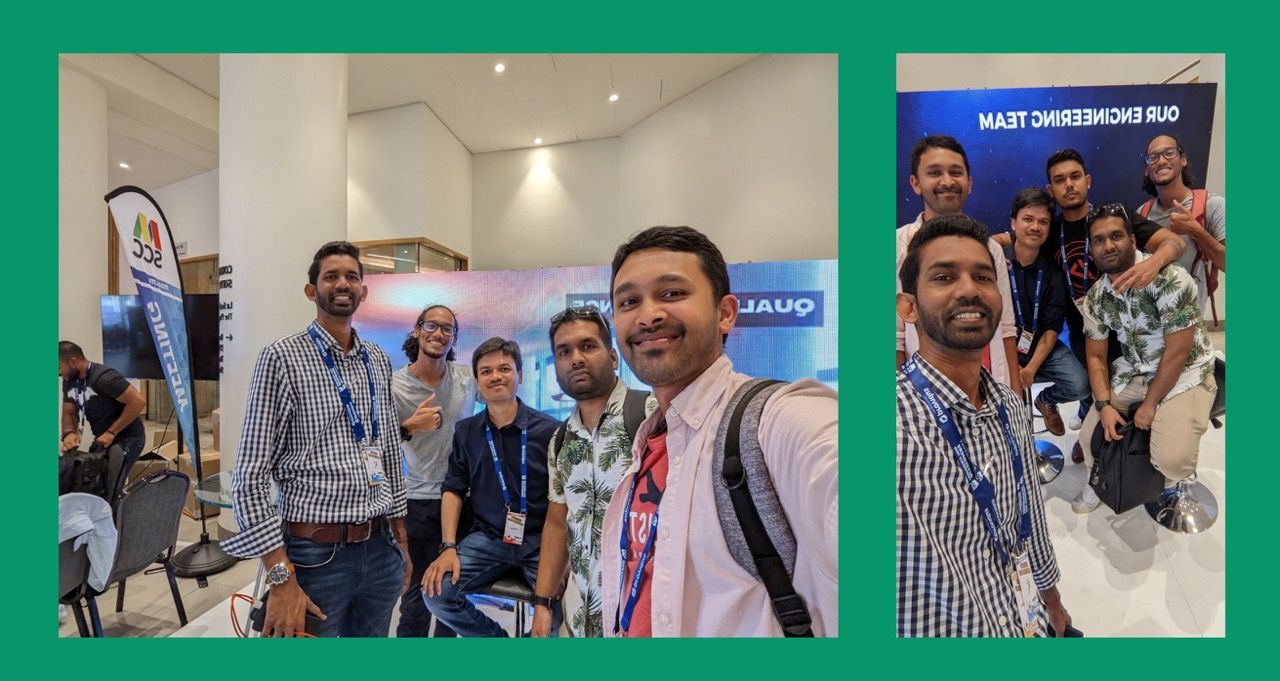 By the end of day 1, as we cleared up the registration desk, we were totally knackered.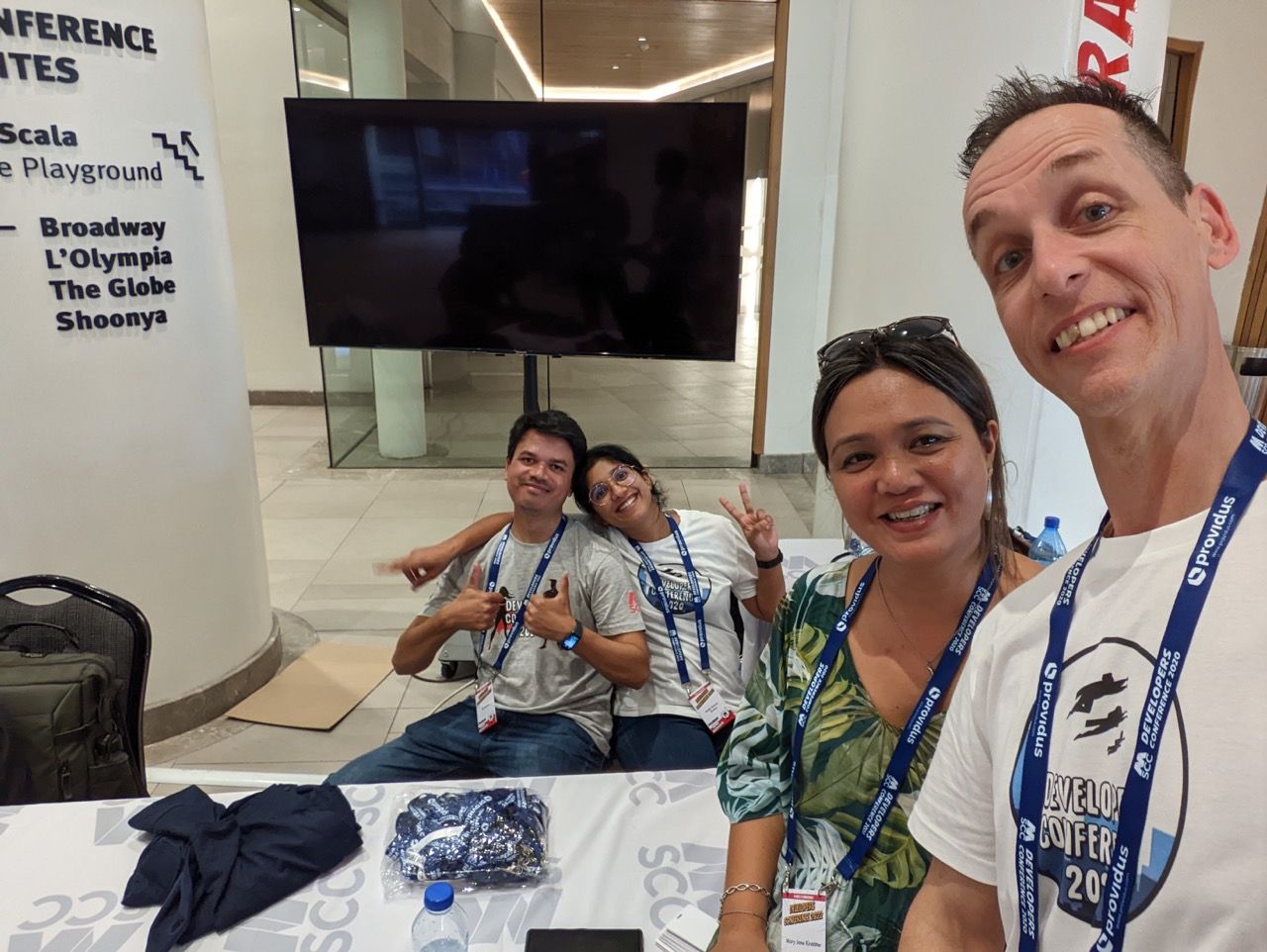 The end of day 1 is celebrated by a sponsored Happy Hour. It was held at the Caudan Arts Centre itself on level 1 outside the amphitheatre. It was sponsored by Spoon Consulting.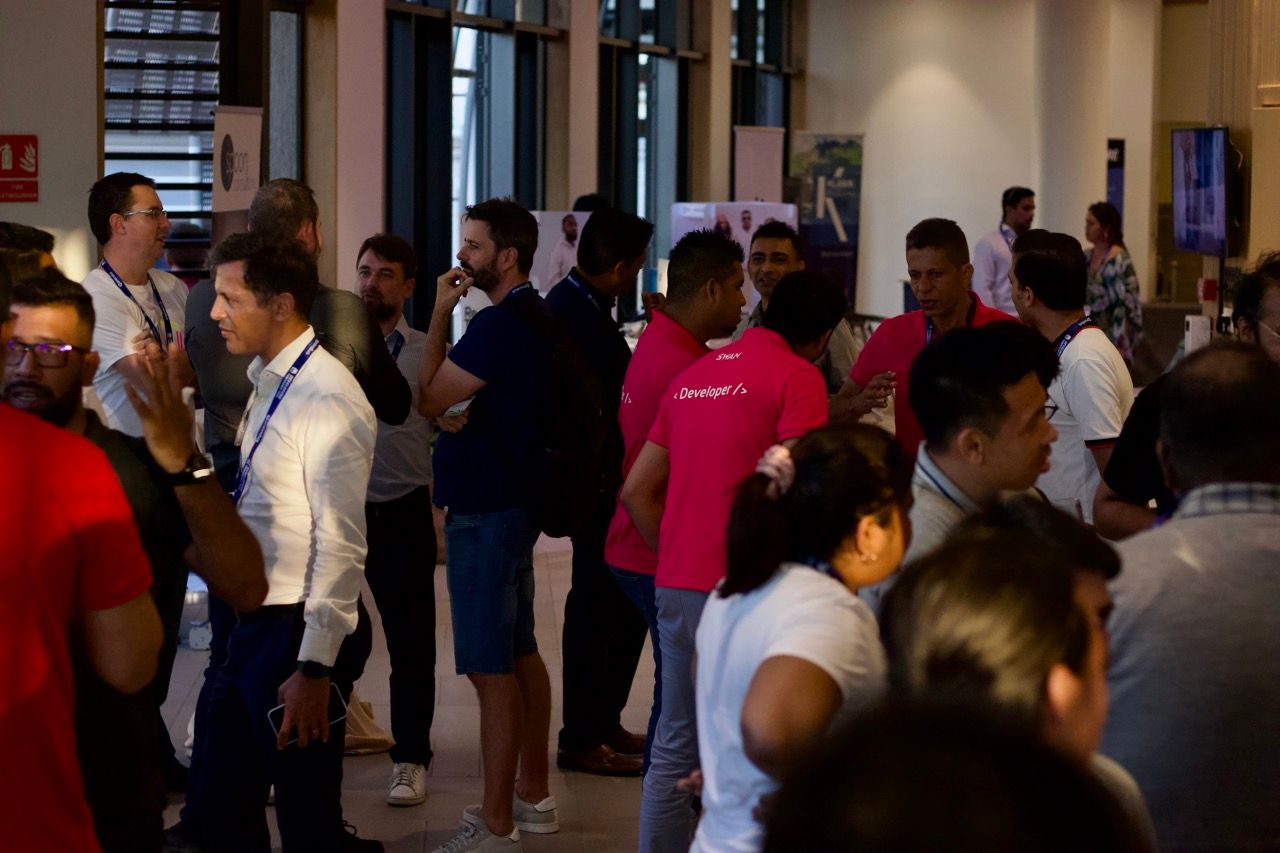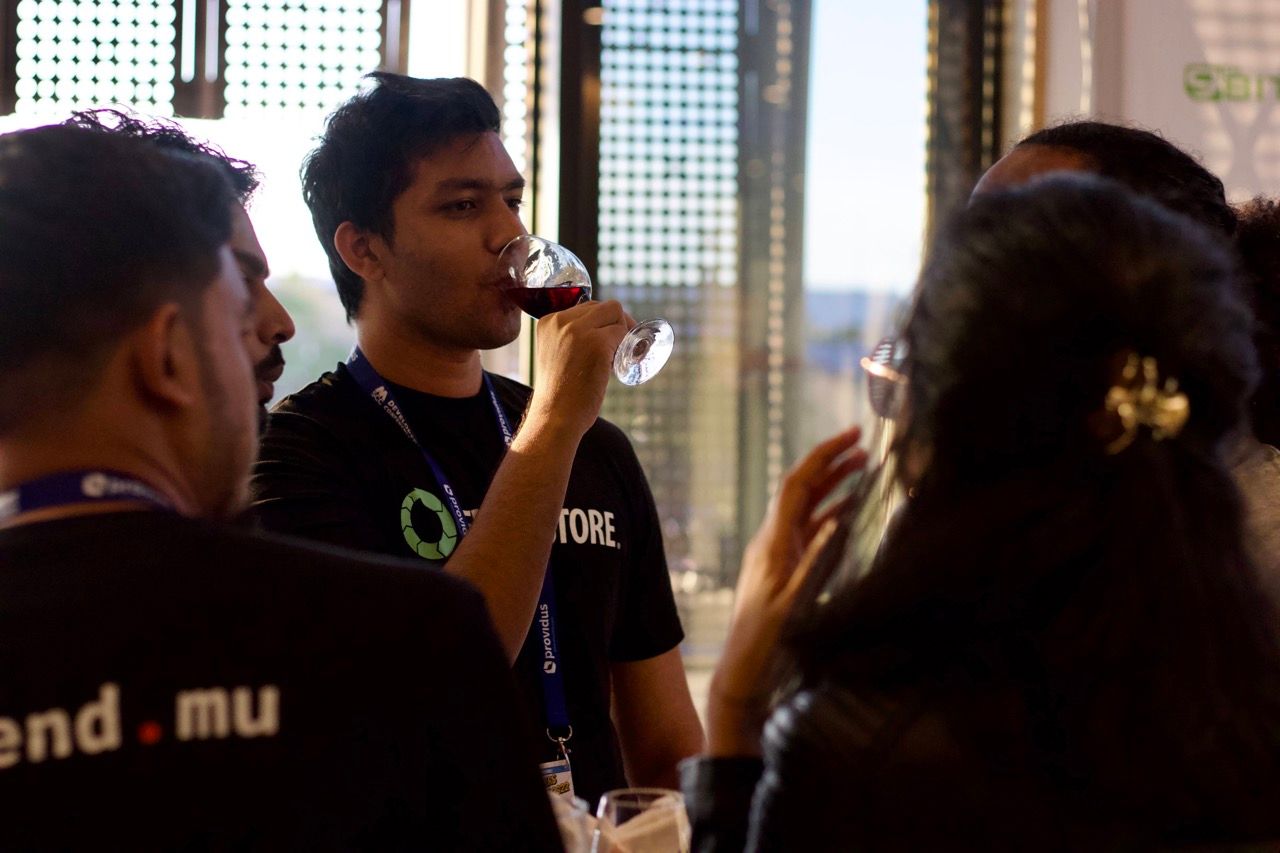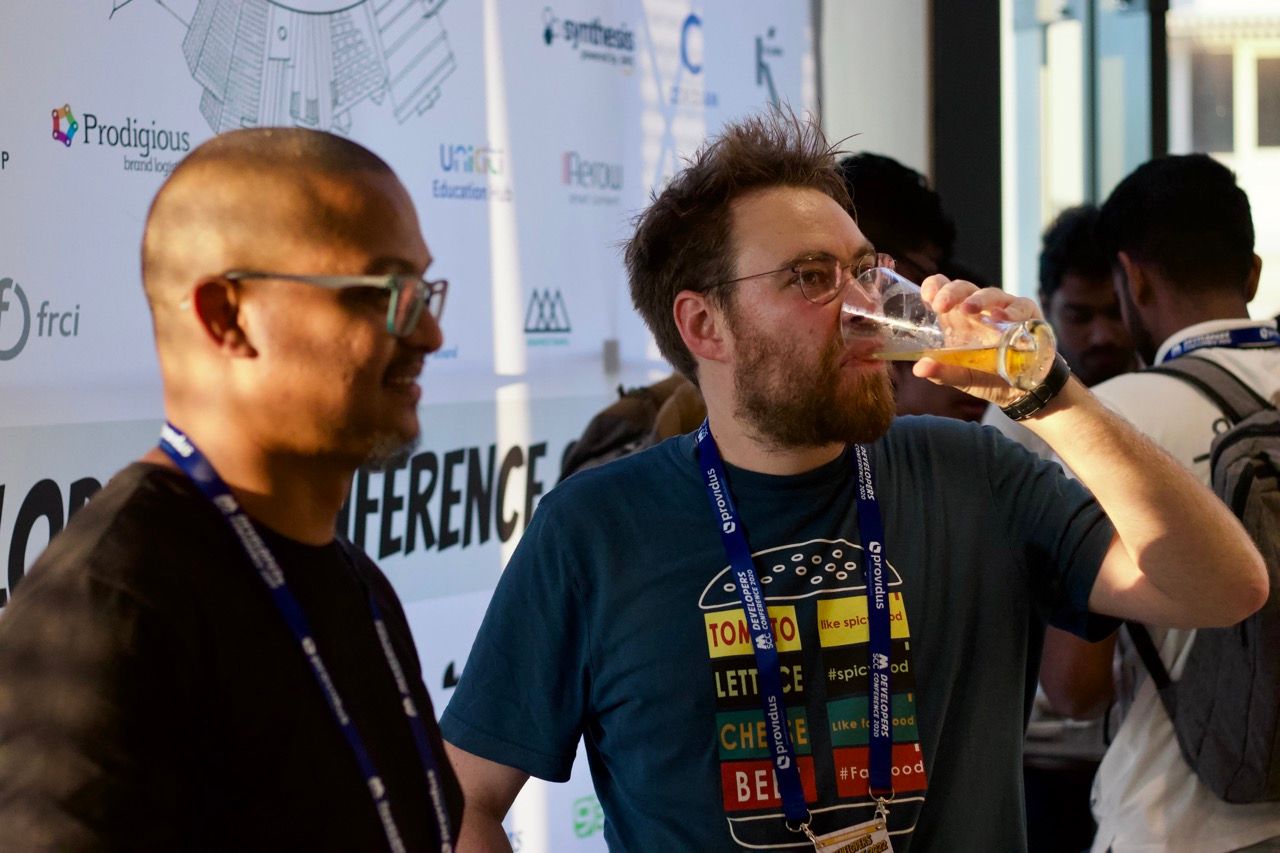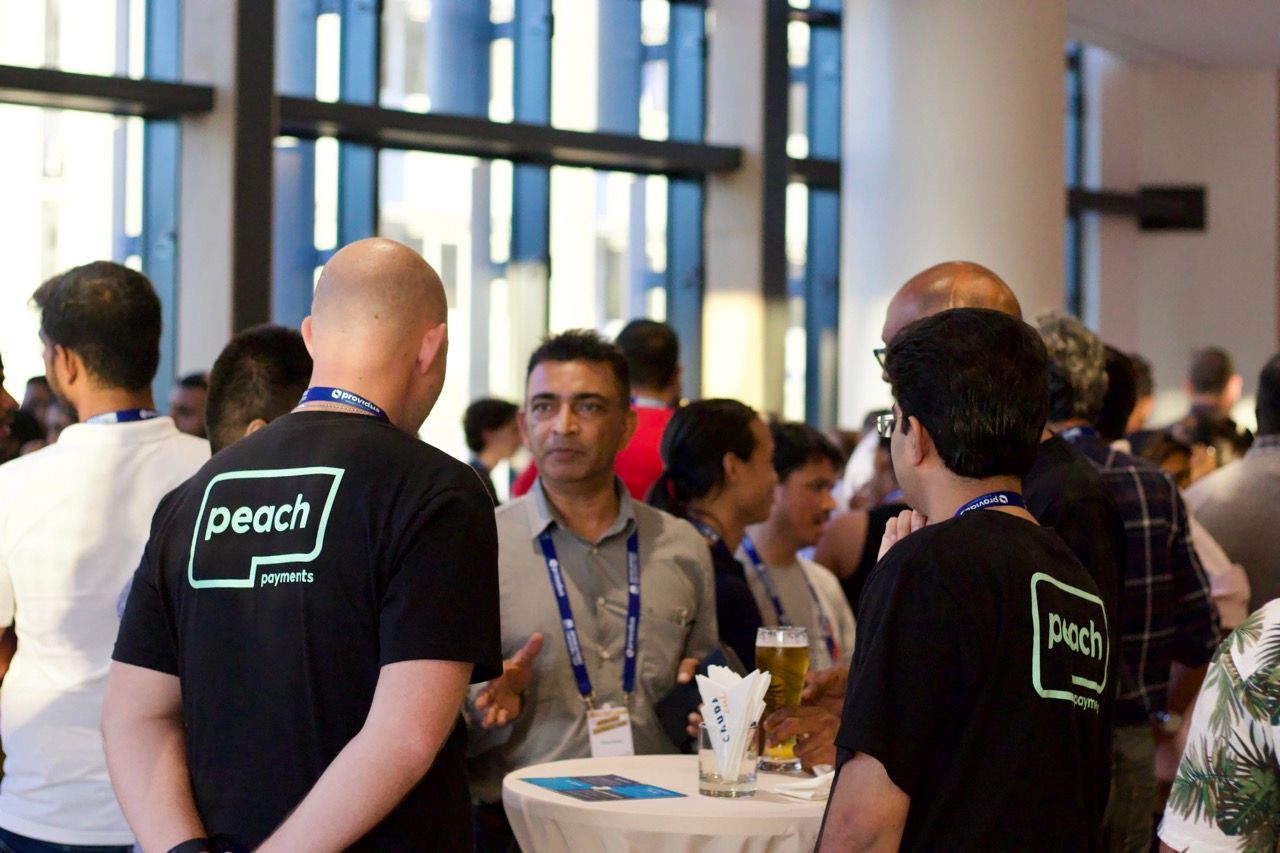 Day 2
We had the same trip on the morning of day 2, i.e pick up Pritvi, Girish and Vidush. Once we reached Caudan Arts Centre we had it like Shelly's clock-work — setting up the registration desk and checking the rooms.
I drank a Lucozade to keep me from being drowsy. I went to sleep late and woke up at around 04h00. Fatigue was apparent. Oh... but the day hadn't begun yet.
I was told there was some technical issues with the display in the Smallville room. I went to check. Mohamed Edun from Providus had his session scheduled at 09h00 in that room. I called a technician from the Caudan Arts Centre's support team.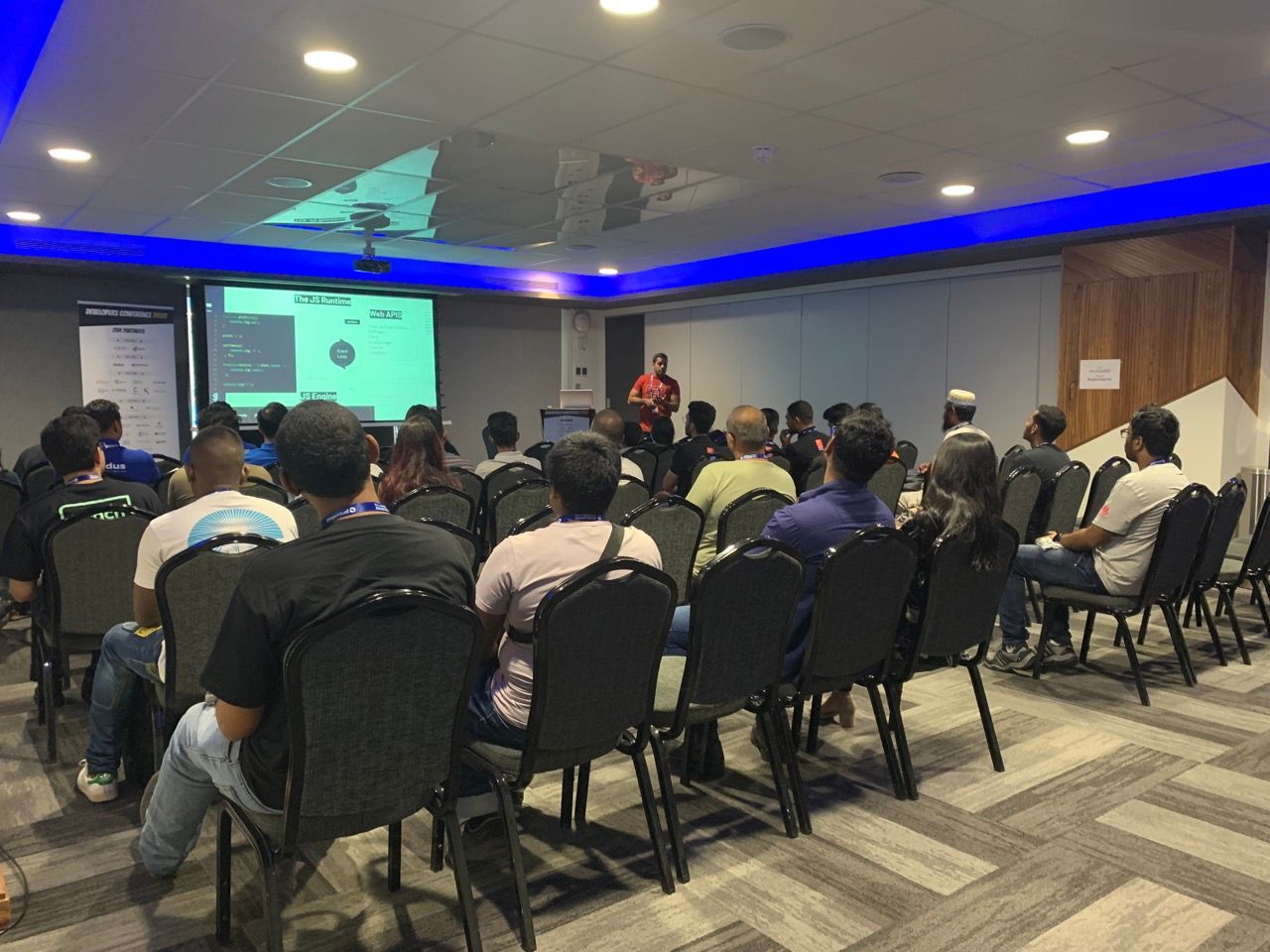 Mohamed was able to proceed with his presentation and he had a nice crowd for a morning session.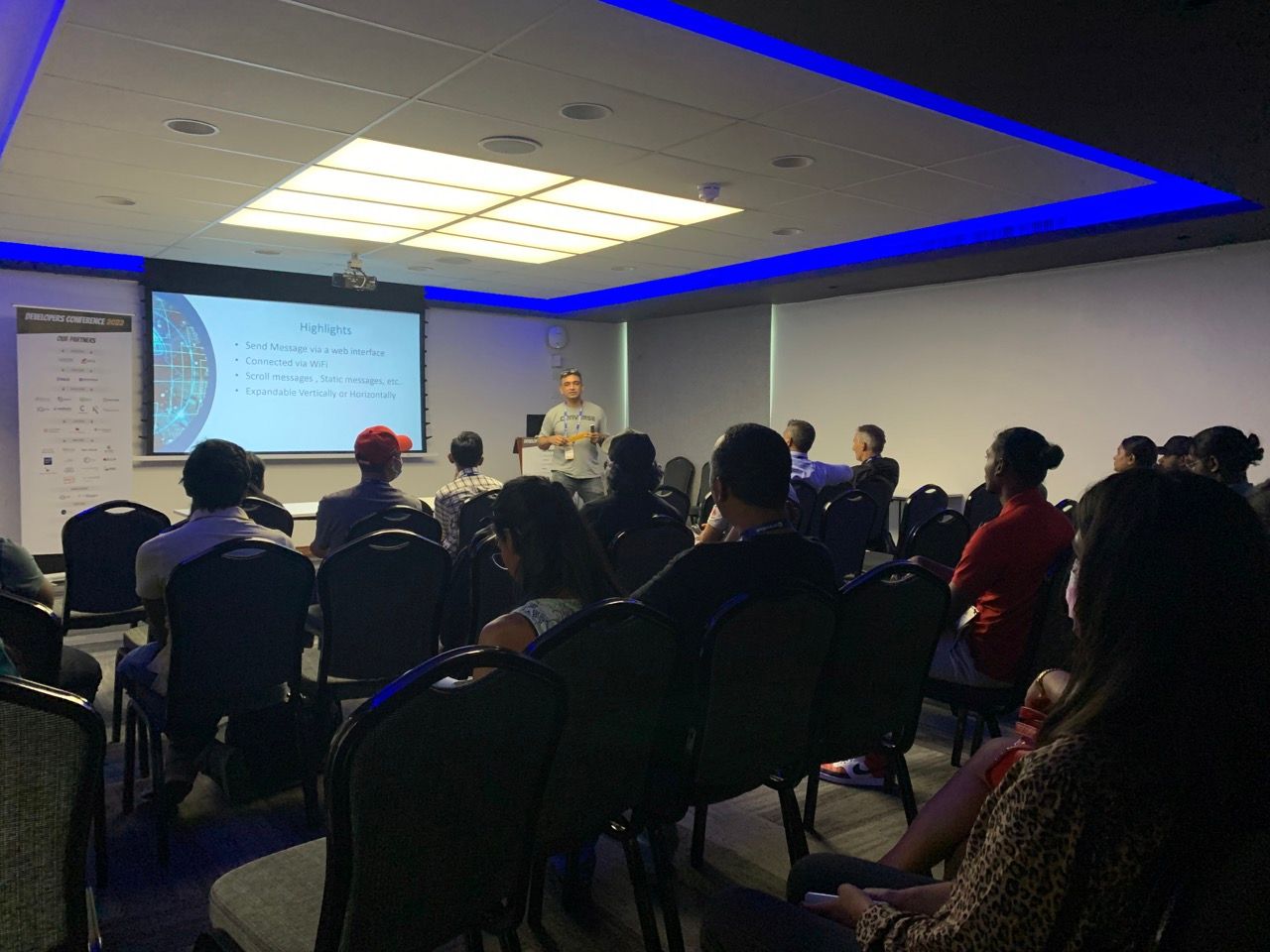 Similarly, Yovan Fowdar had a pretty much full room for his presentation "ESP8266 A Practical Approach". Yovan is one of the most active members of the Mauritius Makers Community.
At the same time in the amphitheatre, Avinash Meetoo was delivering "A Brief History of Programming".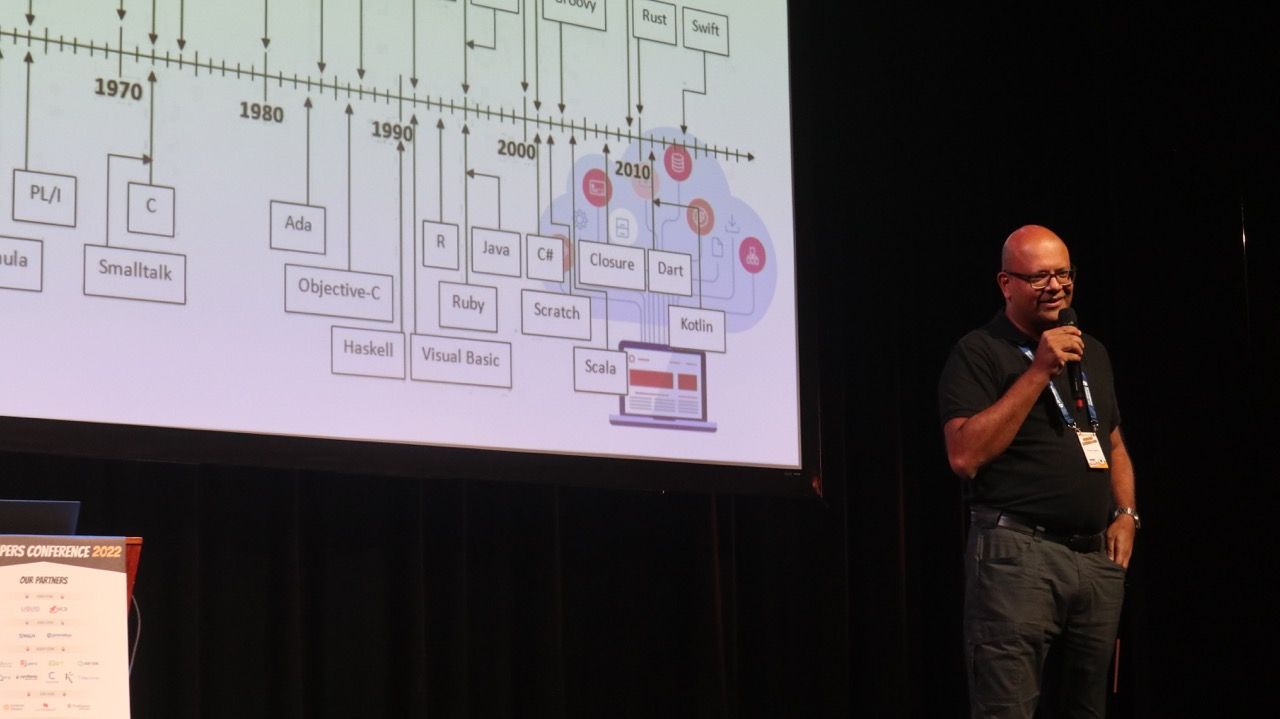 At 11h00, Kendall Tang and Heman Mohabeer from RT Knits talked about "Putting AI into Action in Manufacturing".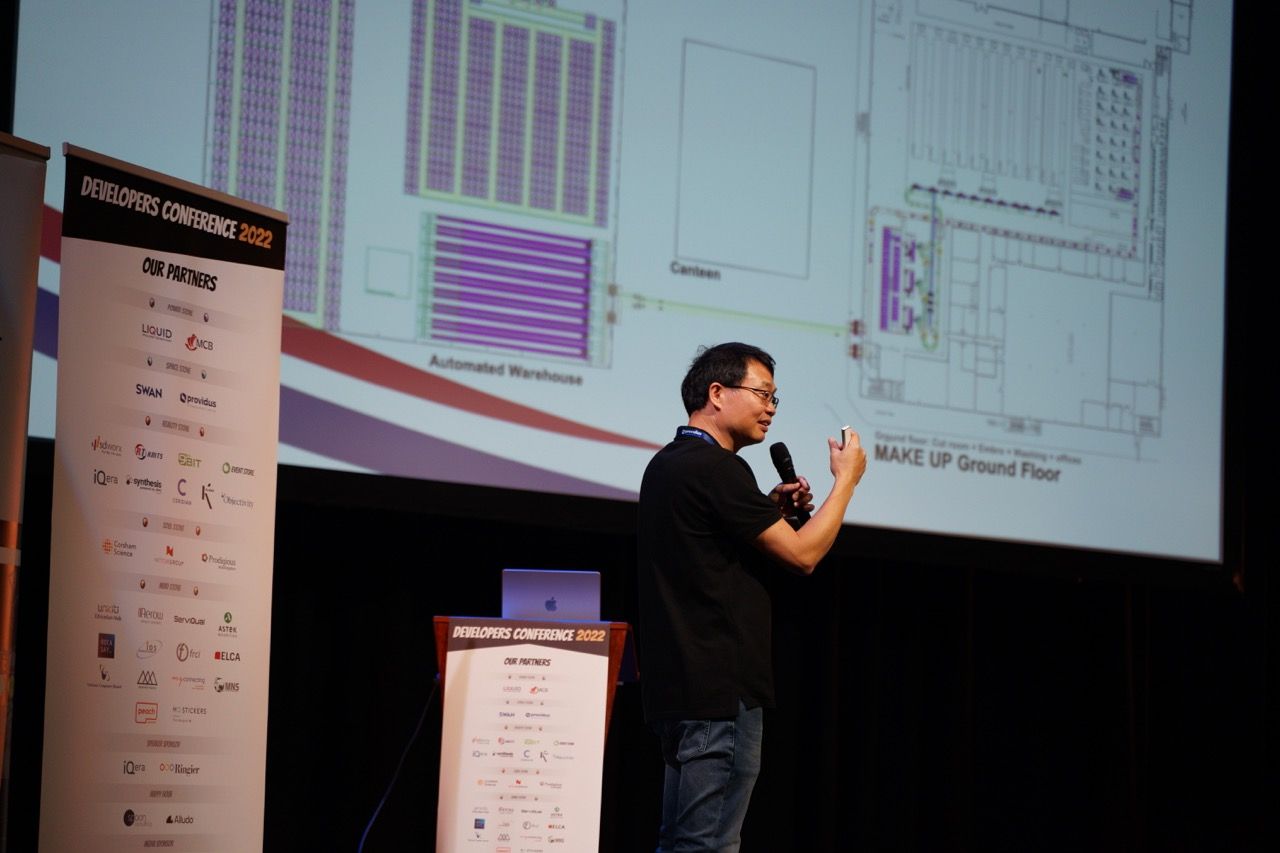 For this session, they had quite some electronic gadgets ready as giveaways for their Q&A. Keyboards, headphones... but what stood out was their big prize — an iPad (not shown in the photo below).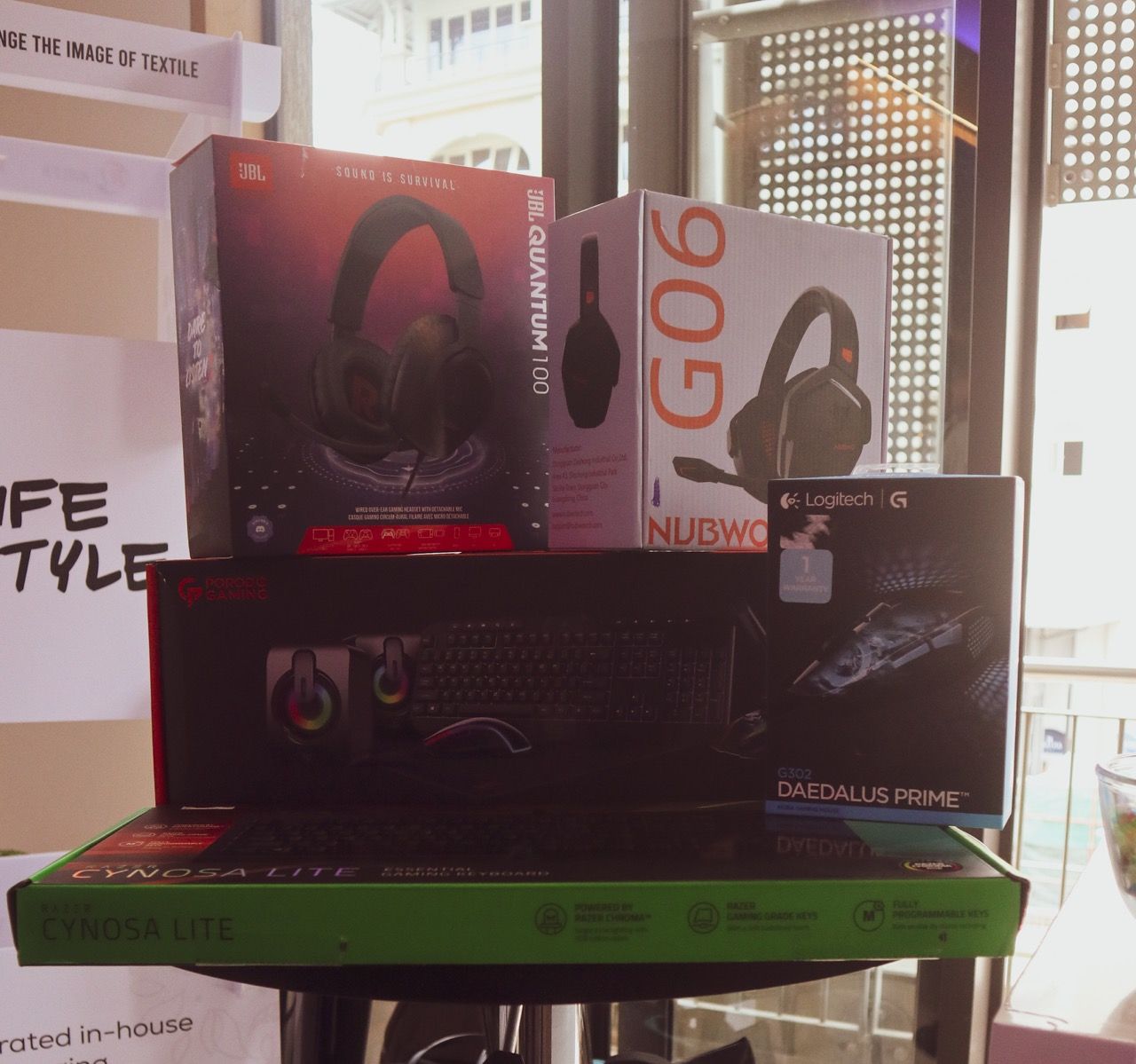 Then, I quickly rushed to peek into the Elastic Stack session by Girish Mahabir, just to wish him good luck. He was speaking at DevCon for the first time and was nervous since the morning. He deserved a thumbs up.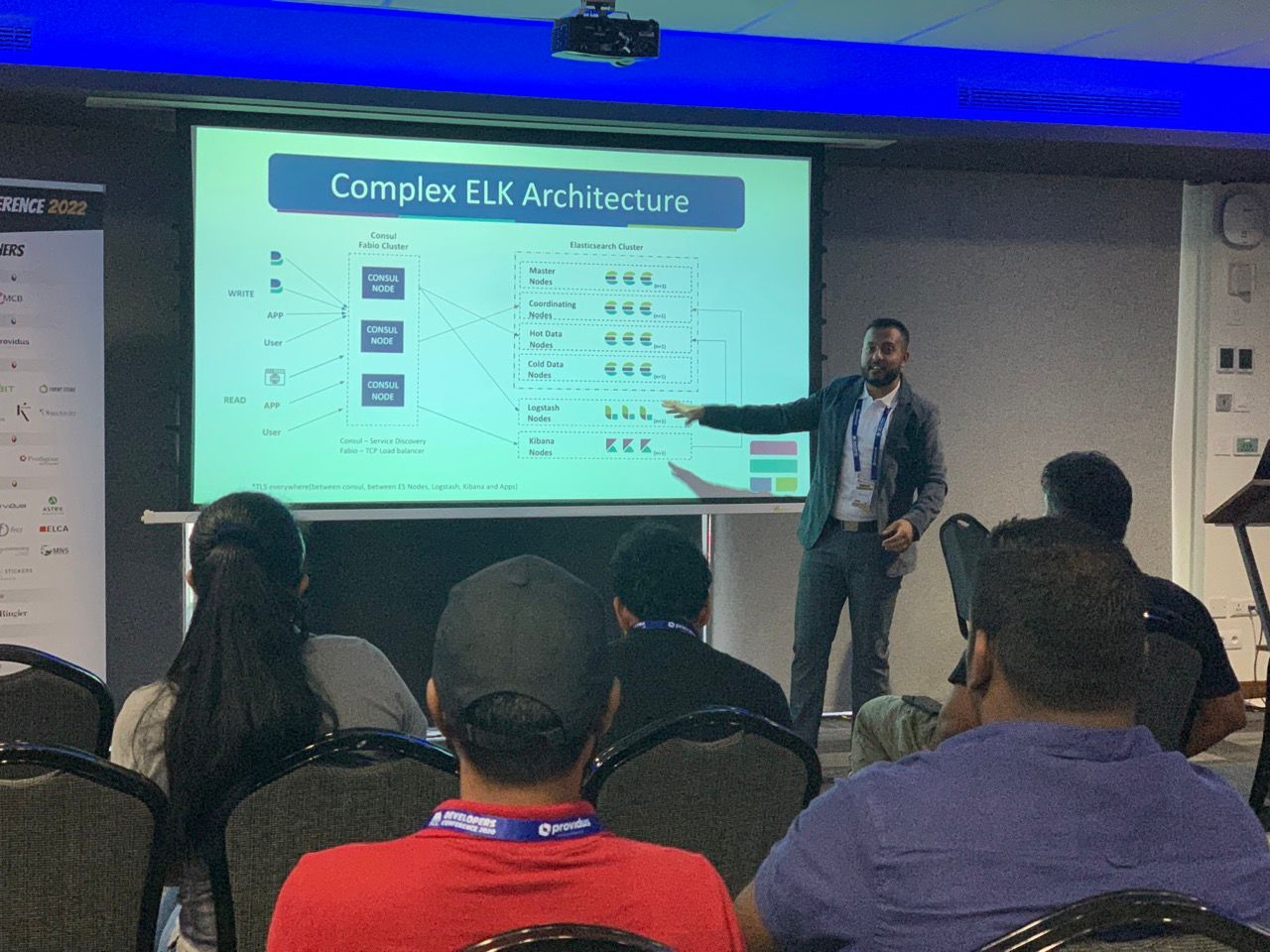 At 15h00, I had to be in the amphitheatre as a voice-over actor in a play by Renghen & Nirvan entitled "The Politics & Fallacies in Agile". This was an interesting one, a different concept of presenting a methodology, an opinion or an idea. Is Agile being properly implemented in companies? Many companies boast that they have adopted Agile methodologies but did that actually improved productivity, reduced cost or the lives of the developers are any better?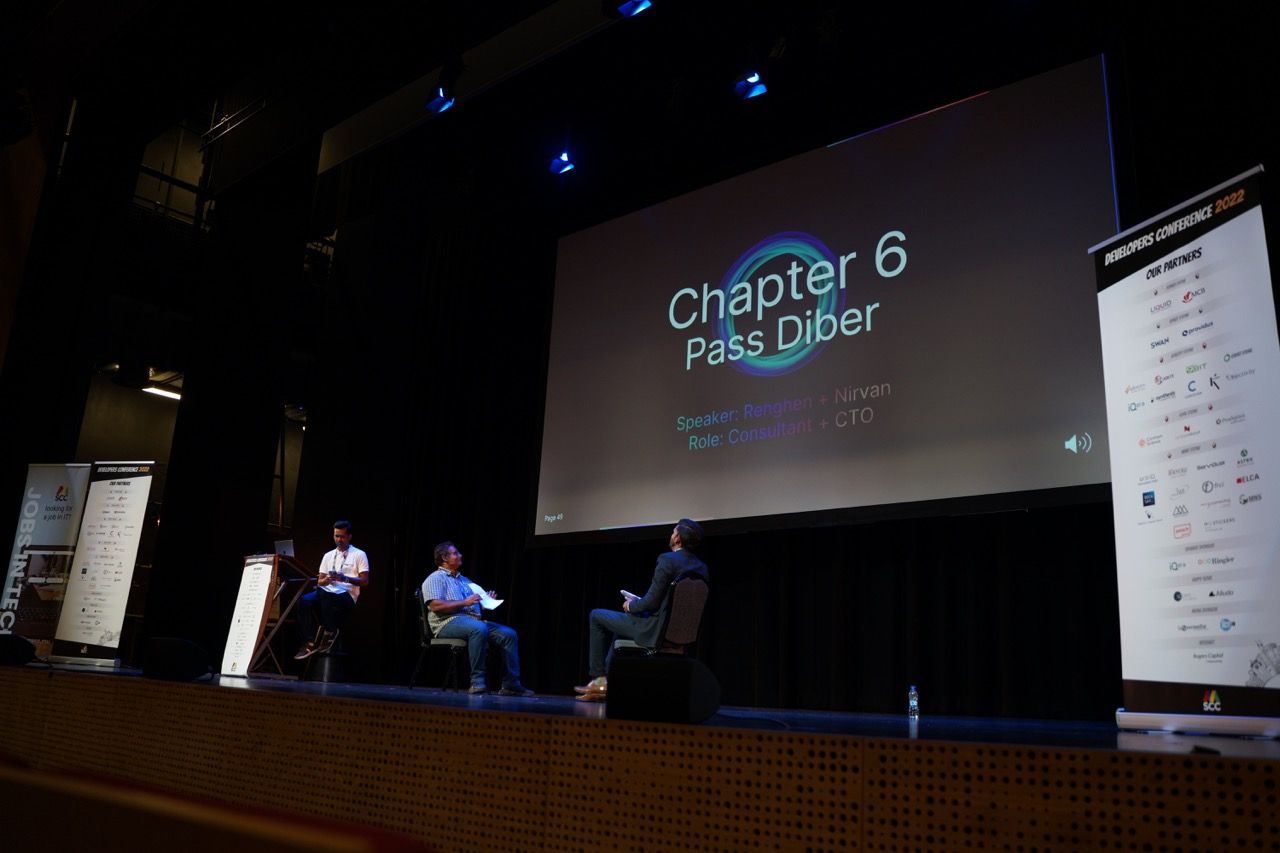 In the play, there are two protagonists, Nirvan acts as the CTO of a company who wants to make his company reap more profit and thus become the Most Valuable Person in the eyes of the shareholders. Renghen plays the role of a greedy consultant who only promises Nirvan false dreams. Later on, Renghen also plays the role of Renpheus, a senior developer in the company, to whom Nirvan (this time acting as Neovan) reaches to for guidance about "what is Agile?".
In this play, Nivesh changes the slides while, me, I act as a narrator throughout the play. As the chapters change, I give a little bit of context on what's happening on stage.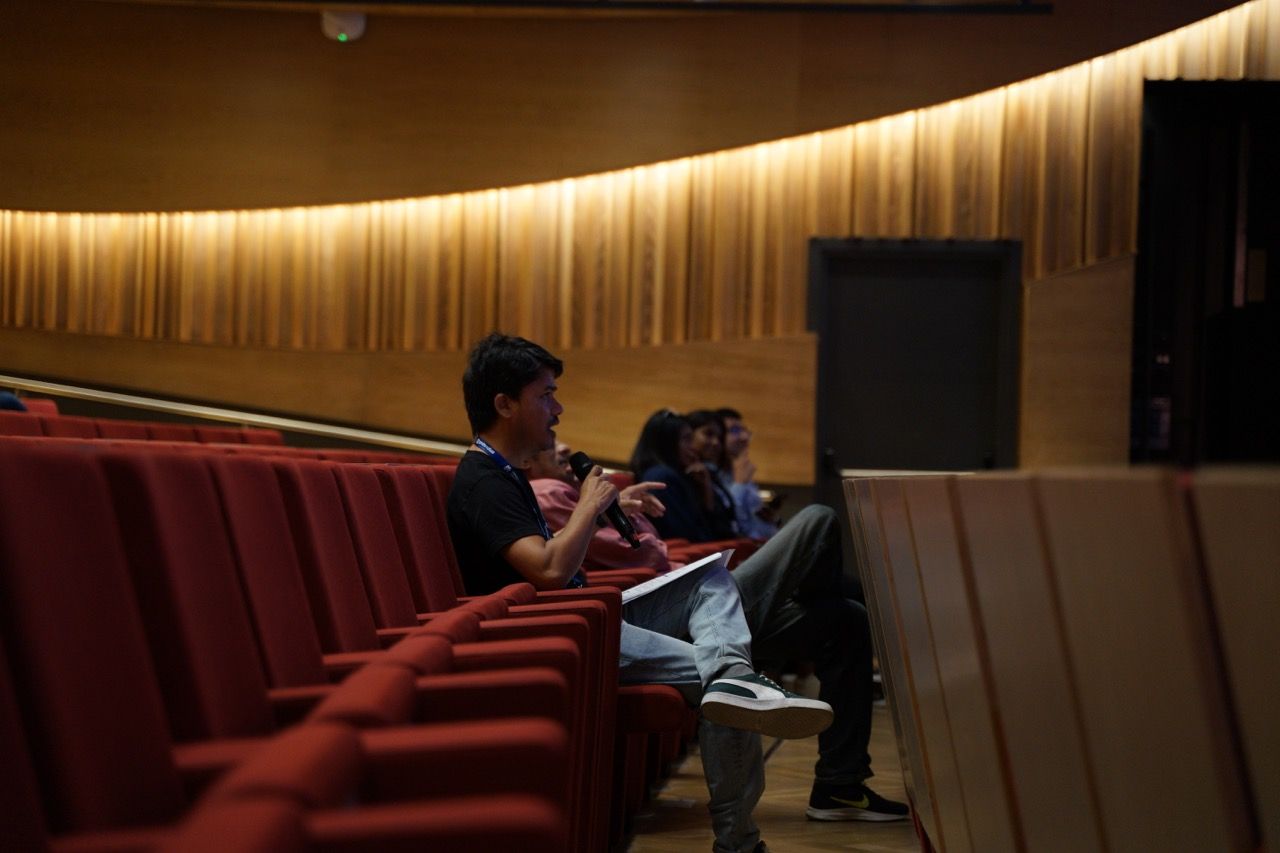 I was done for the day, kaput... tired! But guess what, I still had my presentation on "Securing and Managing your own mail server" scheduled at... hmm... right after this session, i.e 16h00. What a timing? Ahaa.. also, guess what, I was in the team working on the agenda. My bad! I should have complained to myself for this blunder. #facepalm
I was knackered, drowsy... and I apologised to the audience who really wanted to learn about building their own mail server. I started the session with a little bit of drowsiness but I was able to pick up along.
After ther presentation, I gathered some energy and dragged myself to the Happy Hour happening on level 1. It was sponsored by Alludo.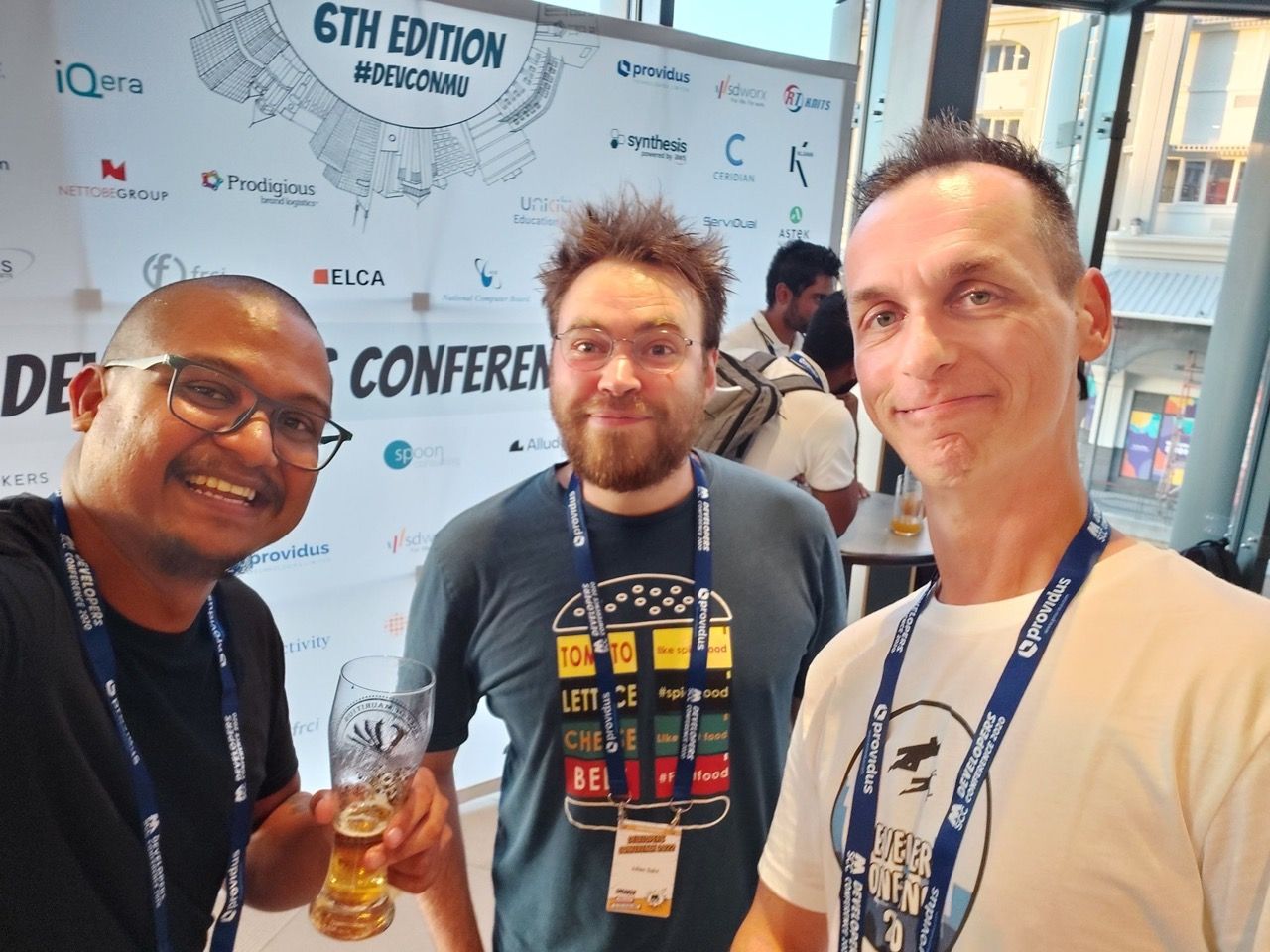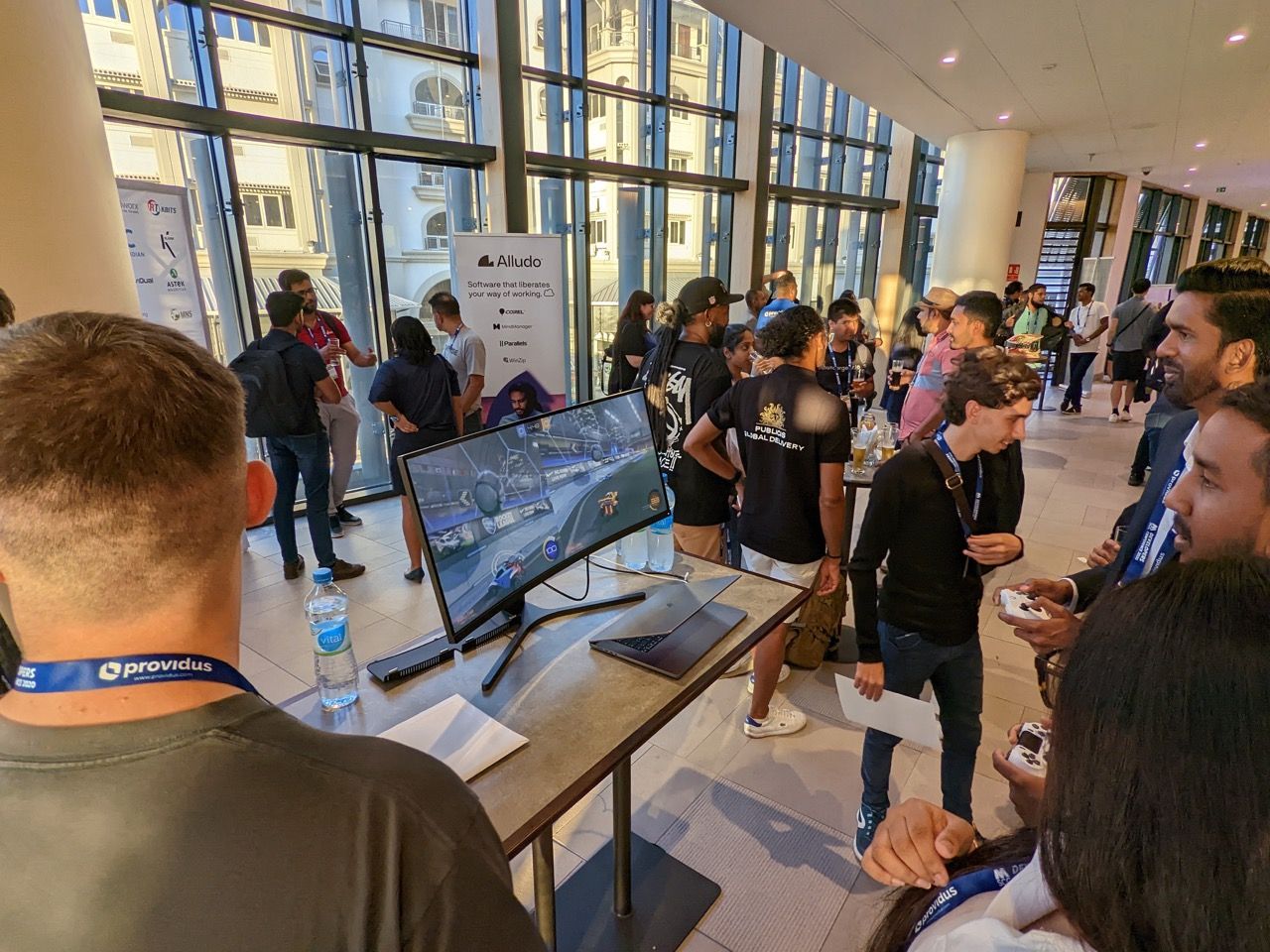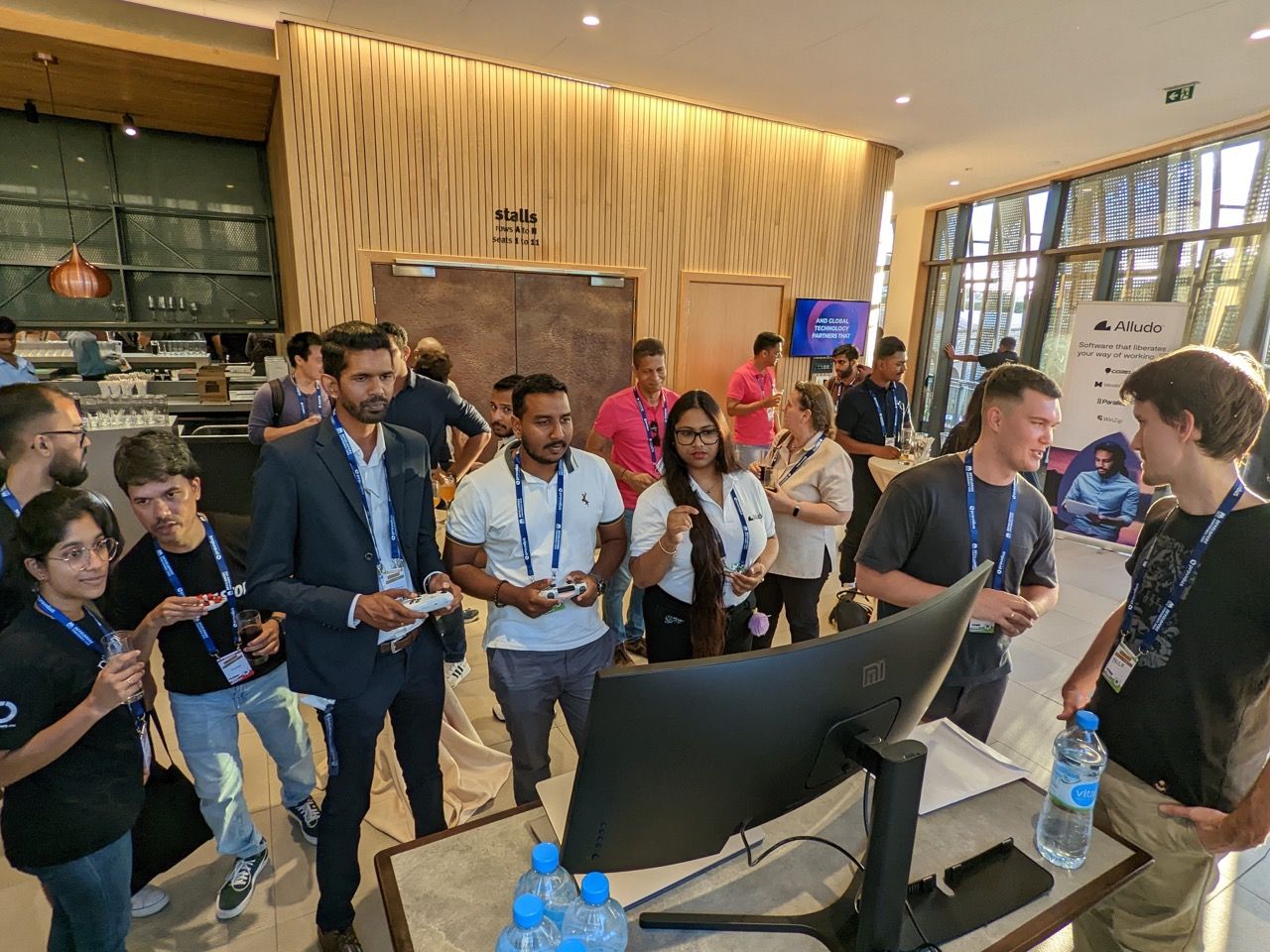 See me on the left, running away with the last tiny plate of tiny tomatoes and mozarella. Later, I learned that the hungry vegetarians (Aditya, Nirvan, etc...) had devoured everything before I arrived.
Nonetheless, we all had loads of fun. Tired but happy.
In fact, those staring at that large curvy screen are actually playing a game and winners get a software license from Alludo. I think there were a few software licenses to win as prize. Alex wrote in his conference report that he won a license for Parallels Desktop. Cool! I'm using Parallels Desktop to run ARM64 Linux on my Apple MacBook M1 — love it! Most of my Linux mirrors testing work runs on this. 😊
Day 3
Ah! The last day of DevCon is always like having mixed feelings. You are sad that it is ending... but you are also glad that you have less stress. Yes, I was still very tired from the previous days. In fact, I again started the day drinking a Lucozade as we reached Caudan Arts Centre at around 07h30 — the same trip, with Shelly and the boys.
Oh... by the way, by now, I think you must have known that Shelly and I are married. ❤️ No funny business is happening by waking up at 04h00 and hitting the road at 06h30. Also, we have a young kid of 1 yr 5 months, who also attended the Developers Conference on the last day, to collect his first DevCon badge. Are you a conference badge collector, yet?
I had a session at 11h00 on "Authenticating Open Source Cloud Applications using LDAP" which was a follow-up session from the previous day. In the first session, we built a mail server and discussed about the individual components and their role. One important part of the mail server was the Directory Service provided by OpenLDAP.
In the second part of the session, that is on the last day, we used the same mail server that we built the day before and expanded on the LDAP part. I explained about LDAP from ground-up, mentioning different RFCs, talked about the protocol, the Directory Information Model, the LDAP Data Interchange Format (LDIF) etc. We looked at query filters and how those can be leveraged to allow authentication from other applications based on specific rules.
Despite the fatigue, I was glad that the session was useful and we had a nice interaction talking about security mechanisms.
Right after my LDAP session, in the adjacent room I had another session on "Ghost Theme Development" at noon. My co-speaker in that session, Kushul Soomaree, was getting worried because the room was full... people were standing at the back and I hadn't shown my face yet.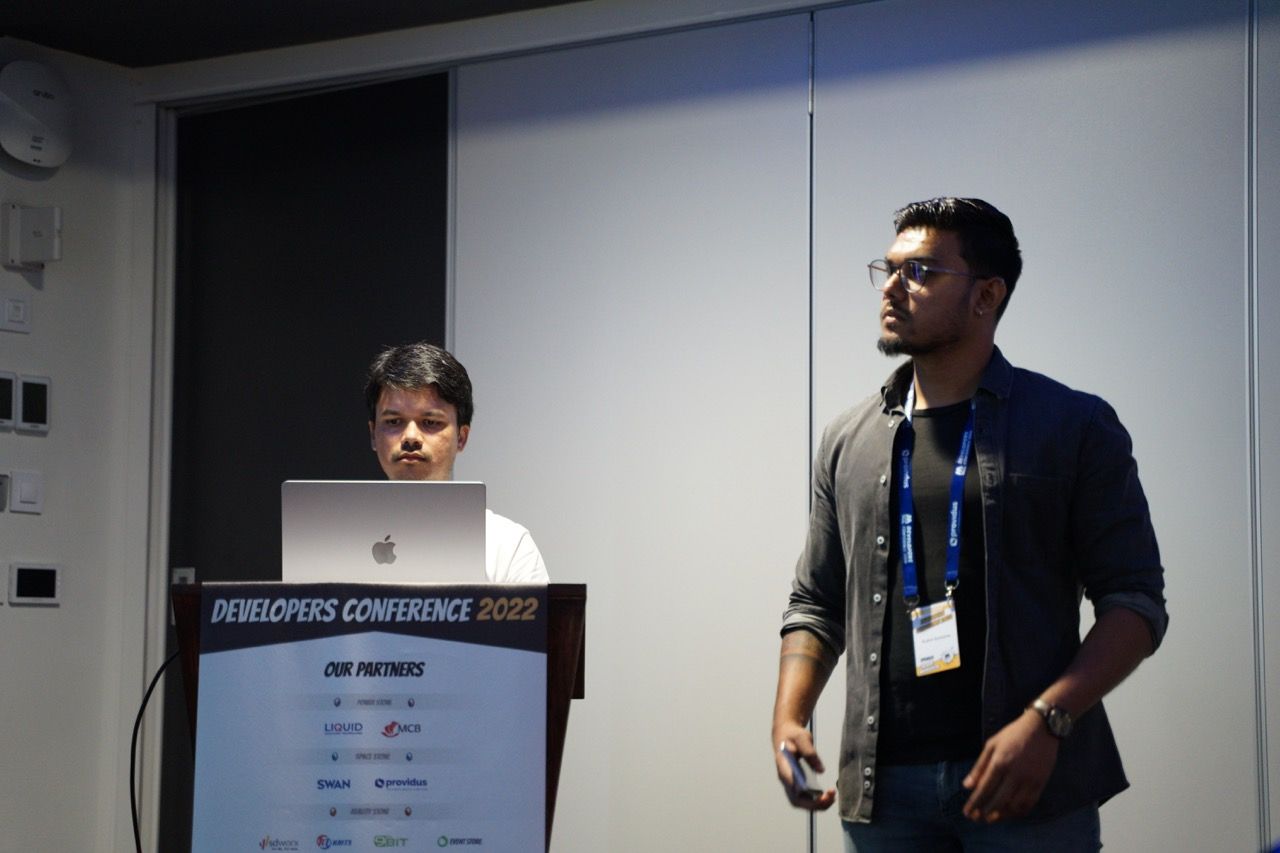 But... nonetheless, I think we delivered that presentation pretty well. We had divided the session into two parts. The first half I spoke about "Handlebars" and how to create a Ghost theme from scratch, with just 2 - 3 files and start writing a bunch of HTML code. I showed the source code of my own blog's theme as example.
In the second half, Kushul explained how to leverage on the Ghost API and loop through the content using any Front-End framework. He showed how he did that for his own blog using Vue.js.
After delivering two sessions, back to back, one might think, okay that's good for the day... but alas, no. I had an hour break then I had to rush to the aphitheatre for Lightning Talks hosted by Sandeep Ramgolam at 15h00.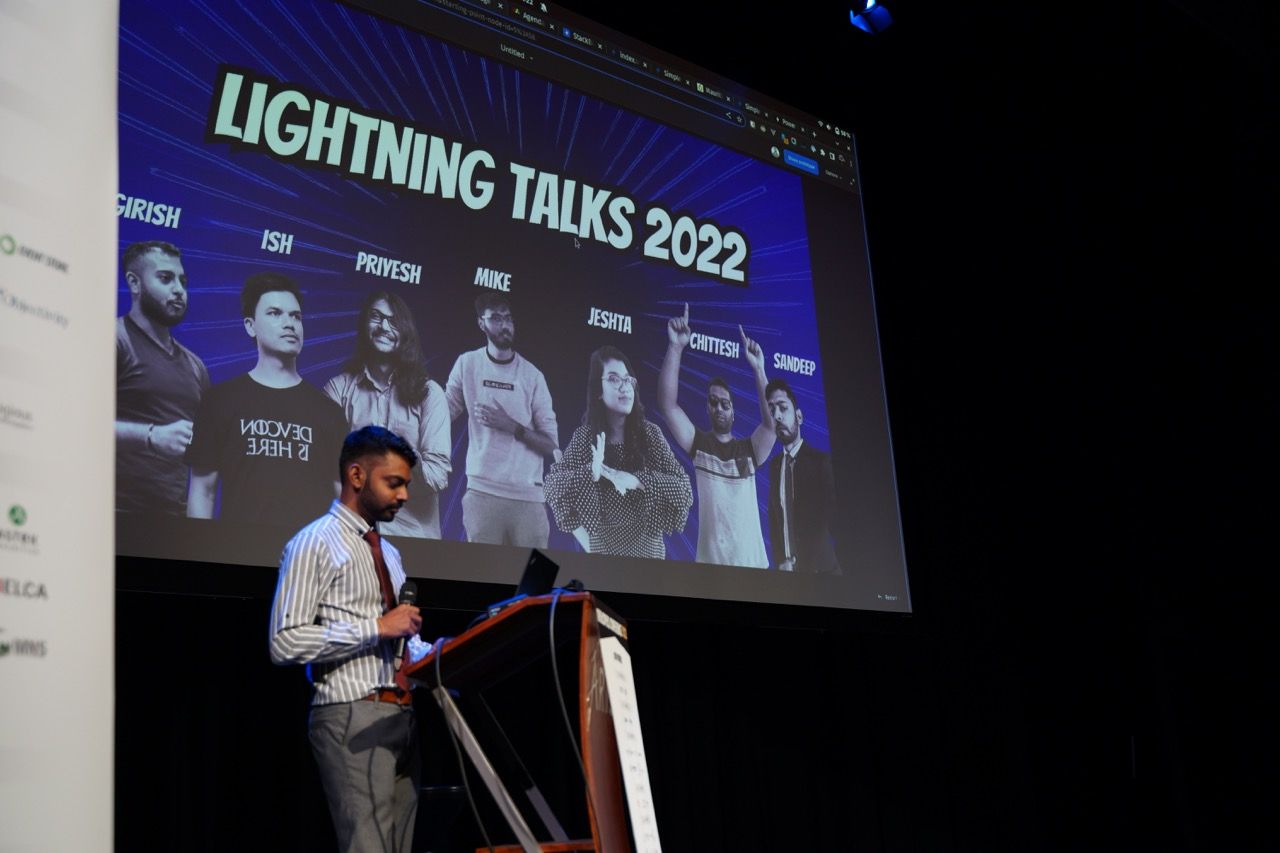 I asked Sandeep what's the plan... like the schedule for the lightning speakers and he replied that I'd speak first. That suited me well. I could deliver my talk and rush downstairs, meet Shelly, Mary Jane and others at the desk to discuss the closing ceremony. Oh yeah, I had a ceremonial role at 16h00. 🤯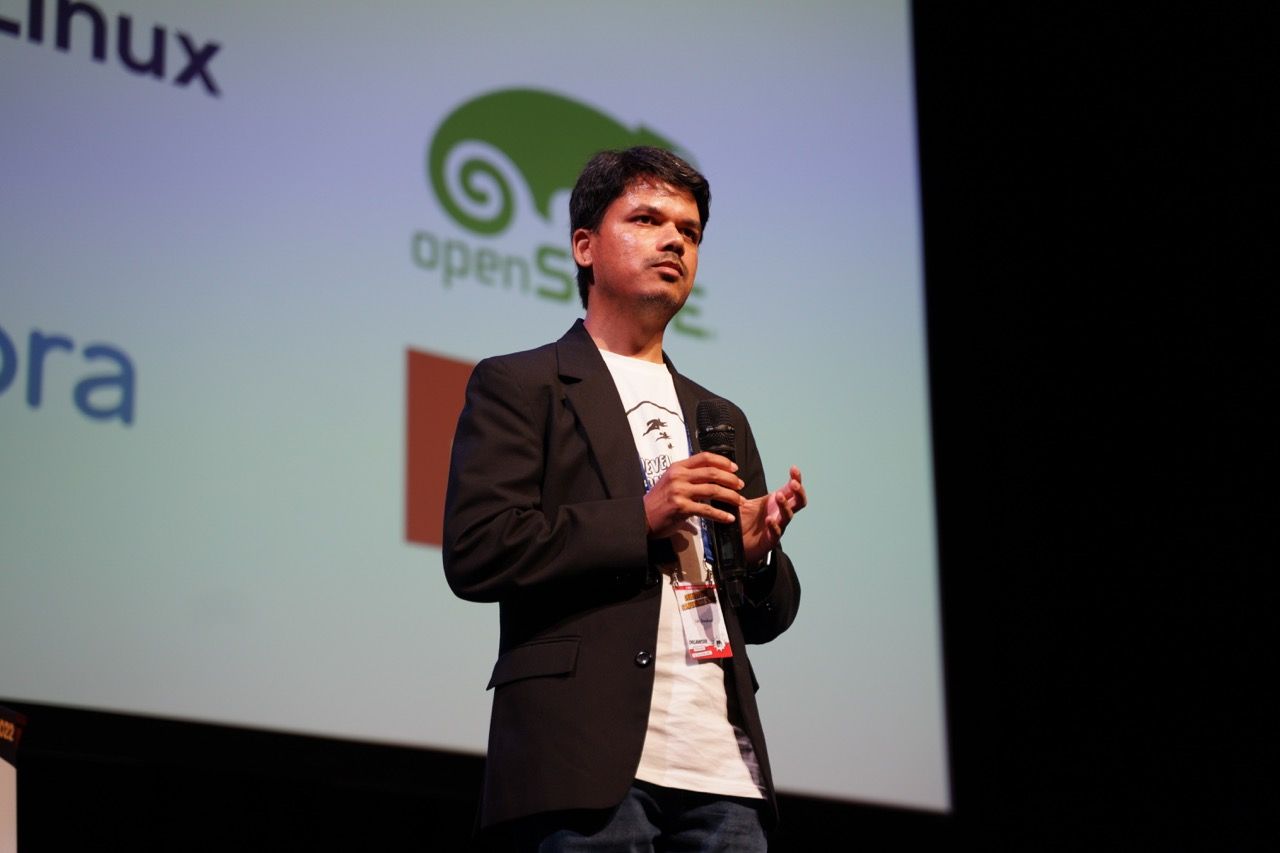 I spoke about the Linux mirrors in Mauritius, how it started? How I struggled to get Internet Service Providers in Mauritius to provide servers and bandwidth for this project. The only ISP receptive to the idea was Rogers Capital Technology Services. Coincidentally, at around the same time, David Venter, the Managing Director of cloud.mu, pinged me asking whether I would be interested in setting up an openSUSE mirror in Mauritius since I was involved in the openSUSE project. My reply was affirmative, obviously.
However, that's how the journey of the Linux mirrors in Mauritius began. We started with openSUSE but today the mirror project hosts the following Linux distros, thanks to the generous sponsorship and support from cloud.mu:
In fact, after the conference, I read Alex's blog post, in which he mentioned this part of the Lightning Talks with a comment, "sadly no Arch or Mint yet". Shortly after, David and I had a chat, the servers for Arch and Mint repos have been provisioned. I have already synced the Mint mirror server with the upstream project. In the coming days, I will wrap up some final configs and officialise the mirror through the Mint project. Arch will follow soon.
After my talk, I went at the registration desk. We discussed the closing ceremony, the raffle, giveaway prizes etc. JoKi and I, we set to meet in the amphitheatre to sync "our notes" on the closing.
I went back to the amphitheatre at around 15h30, I think.
JoKi was sitting on the far right side in the second or third row with his Chromebook — preparing some slides, graphics and stats. By that time, I got to attend at least three lightning talks, while discussing a few things with JoKi.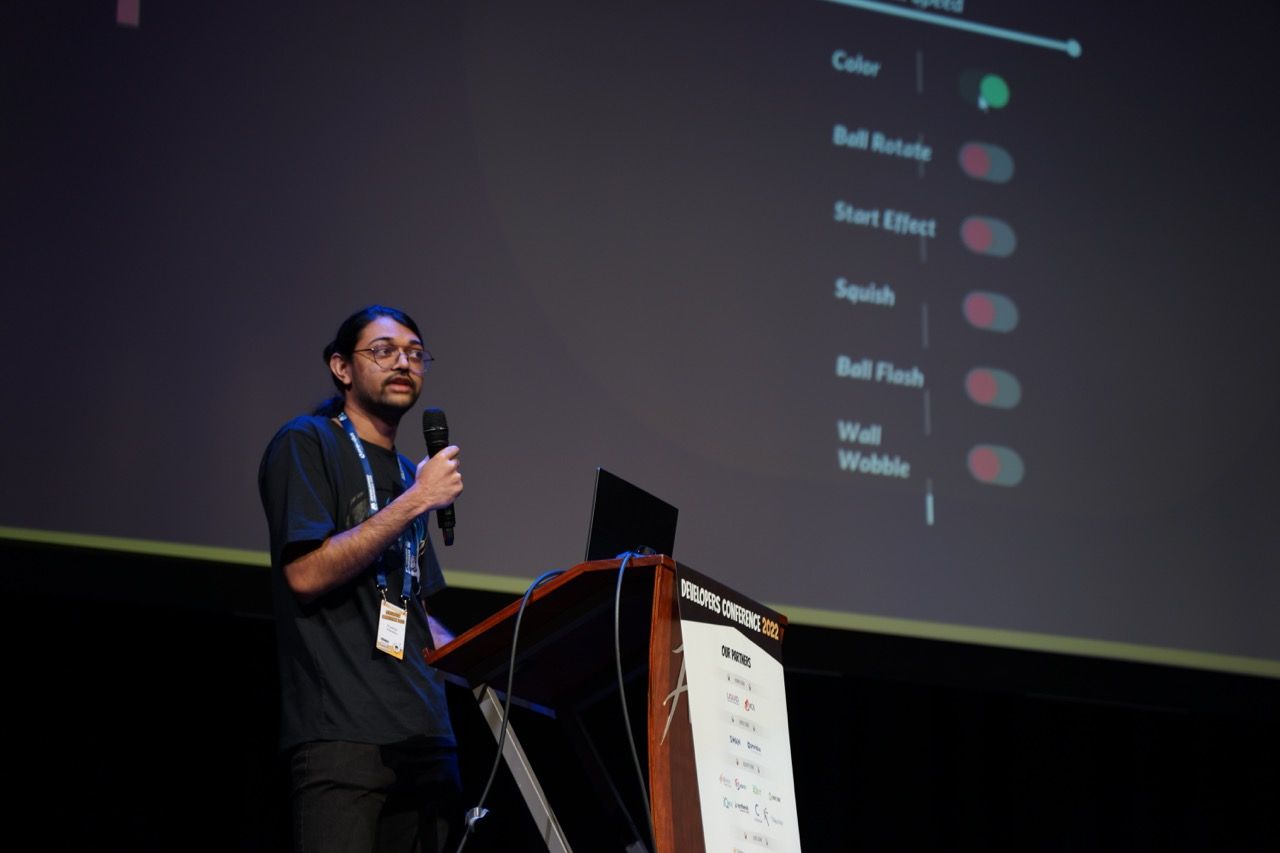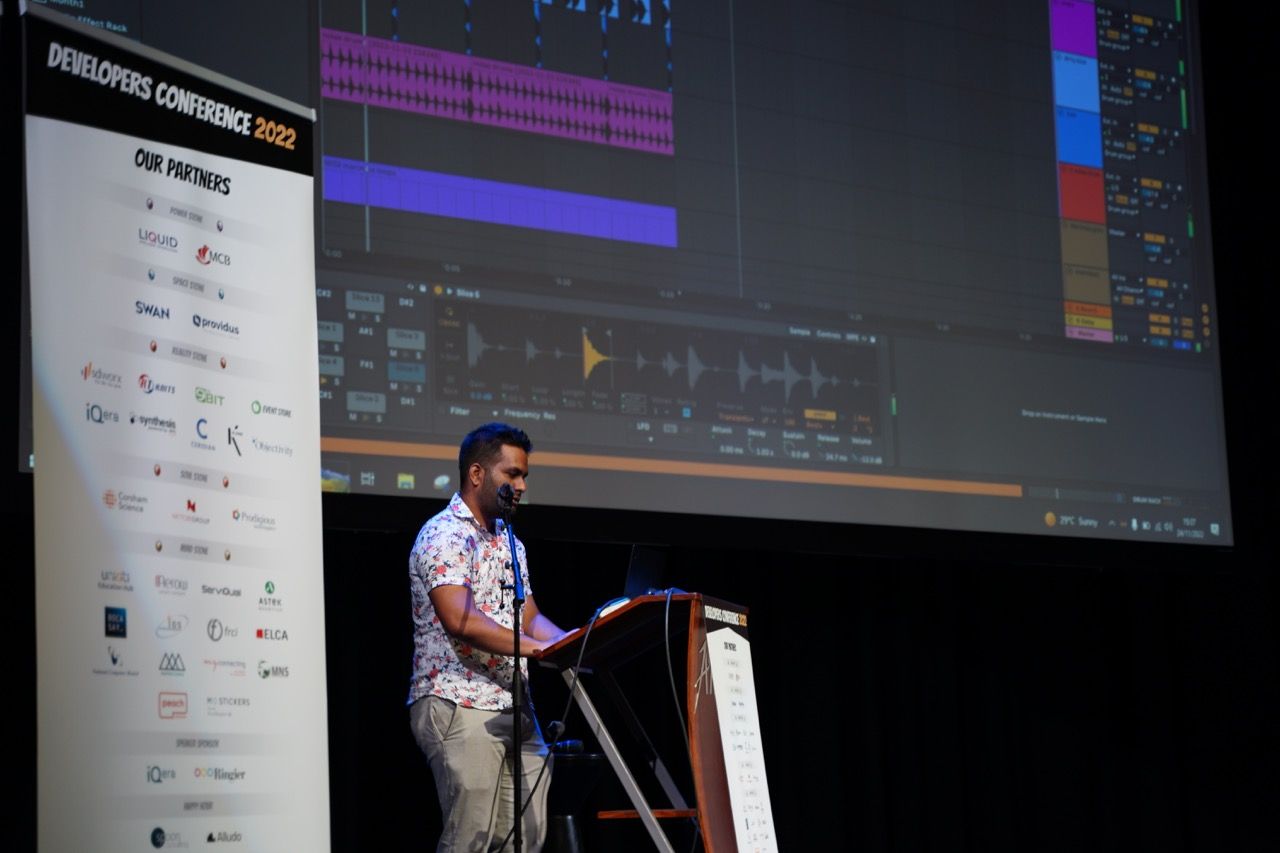 I was mind-blown by this presentation by Chittesh. He made live music demo and his dialogue delivery was on point. I had never seen a music nerd before. Really enjoyed this one — not just me, I could also hear my kid babbling somewhere in the amphitheatre every time Chittesh would tune up his music software — like my kid had some very important comment to make about that piece of tune.
Lastly, Sandeep presented Codeflow and used his personal project, "Power Outages in Mauritius" to demo the same.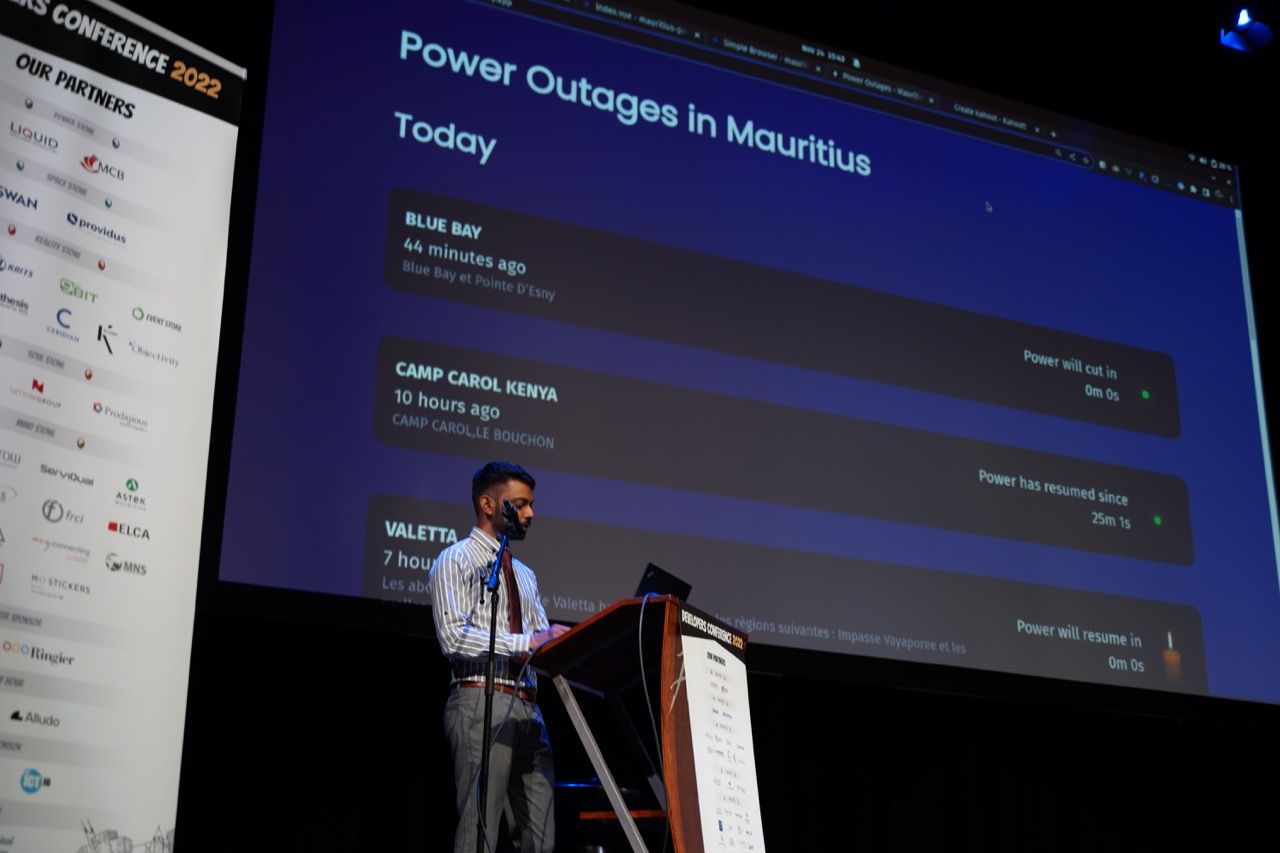 Lightning Talks ended at around 15h50.
We had a few minutes to set up the laptop, and bring the raffle giveaways backstage. We informed everyone downstairs that the closing ceremony was about to begin, so they could finish whatever they were doing and join us in the amphitheatre.
The amphitheatre filled up pretty quick.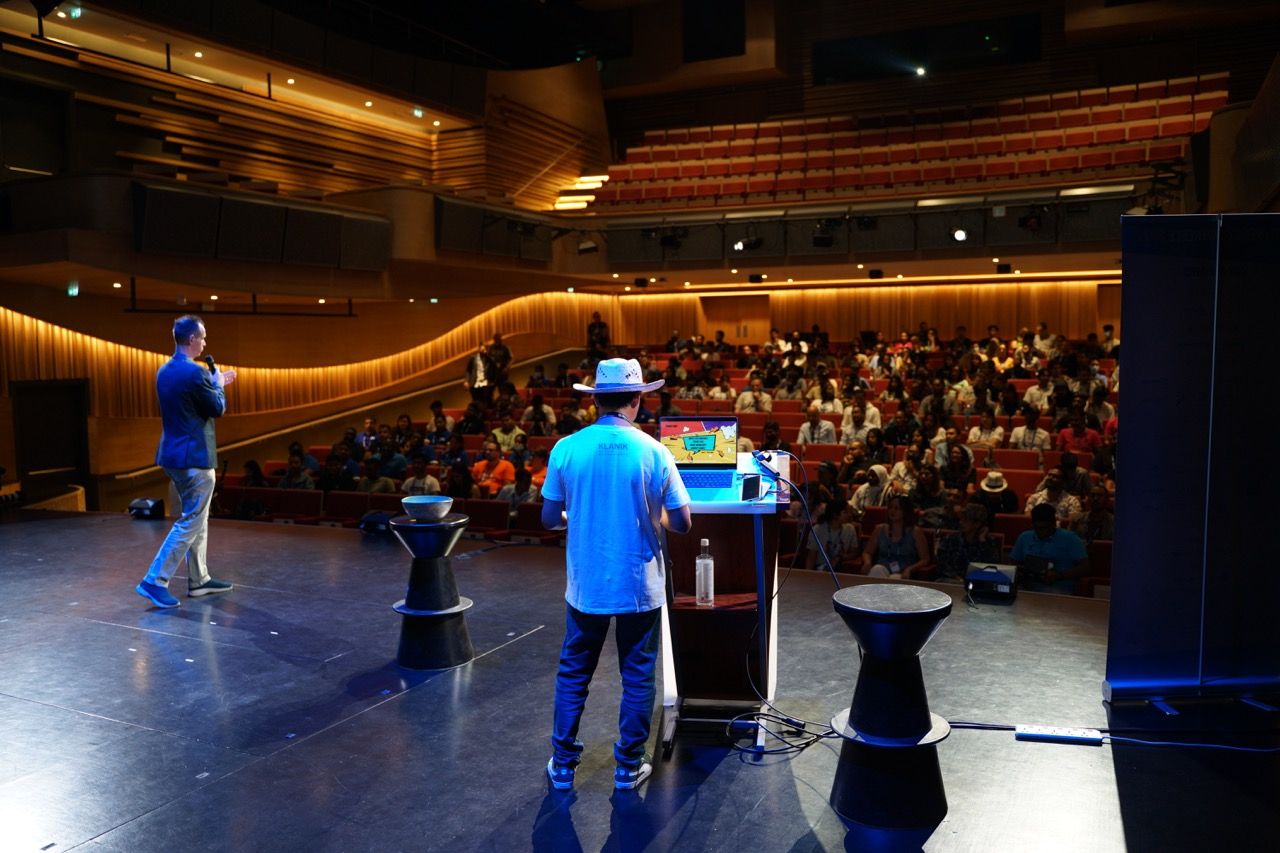 Without delaying any further, we started the list of thank you's. Thanking all attendees, speakers, sponsors & partners, volunteers and the technical and non-technical staff of the Caudan Arts Centre. We opened the conference website, scrolled through the partners section and thanked every company individually.
We invited our titanium partners SWAN and Providus to share a few words and their experience at DevCon 2022.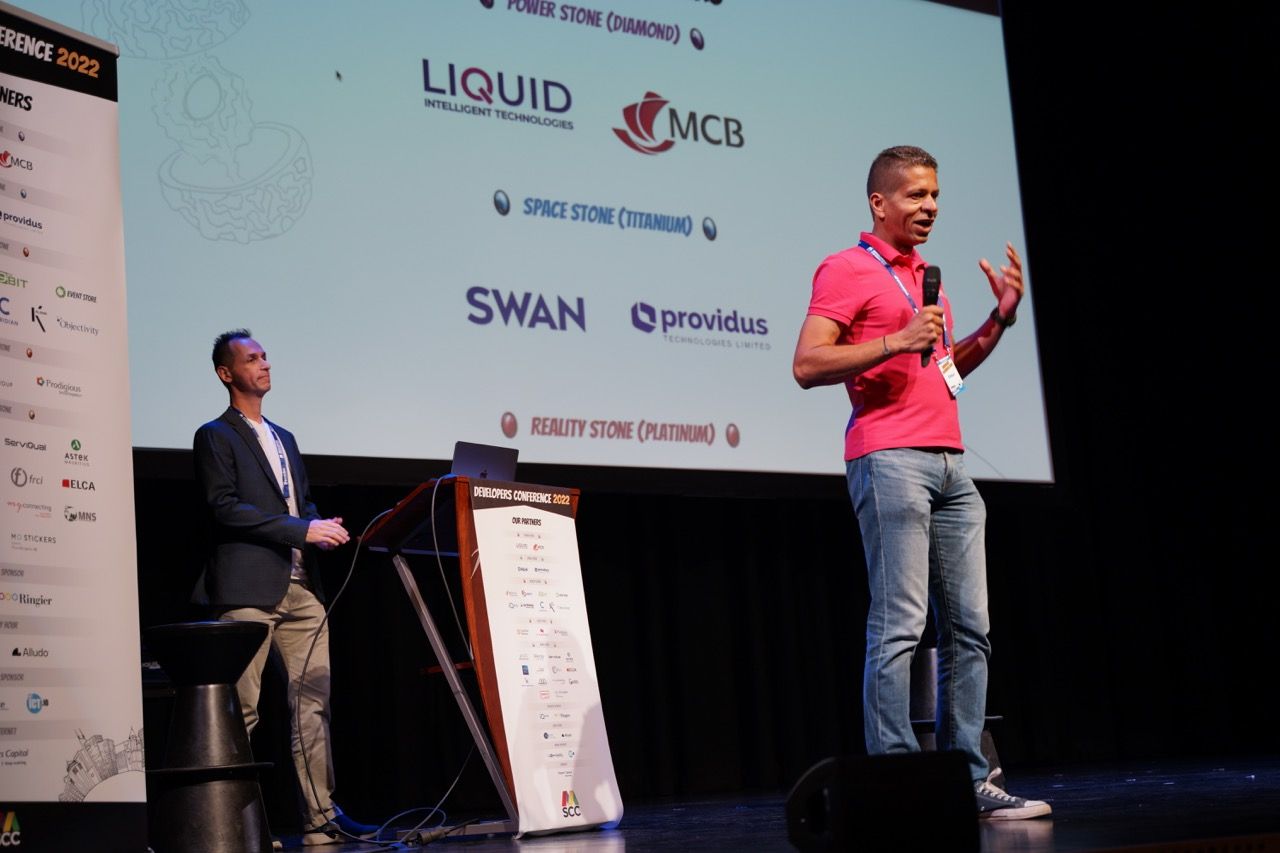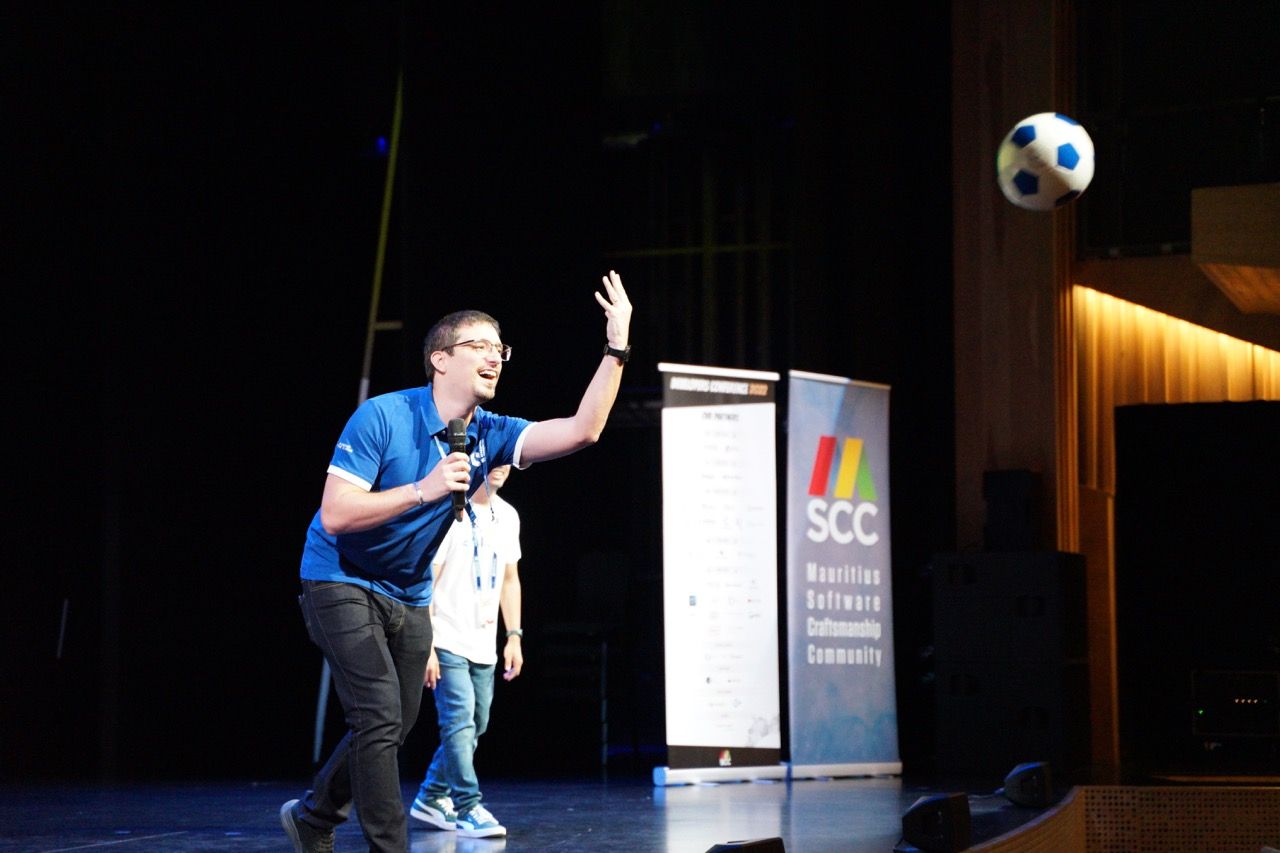 The thank you's continued.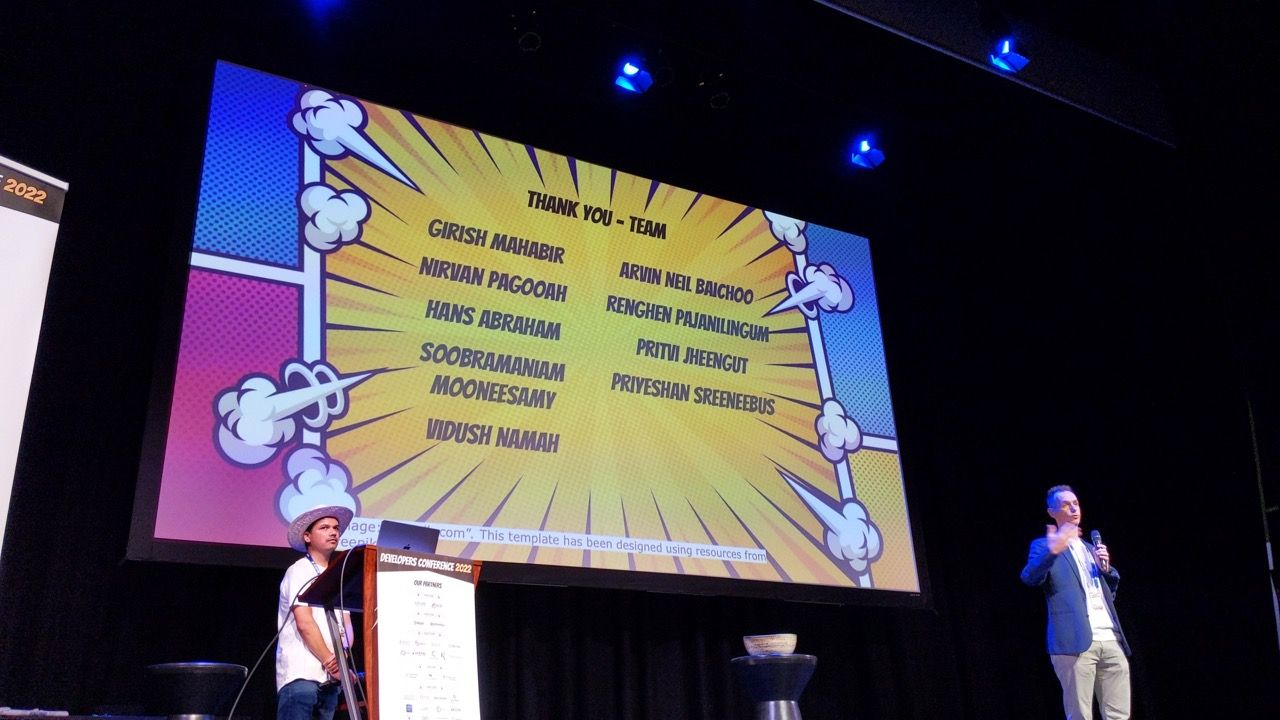 We must have missed a lot of names there but folks, know that you are in our heart. The names that we quickly typed were those who actively helped at the registration desk and thus the names were at the finger's tip.
To all fellow craftsmen whose name we missed, let's hug. 🤗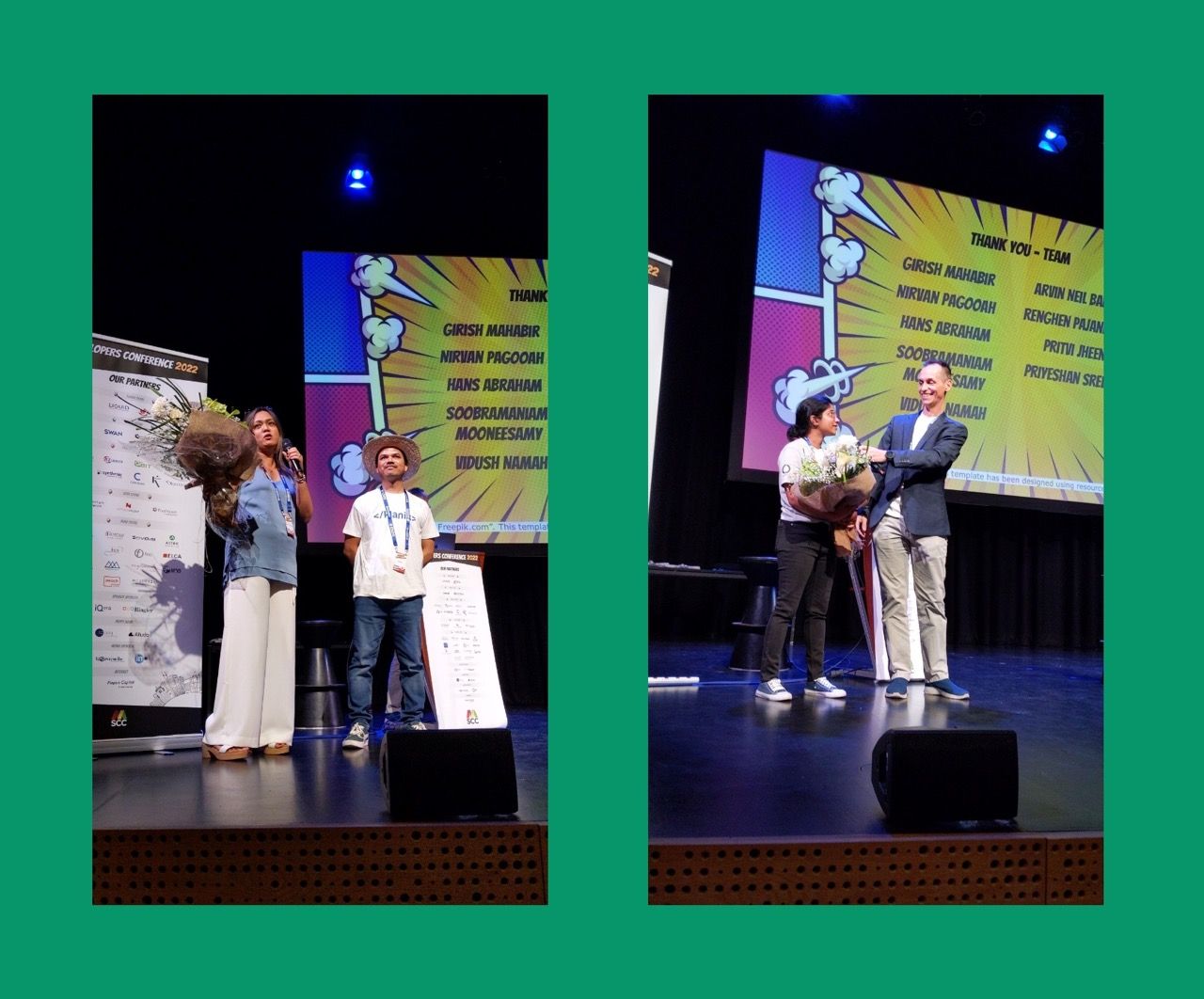 We gave a bouquet as a token of appreciation to Mary Jane and Shelly for all the efforts they've put into the two years of making DevCon 2022.
We had plenty of giveaways... raffle... we even tried funny questions or even very easy questions.
Earlier on Twitter, Chervine Bhiwoo published the results for the Social Media Hero challenge — basically meaning who tweeted the most using the #DevConMu hashtag over the three days.
Arshad Pooloo won that challenge. We called his name but he wasn't in the amphitheatre. He was at work. However, Didier Bephage, Technology Director at SD WORX came to pick up the prize for him and Arshad was united with his prize the next morning.
Event Store also informed us the name of the winner of their giveaway — the Nintendo Switch.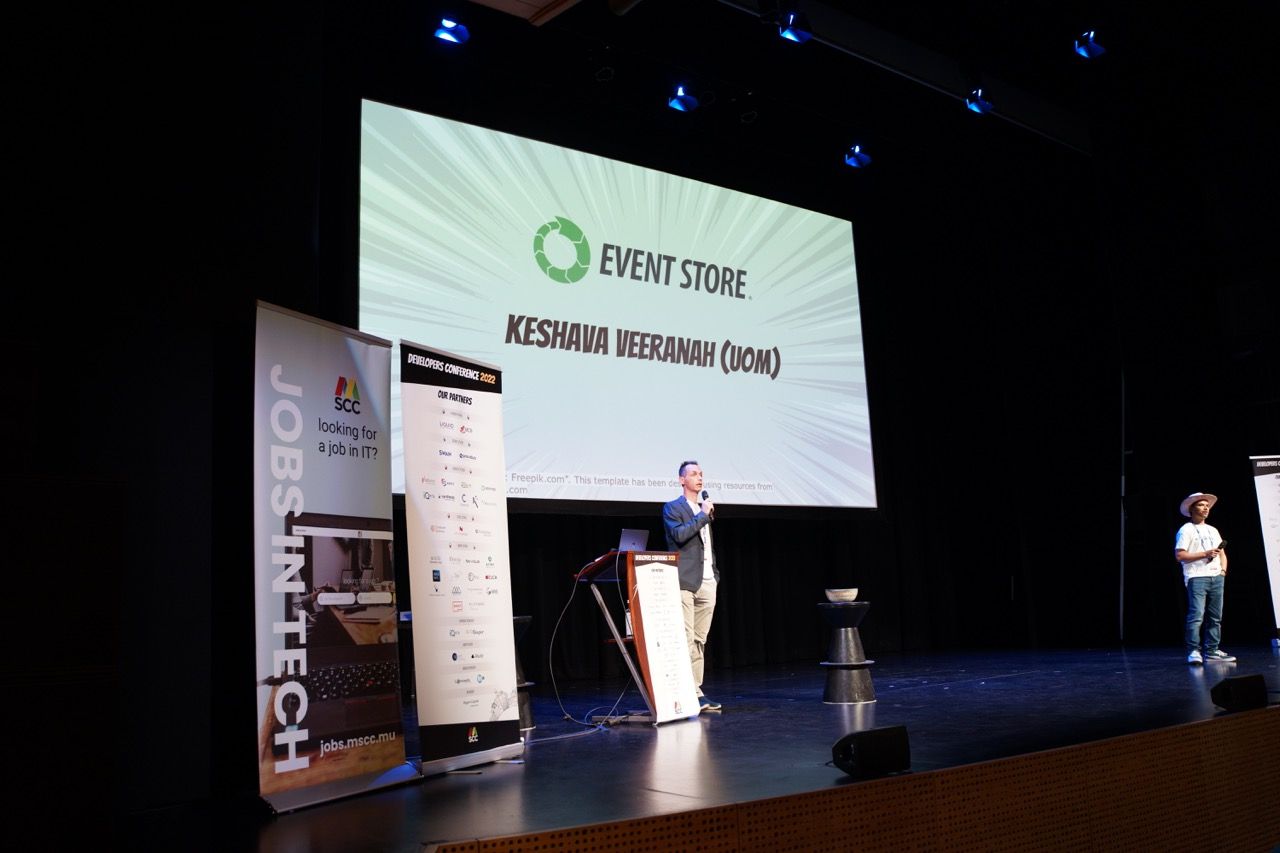 Keshava was not in the amphitheatre at the time we announced his name as winner of the Nintendo Switch offered by Event Store. However, later he was able to collect his prize.
That was a wrap!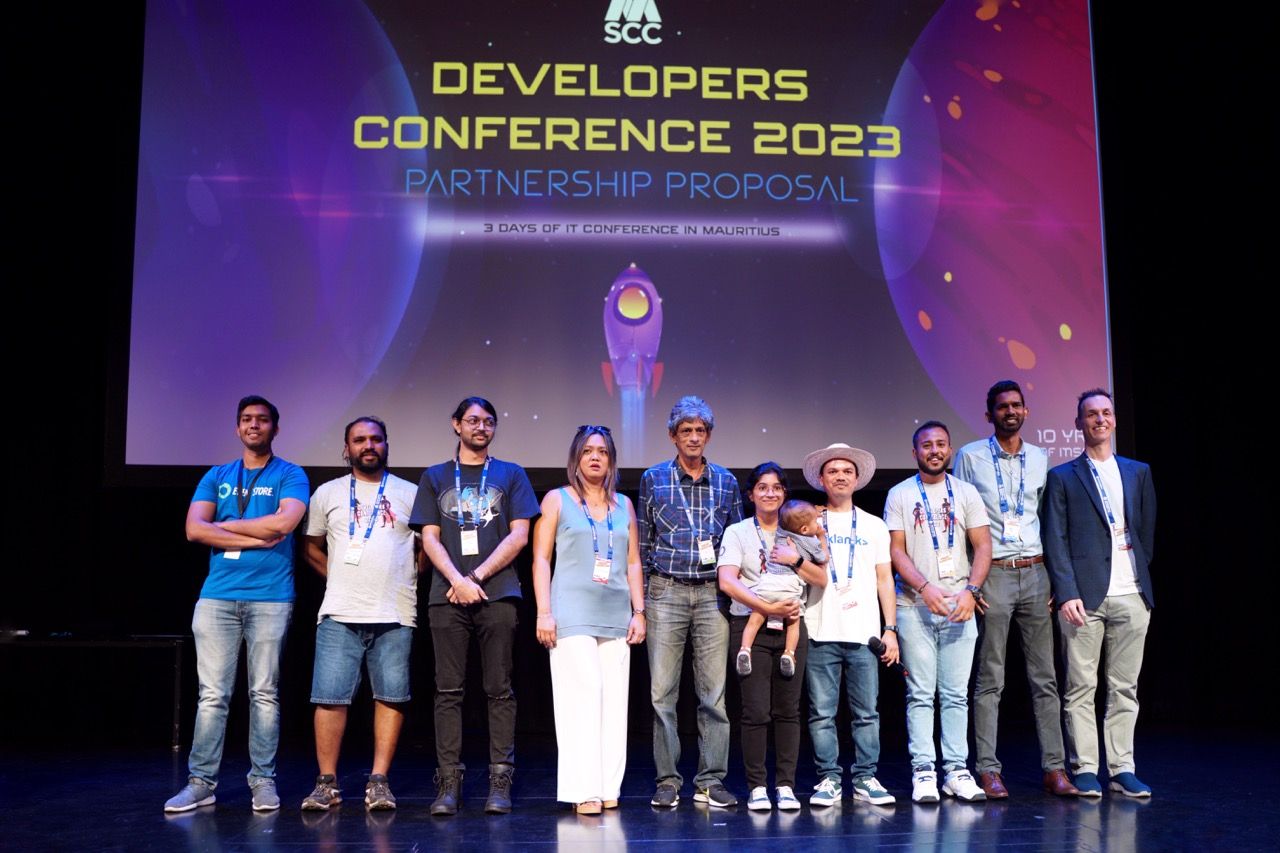 As we reached the end of the event, we had a group photo with some of the volunteers and we unveiled the theme for next year's DevCon. You got it right, it's Space!
DevCon 2023 will be held on 20, 21 and 22 July. Do not forget to Google the date. 😉