Since amendments were made to the ICT Act of Mauritius, politicians, mainly Members of the National Assembly have grown "sensitive" to comments made about them on social media and they show almost zero tolerance to critics that might contain harsh words
Ish Sookun
This morning l'express reported on its website that a Facebook user, Farihah Ruhomaully, was arrested after having commented on her timeline post, calling a Member of the National Assembly, Tania Diolle, an "opportunist dirtbag".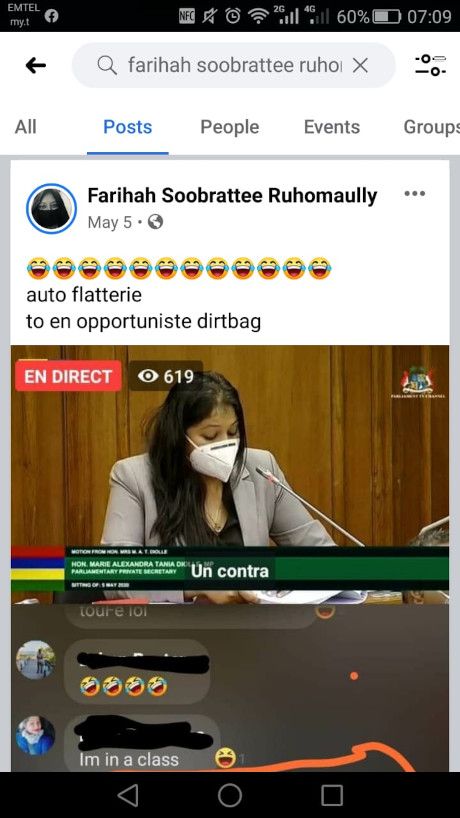 Since amendments were made to the ICT Act of Mauritius, politicians, mainly Members of the National Assembly have grown "sensitive" to comments made about them on social media and they show almost zero tolerance to critics that contain harsh words.
The Oxford Advanced Learner's Dictionary defines a dirtbag as:
a dirty or very unpleasant person
So, here, my understanding is that Farihah Ruhomaully got arrested for calling the Member of the National Assembly, an opportunist and a very unpleasant person. 🤔
What does the ICT Act say?
Section 46(h) of the Information and Communication Technologies Act 2001 of Mauritius states the following;
Any person who —
uses, in any manner other than that specified in paragraph (ga), an information and communication service, including telecommunication service, —
(i) for the transmission or reception of a message which is grossly offensive, or of an indecent, obscene or menacing character; or
(ii) which is likely to cause or causes annoyance, humiliation, inconvenience, distress or anxiety to that person;
(iii) for the transmission of a message which is of a nature likely to endanger or compromise State defence, public safety or public order; shall commit an offence.
In December 2018 the Electronic Frontier Foundation wrote that the amendments to the ICT Act of Mauritius poses risks to the freedom of expression.
Provisional Charge
The provisional charge is a criminal procedure law that dates back to the British Colonial Rule of 1852. The Deputy of Public Prosecutions, Satyajit Boolell, wrote in a newsletter in 2015 that "although no reference to a provisional charge is made in our statute books, it has survived as a settled practice and is probably unique to Mauritius."
Update
Farihah Ruhomaully was freed on bail on the same after paying the bail amount of Rs 8,000 and signing a bond of Rs 50,000. Police did not object to her request for bail.