During the closing session of the Virtual Developers Conference, last month, Jochen Kirstaetter (a.k.a JoKi) announced the creation of Jobs in Tech (JiT).
Jobs in Tech is operated by Agile Media for the Mauritius Software Craftsmanship Community.
For those who are confused about these names, let me tell you a short story. Many months ago, while we sat during a Code & Coffee session, probably at Mugg & Bean, we discussed about funding the community activities. Agile Media came into play as a front-office to manage funds received as sponsorship for the Developers Conference at the beginning, then DevFest, then other events organised by the MSCC throughout the year. Just head to mscc.mu and you will find a list of events/meetups that you might have missed if you did not pay attention to the meetup.com reminders.
Jobs in Tech is another way of bringing in funds for user group activities, all while doing something good. Tech companies pay to advertise their job vacancies and you, as a candidate have nothing to pay. You can apply directly on the JiT portal. The fees received by Agile Media allows the team to cover the costs of operating the portal and also fund the user group activities.
How to apply?
It's very simple. Go to jobs.mscc.mu, you can either search for specific job title or keyword, or else scroll further down the page for a list of currently advertised vacancies.
As you hover your mouse over the job listing, a yellow "apply" button would appear on the right side.

Click on it and when you scroll further down that page you will find a form where you can submit your contact details and you can attach your CV, cover letter, etc.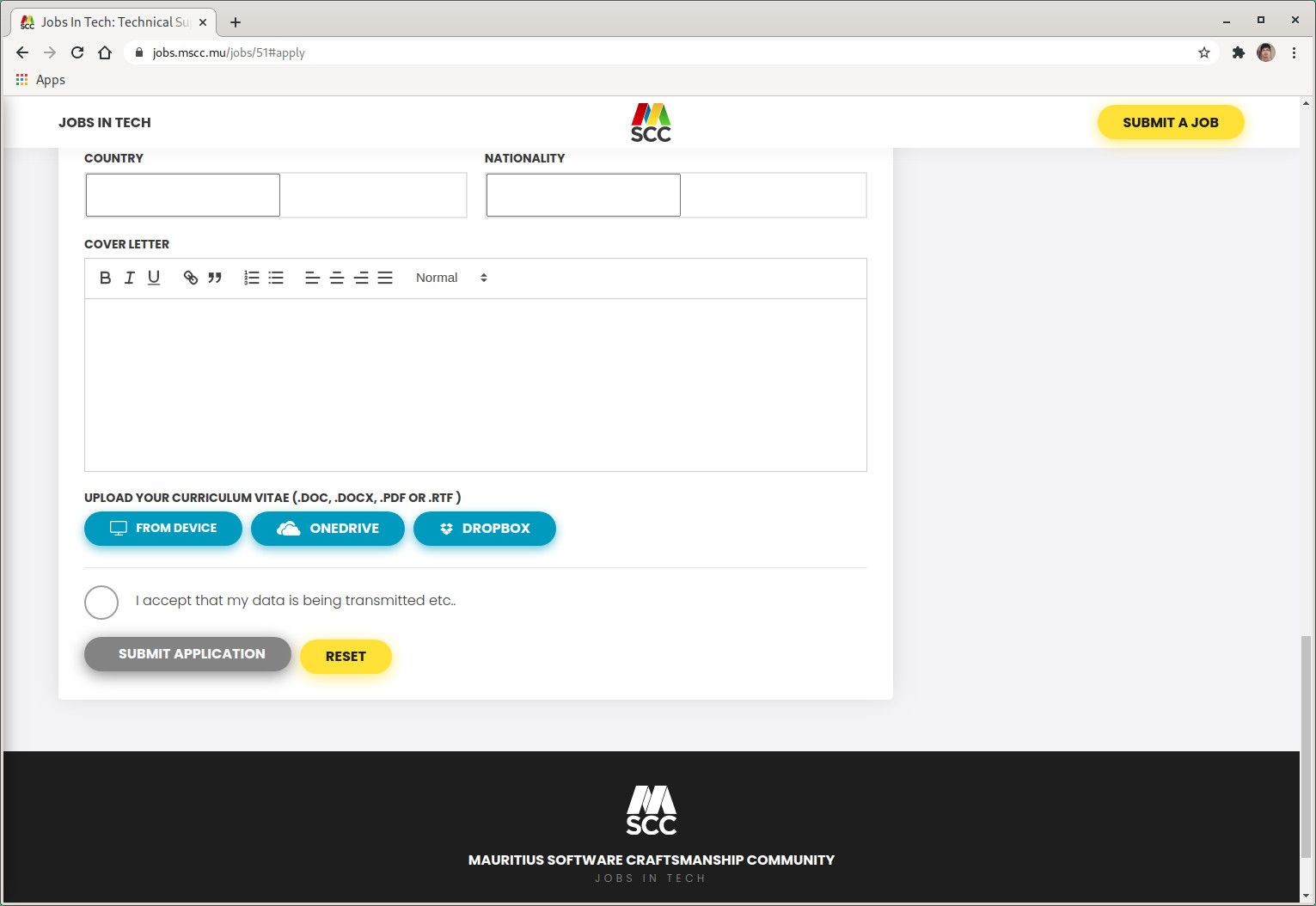 There is no need to register on the portal. Find your dream job & apply!