Mauritius sets new record of new COVID-19 cases. The country re-opened its borders on 15 July 2021. On the same day the number of new local cases of COVID-19 rose to an unprecedented peak and the country recorded one unfortunate COVID-19 related death.
Ish Sookun
Mauritius has recorded perhaps the highest number of new COVID-19 cases in just one day so far. The number is at 123.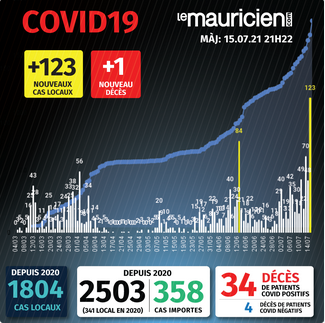 The COVID-19 counters on lexpress.mu and lemauricien.mu indicated this new record after their evening update on 15 July 2021.