The openSUSE Conference is the annual openSUSE community event that brings people from around the world together to meet and collaborate.
I attended the openSUSE Conference in Nuremberg, Germany, which was held at Z-Bau (House for Contemporary Culture) between 24 to 26 May.
Z-Bau is an iconic building with a long history. It was built by the Nazis to be used as barracks. After the second world war the building went through renovations and was converted into an arts centre.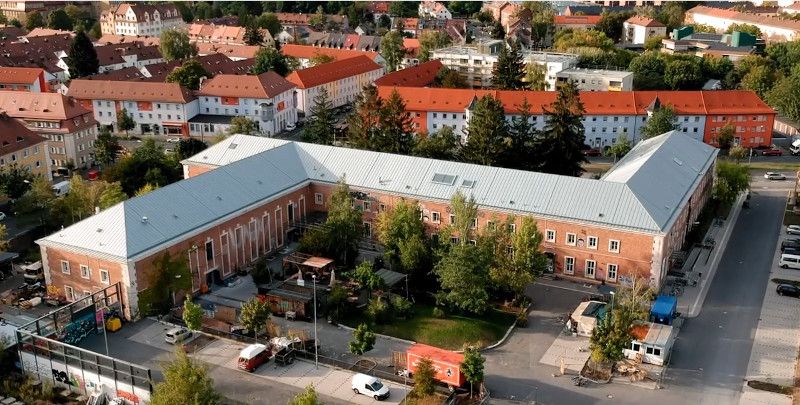 There a nice spot right outside the building called the "beer garden". That's where the geeks would have their beers or coffee during a session break or simply to sit and have a conversation.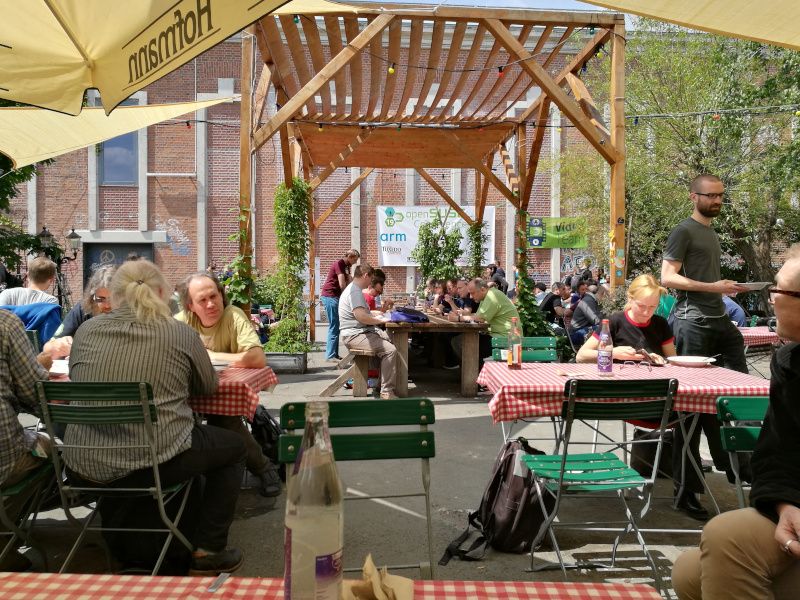 Right at the entrance you'd find several tables with goodies from different companies.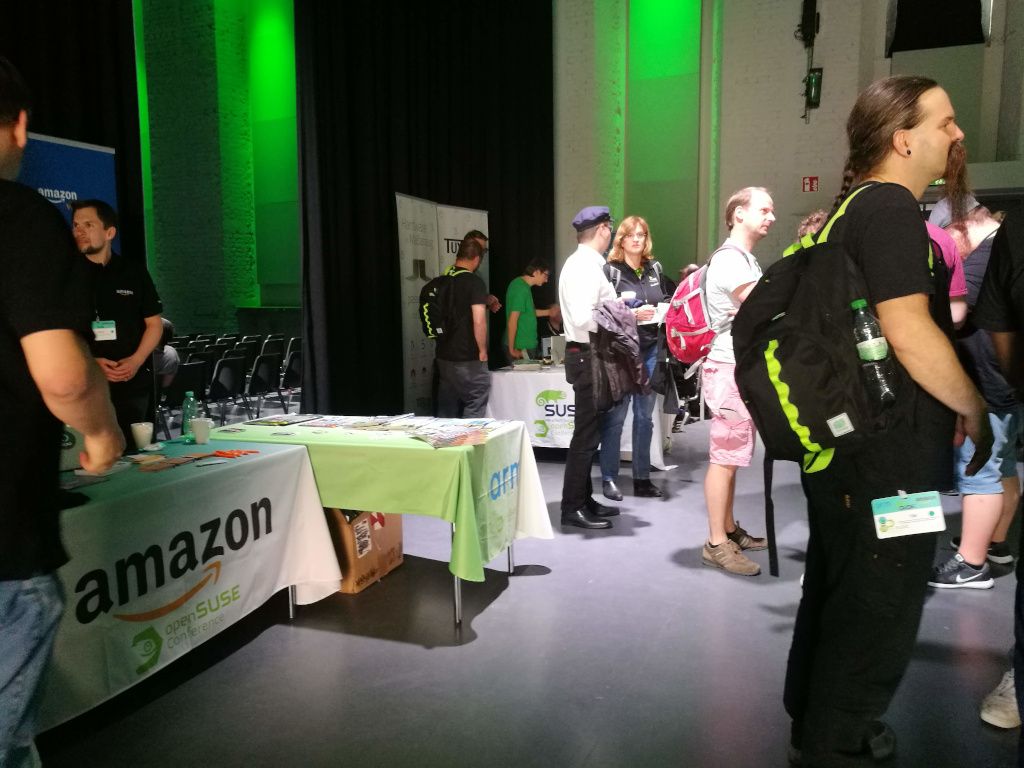 Shelly had asked me to buy her a Rubik's cube while on the conference trip but guess what, the folks from Amazon were giving away Rubik's cubes among other awesome goodies.
The conference started with a keynote speech/presentation by the President of Engineering, Product & Innovation at SUSE, Dr. Thomas Di Giacomo.
Dr. Giacomo welcomed the geeks to oSC 2019. He gave some SUSE updates, such as the company being independent since the March 15th, having reached 1750 employees, and that SUSE making a revenue of $ 400M.
He mentioned a few projects where SUSE is contributing upstream like openATTIC, Ceph, Stratos and Airship.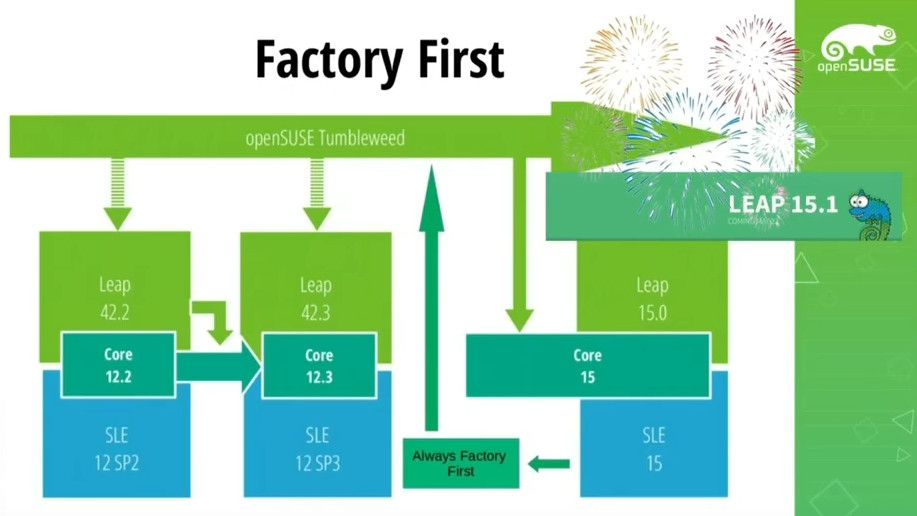 While talking about SUSE code contributions to openSUSE he explained the idea behind "factory first", i.e SUSE Linux Enterprise (SLE) pushed to the factory repo which then lands in openSUSE Tumbleweed and Leap. He mentioned the release of openSUSE Leap 15.1 and encouraged users to upgrade.
Dr. Giacomo also talked about openSUSE Kubic, MicroOS and the developers who are working on cool stuff for the community.
In the afternoon I had marked a few sessions on openSUSE MicroOS to attend. The first presentation was by the openSUSE Chairman, Richard Brown. He started the presentation with a little bit of history of how computers were originally programmed to do one thing at a time and then with the advent of networking, the Internet and the Personal Computer, technologies evolved rapidly.
He then related how we started thinking less about servers and datacenters and the focus become more cloud-centric. He talked about a new world that is made up of the Cloud, Virtualization, Internet of Things and Containers.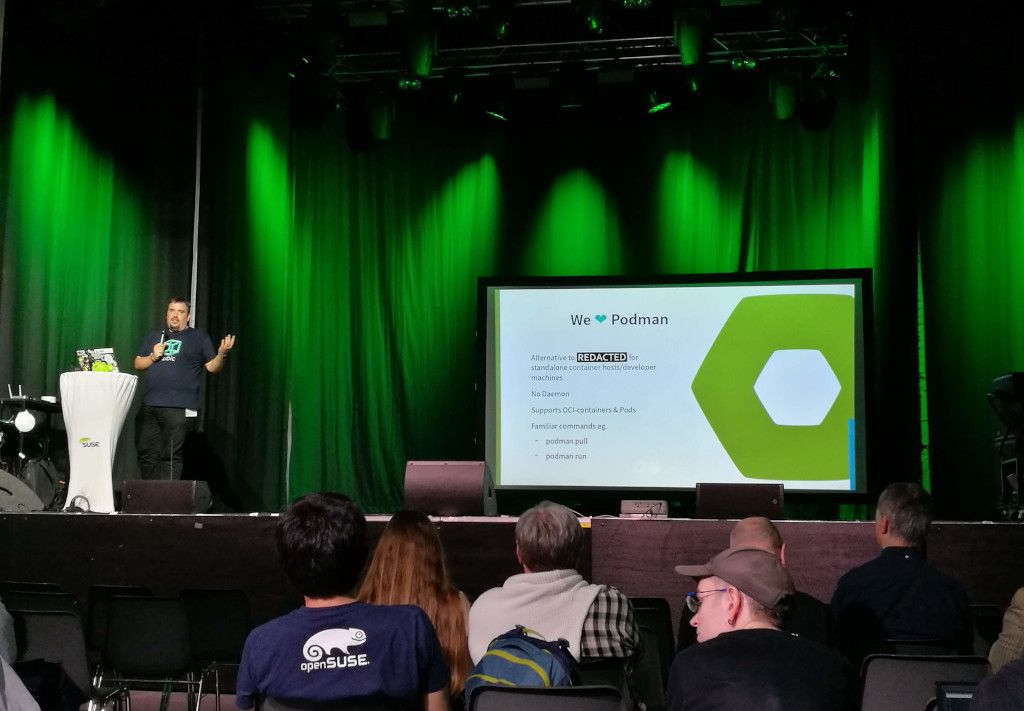 Richard talked about Podman, CRI-O, Kubernetes and the efforts made for easy container deployment using openSUSE Kubic. His mention about Kured (KUbernetes REboot Daemon) particularly caught my attention. I was previously asked about the "automatic reboots" becoming a problem in Kubic by a friend. The answer was if you do not trust unattended reboots to be safe then you should probably disable transactional updates. Then, that defeats the whole purpose of a "self-serving" system that openSUSE Kubic aims to be.
My presentation themed "openSUSE MicroOS in Production" was scheduled for 15h45 that day.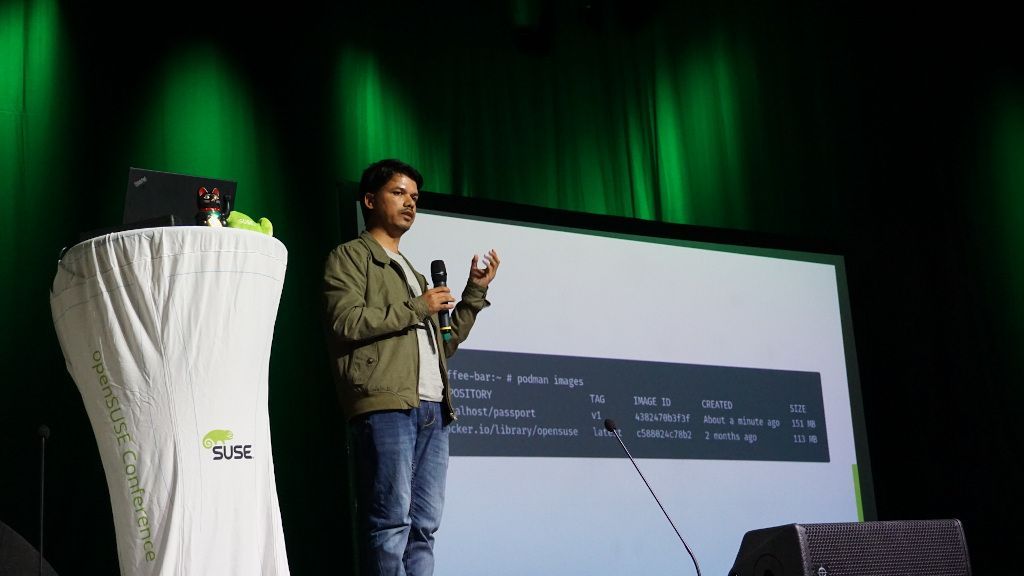 It was the first time that I did a presentation outside of Mauritius. I was nervous. The openSUSE Conference brings geeks from around the world and you can expect the top nerds of the community to be there.
I had a second talk during oSC 2019. It was a "Lightning Beer and Wein (Not Wine) Talks" session. I spoke about Netiquette within the openSUSE community. I had to hold a beer (also drink it), hold a microphone and change slides while talking about netiquette. That was fun and this time I was not nervous at all. Although I cannot say whether the confidence came from the German beer or I owe it to the many friends I had made during those three days. Either way, the conference helped me find myself within the openSUSE community, which is a great feeling for a lad from a small island in the middle of an ocean.