A petition started on Change.org calling the Prime Minister of Mauritius to resign, has already obtained more than 10,000 signatures. The petition blames the incompetency of the Prime Minister and his team for the ecological disaster that the MV Wakashio shipwreck caused in Mauritius
Ish Sookun
Yesterday, the Prime Minister of Mauritius, P. K. Jugnauth, during a press conference mentioned that Mauritius does not have the expertise and equipment to combat the ecological disaster caused by the Wakashio shipwreck and oil spill in our lagoon.
Although, he thanked the organizations and volunteers that are offering to help and clean-up, he also stated that as per "environment experts" people should know what they are doing when helping or else they might cause more harm than good. He said that the areas having the oil spill have been declared as being « restricted areas » and only authorized people will be allowed access. So far, the law has not been enforced and the authorities have been lenient to allow people to come and help. However, he stated that there needs to be order and together with the Ministry of Environment there will be a "system" to distinguish between people who are coming to help or just coming for nothing.
A lot of people are disgusted by the words of the Prime Minister, especially after a notice in the Government Gazette, published on the 7th August 2020, started circulating on Facebook. Paragraph 4 of the latter notice states:
Members of the public are hereby reminded that where a person refuses to evacuate any restricted area, a police officer may use such reasonable force as may e necessary to remove that person from the area.
I could not find any reference to the Gazetted notice in local news websites neither on the website of the Government Printing Department.
In my opinion, a combination of events and actions have contributed to the people's frustration;
lack of transparency from the government,
slow to act despite the urgency,
no proper plan to help people immediately affected by the ecological disaster,
presence of the MPs hardly seen on the site at the beginning of the event,
saying we do not have expertise is not an excuse, efforts count.
Petition
A petition started on Change.org calling the Prime Minister of Mauritius to resign, has already obtained more than 10,000 signatures. The petition blames the incompetency of the Prime Minister and his team for the ecological disaster that the MV Wakashio shipwreck caused in Mauritius.
It works!
Members of Rezistans ek Alternativ started the initiative to make buoys using bagasse and sugarcane leaves. Shortly after that, people from all over Mauritius flocked to Mahebourg to help with preparation of these artisanal buoys. Since yesterday we could see these buoys being made by volunteers in different places on the island, like the Creative Park at Beau Plan, behind the Food Lovers Market at the Bagatelle Mall and the Unicity Park Office, Cascavelle.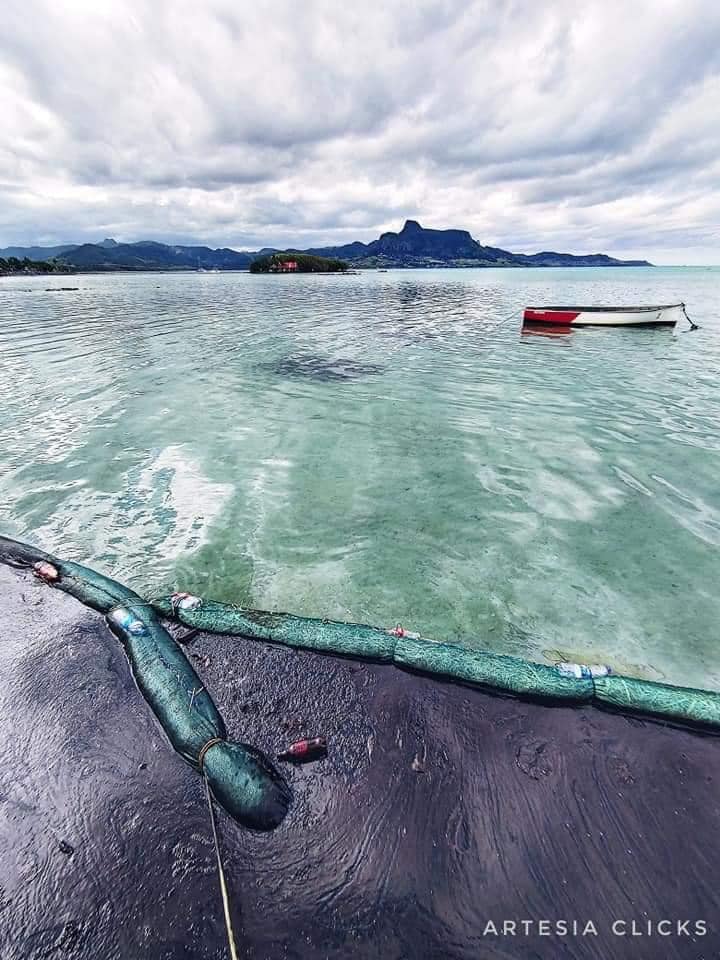 The photo posted by Artesia Clicks perfectly depicts the efficiency of these artisanal bagasse-filled buoys. It's an irony against the Prime Minister's statement that we do not have expertise and equipment. Citizens of Mauritius did not sit back waiting for international help, as it appears to be what the Government would have done, but instead as one nation, as one people, they all helped to save our lagoons, our flora & fauna! 👏